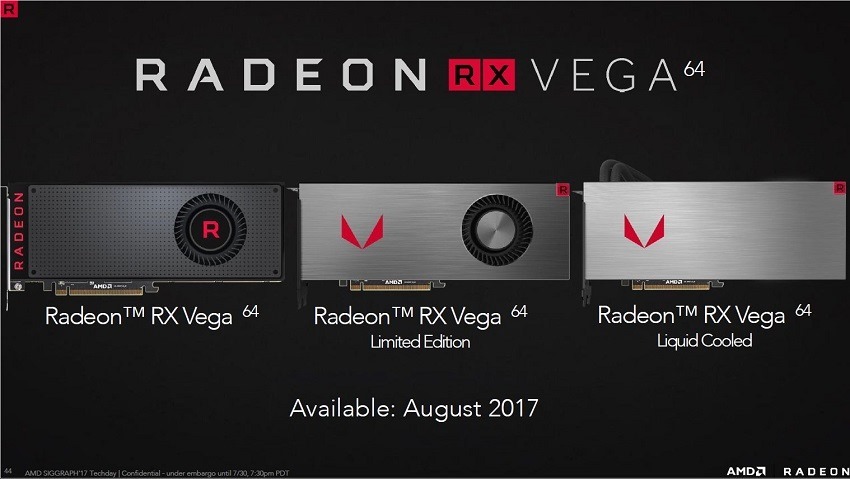 AMD has been incredibly content with catering to a market Nvidia has had a foot in for years now. The budget PC hardware space is where the majority of the market spends their money, but it does make the race at the top fairly boring. Nvidia has been knocking things out of the park there for years, but uncontested thanks to a lack of push from AMD. That all changes next month, as AMD prepares to launch their Vega GPUs that will compete with Nvidia's best.
AMD has unveiled specifications for their three top range Vega cards, named simply Vega 56 and Vega 64. The numerals refer to the number of compute units each of the cards have, with the two variants of the Vega 64 leading the charge for AMD. Both cards feature greatly increased clock speeds and overhauled architecture, pushing computation to 13.7 terraflops and bundling that with 8GB of High-Bandwidth Memory (HBM2).
AMD explained in a press briefing that they've really done a lot of work with Vega to make it stand out as much more than a boost in power. Buzz terms pointed towards improvements in memory bandwidth, which is twice as wide per pin than previous AMD efforts. They're also promising twice the throughput per cycle again compared to previous iterations, which doesn't say much at all considering AMD's complacency in the high-end market for such a long time.
Cherry picked benchmarks also didn't give a clear indication of a wide range of performance metrics, but did at least confirm some competition against Nvidia. AMD showcased how the Vega 64 would outpace a GTX 1080 in minimum framerates across nine tests, all running at ultra-wide 1440p. There's something to be said about the lack of full 4K benchmarking data, but that should all come to light when the cards launch on August 14th.
The oddity here is pricing. The slower Vega 56 will launch for $399, while the air-cooled Vega 64 will start at $499. The water-cooled (and therefore more favourable overclocking card) won't be sold alone. Instead, AMD is relegating the card to a bundle – pricing it at $699 and including two games and a bunch of discounts on other items. If you're looking for just the card though, you're out of luck.
August will be big for AMD, with Vega launching just days after the Threadripper CPUs that have been making so much noise in the past few weeks.
Last Updated: July 31, 2017