After the barebones RX 470 and RX 460 reveal last night at the PC Gaming Show, leave it to the internet's little birds to find us some tasty morsels of performance expectations for the RX 480—and boy are they tasty.
Videocardz has shown the first images of a 3DMark Fire strike benchmark score which seems to be an 8GB AMD RX 480 slotting between that of a GTX 980 and R9 390X. Videocardz reported that the card seems to be from an aftermarket 8GB RX 480 which may be slightly overclocked. Purely rumour at this point, but it does aggregate towards what we expect performance wise for the card as well as previously leaked clock speeds of the RX 480.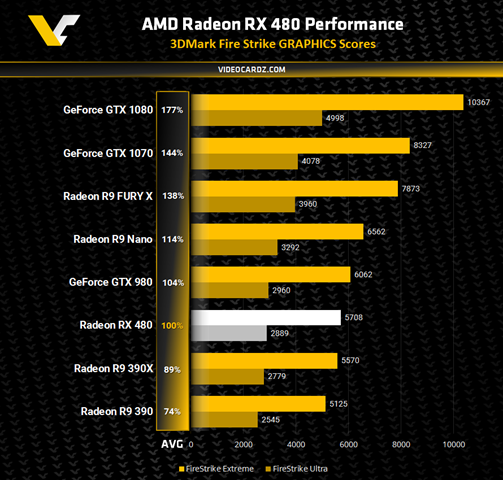 Also remember that this card is not the $199 4G RX 480, but the more expensive RX 480 8GB. Even so, the 8GB version should not be significantly more expensive than the 4GB $199 RX 480, so a card capable of snuggling between the R9 390X and GTX 980 levels of performance is still exceptional for a 150W TDP. What has also leaked is a crossfire Graphics score of 30611 of a supposed RX 480 Cross Fire setup. It impressively bests the 3DMark 11 Performance GPU score of the GTX 1080, although I wonder why the benchmarker was using the 3DMark 11 benchmark and not Fire Strike for instance. Even though gaming performance cannot be gleaned from synthetic benchmarks, there are still a lot of good vibes emanating from the RX 480.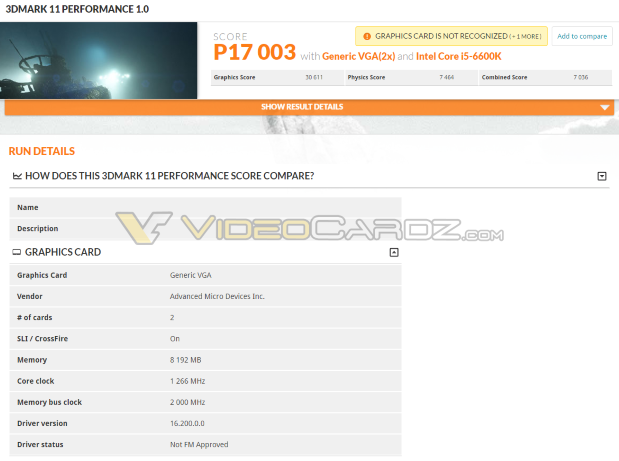 Last Updated: June 14, 2016