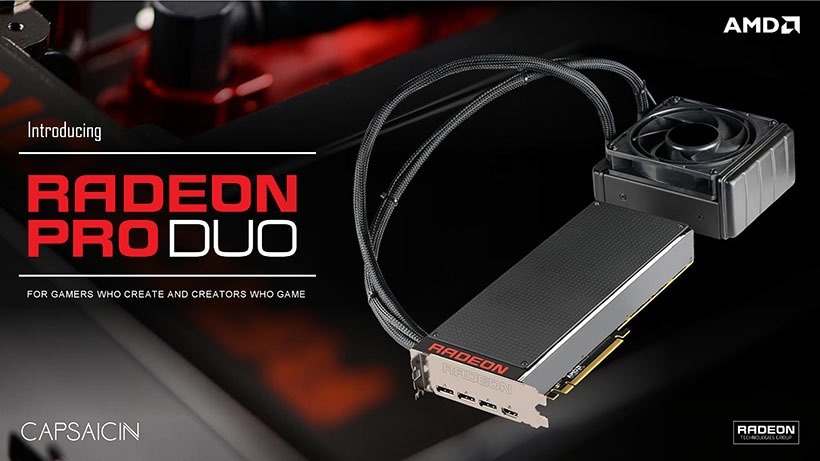 Nvidia's Maxwell series of cards are popular for a reason; they strike up a near-perfect balance of price to performance, with the 970 in particular hitting that sweet spot. The problem is that line of cards was released in 2014. AMD has since released its own competitive hardware, with the much faster R9 390 offering a better price to performance.
That may change with the perhaps impending release of Nvidia's Pascal (even though reports suggest The Green Team's new cards are to sports GDDR5X instead of HBM). Until then though, AMD has unveiled what they say is the world's most powerful single card GPU. And they're very probably right.
Called the AMD Radeon Pro Duo (not to be confused with an outdated, proprietary Sony memory card format), the card duct-tapes two of the company's Fiji GPU's together, outfits them with 8GB of vertically-stacked High Bandwidth Memory and stuffs it all in to a single card.
According to AMD, the beast offers 16 TFLOPS of raw performance, offering twice the performance of the NVidia Titan X, and thrice the performance of the R9 390. The card has been made with Virtual Reality in mind.
"More powerful computing platforms are rapidly leading to greater immersive experiences, said Raja Koduri, senior vice president and chief architect, Radeon Technologies Group, AMD. "This is most evident with VR which demands ever higher compute performance with rock solid consistency. Our new AMD Radeon Pro Duo with our LiquidVR SDK is the world's fastest platform for both content creation and consumption1, enabling a world class graphics and VR experience."
It's not just for ludicrously wealthy gamers, the $1500 card is also for creators – and the chaps at Crytek are rather impressed.
"As a state of the art platform, the AMD Radeon™ Pro Duo with the LiquidVR™ SDK is the perfect choice as the graphics standard for Crytek's VR First™ initiative," said Cevat Yerli, CEO of Crytek. "As a graphics card that bridges the needs of both VR content creators and content consumers, it's extremely fitting hardware to supply to the brightest up-and-coming developers, who will surely shape the future of virtual reality and immersive computing."
If you're swimming in cash, Scrooge McDuck style and are looking for the very best in PC graphics hardware, this is it. For now, at least. the card should be available by the end of April.
Last Updated: March 15, 2016