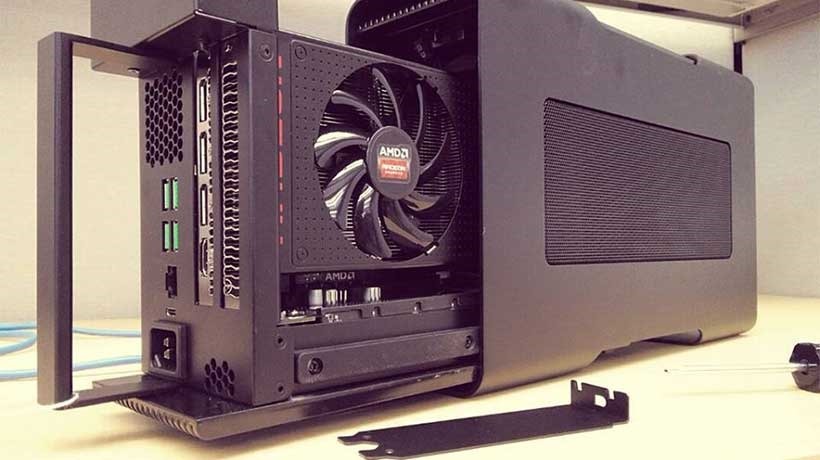 Gaming laptops are weird. They're too big and bulky to really be used as laptops, and generally have about 5 whole minutes of battery life when used for that purpose. Super thin ultrabooks are far better for portability, but are horrible for playing games on – and there's really no suitable balance between them.
Numerous hardware manufacturers have tried to fix that, with external GPU docks that give ultrabooks a little more graphical horsepower. Typically, they're housing that allow users to put in full desktop cards, and use their power for gaming. The biggest problem with their adoption is that they've been proprietary – so if you happen to buy a new laptop a few years down the line, your fancy graphics card dock goes to waste.
The best solution so far seems to be Razer's core, which could potentially be used by any system that's packing a Thunderbolt 3 port. But that too, is tailored to work with Razer's own hardware.
It would be great if there was a standard – if you knew that the GPU and dock you buy today will work with a future laptop, regardless of who made it. AMD seems to be teasing that something along those lines is coming.
"Alright, let's have some Real Talk™ about gaming on the go," AMD's Robert Hallock said on facebook. "Gaming notebooks are great for gaming, but nobody in their right mind wants to carry one all the time. Ultrathin notebooks are awesome to carry, but nobody in their right mind would confuse one for a gaming notebook.

But there's still a HUGE appetite for thin notebooks that can game. I also bet there's a bunch of gamers out there who, as they get into their 30s and 40s, wouldn't mind condensing their entire computing life down into one device that does it all. I ALSO bet that some people wouldn't mind giving up an mITX LAN rig if their notebook had the potential to serve that role with gusto.

External GPUs are the answer. External GPUs with standardized connectors, cables, drivers, plug'n'play, OS support, etc.

More info very soon."
Included in that post is the above picture of Razer's Core – stuffed with some AMD gaming hardware in it.
Last Updated: March 2, 2016