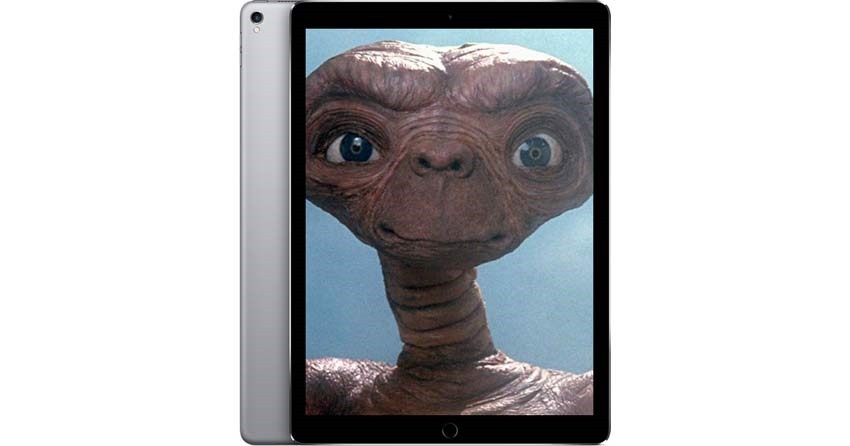 Ever since the first iPad was unveiled, its design has largely remained the same: A thin(ish) black rectangle that transmits social media streams of stupidity at you, finished off by the iconic home button at the bottom. That button has been a defining feature within Apple, much like the bat-symbol on Batman's chest or the trademark sign of people having joined the sex cult of a former star of Smallville.
Times are changing though. The iPhone 7 marked a departure from that clicky home button, replacing it with a non-moving button that simulated the tactile sensation with some nifty vibrations. The iPhone X took things a step further by chucking in Face ID, thus allowing those devices to sport thinner bevels and more screen real estate. It's a move which Apple's iPads are likely to soon emulate, according to Bloomberg.
The Bloomberg report says that the new new iPad will ditch the physical home button and will feature a display size that's "similar" to the 10.5-inch iPad Pro. The screen itself will most likely still use LCD tech to display random FaceBook posts asking you to like pages, as "technical and financial constraints" prevent Apple from using superior OLED displays.
In related news, Apple is also already working on an improved Apple Pencil. I reviewed one of those, and liked it so much that I actually put my money where my mouth was and bought myself an iPad Pro and a Pencil just so that I could doodle afternoons away. If an improved pencil launches alongside this new iPad next year, I think I might be looking at trading in. It's just that damn good.
Still, ditching that home button should make for some interesting design. Samsung's S8 really got the ball rolling on edge to edge displays this year, with the Iphone 8 and X also following in those footsteps. A proper 10.5" version of that trend might not be practical, but it'd be damn sexy.
Last Updated: November 9, 2017