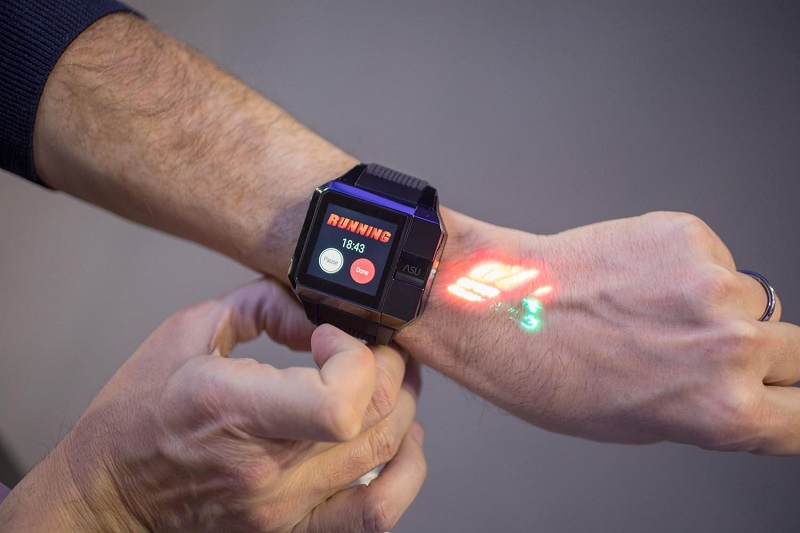 Smartwatches are great. Not only do they track your fitness and your personalised vital signs, but they also essentially gives you access to the processing power of mobile phones from only a few years ago, all on the power of your wrist. Only problem with having all of that technology on a device so small, is that you don't have the visual real-estate to actually view much and consume the content you might want to consume with it.
One company, Haier, believes they have a solution to that problem with their Asu watch which they showed off at the Mobile World Congress 2018. The Asu is essentially a smartwatch with a tiny projector built into to so that you can project things onto the back of your hand rather than just been confined to the small screen display. This projector can either act as a duplication of your watch display or can serve as a second screen allowing the wearer to consume even more content should they so desire.
In addition to the projection benefits, the Asu has one gigabyte of memory inside and it's powered by a 1.2GHz processor. Other features include a heart-rate sensor, GPS, 4G LTE support and a gyroscope. The Asu also has an IP65 rating making it resistant to dust and bursts of water from a low-pressure nozzle, which is useful given its projection technology.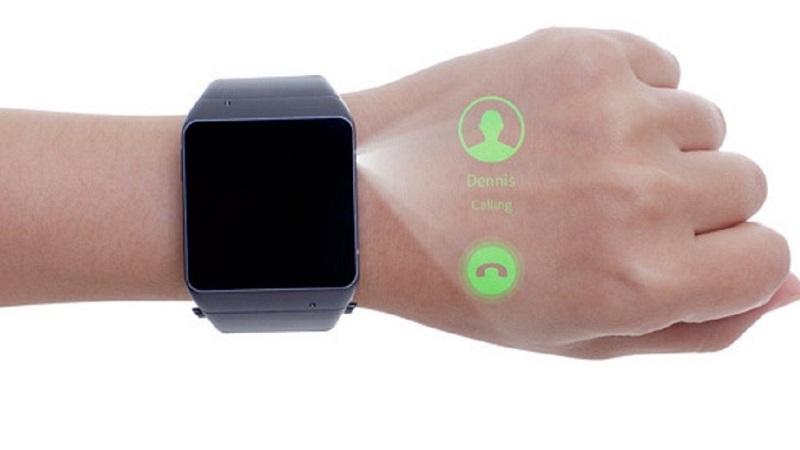 So when you're running, the projection can display information such as distance, time, and progress towards fitness goals, while the watch screen will have controls to pause and finish your workout. The projection is more than just a display though and also supports gesture controls. You can double tap on your hand to change what's on the screen. Making a lot easier than fiddling with buttons on a watch, especially if you're in the middle of a demanding workout.
Beyond just being a fitness device though, the company also has other plans for its projector, like a drawing app and the Karateka guy, because well – I'm actually not sure what they were thinking with that one.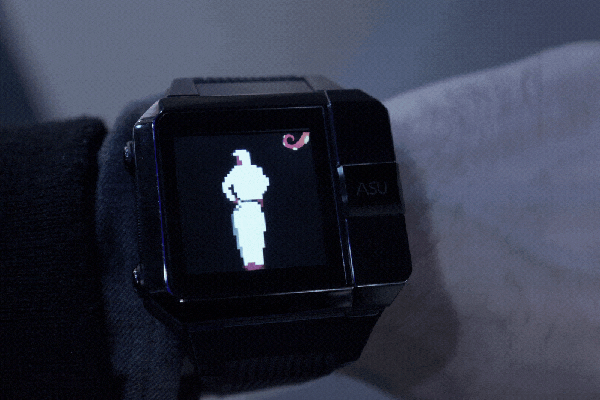 While the technology certainly sounds interesting, I'm not actually sure there is much of a need for it though. As someone who uses a smartwatch for fitness tracking daily, I can honestly say that I've never had an issue with looking at things on my screen and while there are certainly benefits of a larger screen like reading messages or watching videos, I would imagine your hand is likely going to get hot with a projector shining on it, I would rather just use my phone anyway in that case. Not to mention the size of the watch which will make it awkward to wear.
Still, its progress from a technological perspective and if they can continue to develop it and find more functional uses for the technology, it can certainly add value in the future. Not to mention finally allow me to really know things like the back of my hand…as I use the back of my hand to look up answers.
Last Updated: March 1, 2018