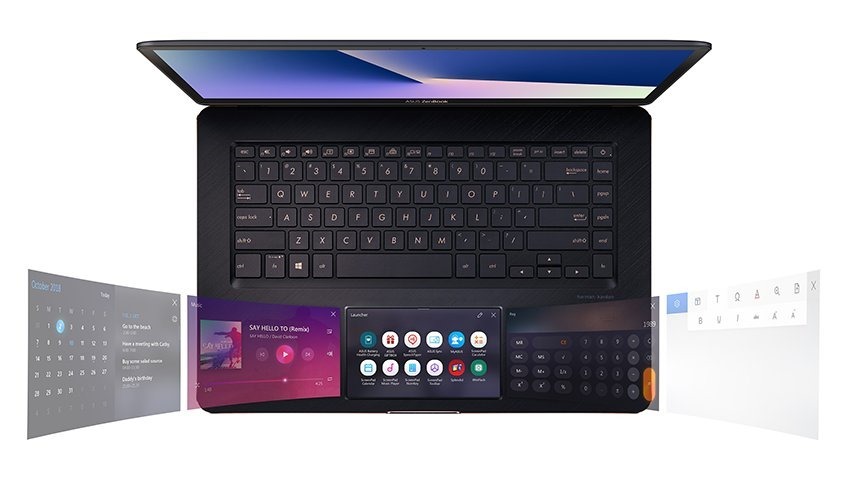 It's Computex, and is usual for this time of year, hardware makers have debuted some of their shiny new wares. While Nvidia failed to reveal its next generation of graphics cards as many hoped and expected, other companies have displayed their own technical prowess. One of those companies is ASUS. Yesterday, we gave you a look at their new gaming-focused ROG phone. While it's likely to bomb, it's a thoroughly well-designed phone that's one of the more exciting ones to come out in years. While it may not get traction right now, this is how we progress.
I feel that ASUS's new approach to touchpads is similar. In the new Zenbook Pro, ASUS has ditched the traditional touchpad and replaced it with a new touchscreen – the ScreenPad which ASUS says is "the world's first smart touchpad." While it functions perfectly well as a touchpad on its own, it also integrates with your system to offer a multi-functional touch display. It's a bit like a dumbed-down smartphone, offering touch controls for video and music playback, quick access to apps and services – and a lot more, especially once ASUS releases the SDK.
What's nice about it is that unlike other machines that have included live-updating touch screens, this doesn't take anything away. It's purely additive.
The Zen Pro itself isn't a slouch, with an Intel Core i9 processor power the machine, and the NVIDIA GeForce GTX 1050 Ti giving it its graphical chops. While the 1050 Ti is far from cutting-edge, it's more than adequate for a bit of modern gaming. The machine will also ship with up to 16GB of RAM, along with a blazing-fast 1TB PCIe x4 SSD. It'll also include a  4K UHD PANTONE® Validated display, making it perfect for designers and content creators. And me, if you're looking to buy me a Christmas present.
The 15-inch model is indeed a beast – but there's also a 14 inch that dials down the specs a little, but offers far better portability. It features a Core i7 CPU, and a GeForce GTX 1050 Max-Q. It'll be out in SA in October.
Last Updated: June 5, 2018