The release of Intel Broadwell-E 2011-v3 processors is the latest salvo from Intel into the ultra-enthusiast market, dropping 6 ,8 and 10 core monster CPU bombshells onto the market. The prices ranging from slightly mad to properly certifiable. As in the past, it falls to motherboard makers to wine and dine consumers to refreshed X99 platforms; which is doubly hard since many "old" X99 motherboards can support Broadwell-E processors with a simply BIOS update. That being said, the refresh-cycle at this level of computing just makes no sense, since those buying X99 based systems often are tech-savvy enough to know that a refresh offers limited performance benefits. That being said, ASUS being ASUS are always ready and willing to dole out some top level motherboards to help make even the most discerning buyer push rationality aside to purchase this R10 000 or $600 ASUS ROG Rampage V Edition 10 motherboard. I'd like to kindly thank ASUS South Africa for sending me a complete sample system from which this motherboard review is derived.
If the X99 STRIX Gaming and RAMPAGE V Extreme had a baby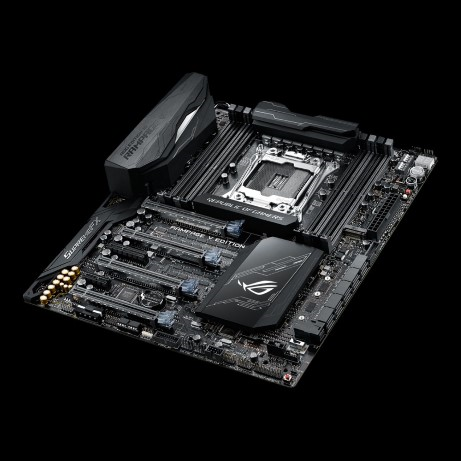 If the Rampage V Extreme and X99 STRIX motherboard had a baby, the ASUS ROG Rampage V Edition 10 would be it. The Rampage V Extreme released as a Haswell-E motherboard built for overclocking, but the X99 STRIX Gaming, with all its RGB and "gaming" focus was conceived as their "gaming" Broadwell-E X99 motherboard.  It seems fitting, then, that ASUS positions this Edition 10 (signifying 10 years of producing Rampage motherboards) as their top tier X99 motherboard for breaking records with "overclocking and gaming innovations". Combining both overclocking and gaming features into a motherboard will be appreciated by enthusiasts, although it seems a bit of a kick in the nuts to Overclockers as ASUS are charging more for an X99 motherboard with one crucially missing overclocking nicety—the venerable OC Panel II, which happens to be bundled in the cheaper  ASUS Rampage V Extreme.
But it's got RGB LED lighting, and that somehow qualifies an extra R2000.
Cynicism aside, there are some extra features bundled in that make up that R2000 extra, such as better audio and a dedicated Supreme HiFi DAC bundled with the motherboard. It's something I could not test personally as the review system I got never included it, however the research I've done does seem to sing its praises as a worthy replacement for the PC Panel. That being said, a lot of the function on the OC panel have been moved to the motherboard itself.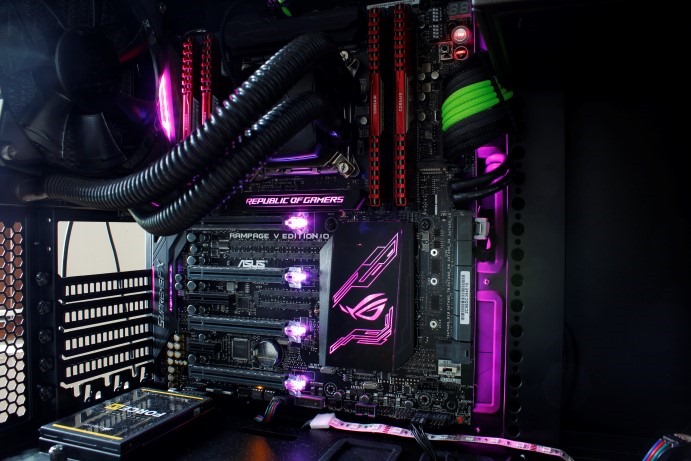 The look of the motherboard, in all black, does look immaculate and sexy. Unlike the Rampage V Extreme, ASUS borrowed from their STRIX X99 Gaming and has gone stark raving mad about RGB LEDs. Although RGB lighting on an X99 motherboard is tantamount to neon lighting under fast cars, ambiance does play a part in the computing experience.
ASUS have produced a beautiful example of RGB lighting that makes you stare in bewildered awe. The RGB control can control each section with RGB lighting, so the I/O, audio, PCI-Express clips, ROG logos, PCB, and rear panel. If you have an ASUS STRIX Graphics card with LED enabled lighting, you can also sync the system with the graphics card, or vice-versa.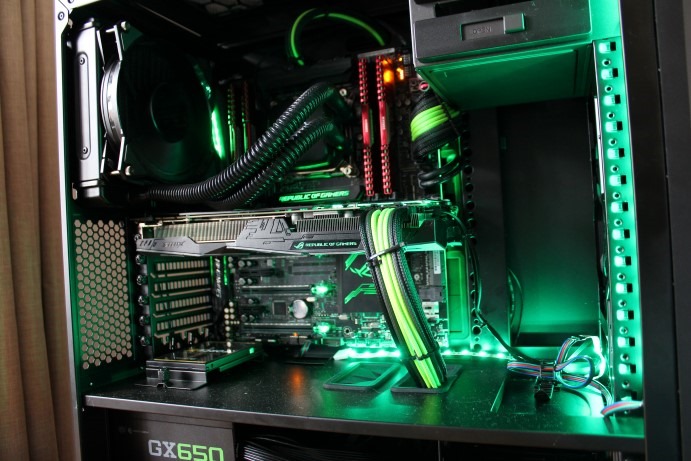 Other than the omission of the OC Panel and inclusion of the DAC, there are still far too many features for me to state here (which you can see here) but there are important bits to cover. Since it's the star of the ASUS line-up, there are no immediate compromises made. There are a total of four PCI-Express 3.0 X16, which can be used in various configurations. Bear in mind, since NVIDIA are only rolling around with official support for Pascal 2-way SLI support, it falls to AMD and CrossfireX to officially populate each slot on the Rampage V Edition 10. As for memory support, the Rampage V Edition 10 supports quad-channel memory up to DDR4 3333MHz (OC) and XMP 2.0.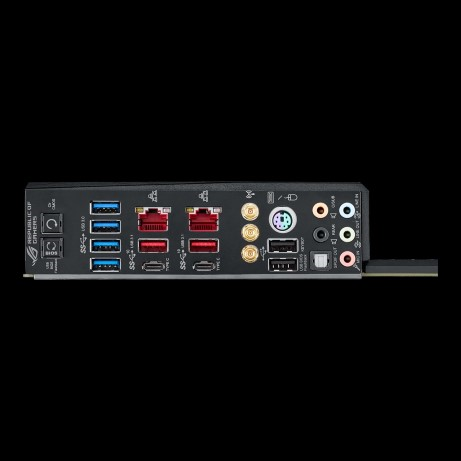 Storage is taken care off with 10 SATA 6GB/s ports, as well as 1X U.2 port with PCIe X4 NVME Storage and a 32GB/s M.2 slot located behind the 24-Pin power connector. The rear I/O port is also chock-full of features as you get 4 3.0 USB ports, 2 USB 3.1 Type A ports and two USB3.1 Type C ports. Dual Intel RJ-45 LAN ports and WiFi Antenna jacks means your bandwidth needs are well catered for (not that it means anything in South Africa with our sub-par infrastructure). We also get your regular Clear CMOS and USB BIOS Flashback button with your dedicated USB BIOS Flash port. For those with software-less keyboards (an anomaly for some spending over R10 000 for a motherboard) you also have your dedicated keybot USB port. Audio is take care of by Realtek ALC1150 powered SupremeFX 8- Channel High definition audio.
Software & BIOS
Diving into the BIOS of an ASUS motherboard presents you with a familiar layout and theme, although I would have thought ASUS would have at least given a special black "Edition 10" theme instead of the stock standard "Red/Black/Grey" of the RoG standard.
The BIOS of modern ASUS motherboards are well laid out, although I fear most of the uninitiated will feel a bit lost navigating the plethora of options and tweaking ASUS has provided. EZ Mode would be the place those new to extreme motherboards as it has a few basic overclocking profiles to load up, but for those wanting total access to all the nuts and bolts ASUS have painstakingly created for you, Extreme Tweaker is where it's at.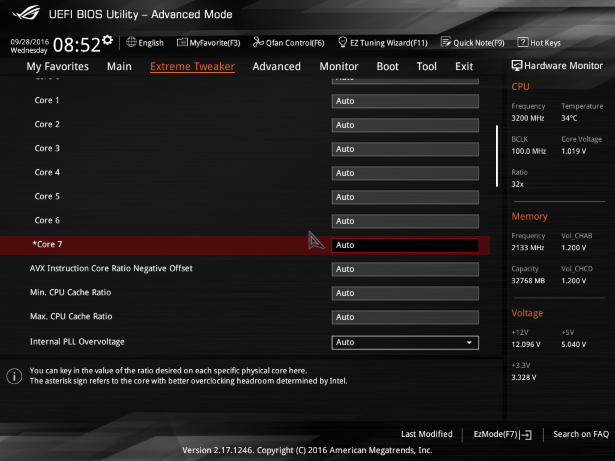 There are voltages to be tweaked, frequencies adjusted and multipliers to play with on top of all the really esoteric options that pro-overclockers can tweak to squeeze out more performance. ASUS has even gone to the trouble of analysing each core on the CPU to tell you which one is the best performing on the chip (denoted by an asterisk), which means a higher clock can given to that specific core.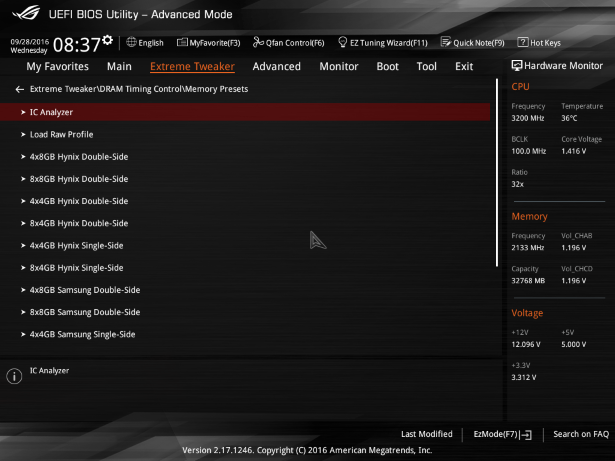 There are a few more options relating to the multitude of features present in the motherboard, although one of the better features I've seen is the memory overclocking presets. ASUS have provided a detailed list of pre-configured memory timings, voltages and frequencies for specific RAM and IC. Other RoG boards also do this (such as my personal ASUS Gene VIII board) but without actually doing some deep research or removing heatsinks to check the RAM modules, you can't actually determine if you have Samsung memory, Hynix or Micron. On the Rampage V Edition 10, ASUS has added an ingenious IC analyser. Once you follow the steps to determine the type of RAM you have, you can apply the appropriate preset to your memory. Very nifty.
Once into Windows, there are also Windows-based tweaking that makes overclocking in Windows dead easy. One can use the solid AI Suite 3 to control even more of your hardware. We have options ranging from basic charging or transfer speeds for devices, all the way to per core or GPU overclocking or determining the CPU VRM Switching frequency for deep tweaking within an OS environment.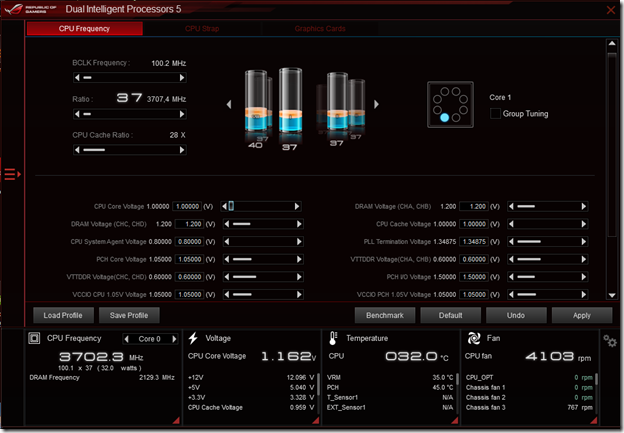 It's quite intensive but for the plug and play types you can get the system to create basic fan control profiles or use the one-click 5-Way Optimization by Dual Intelligent Processors 5 to automatically find a stable overclock for your CPU and appropriate fan profile. There is a variety of software included as well, like AURA for RGB lighting, MemTweakIT, GameFirst IV, TurboV Core, KEYBOT II, HomeCloud and Hystream as well as a handful of others not mentioned here; it's a lot, so visit the website to check the full list.
Performance
Obviously I took the manual approach to testing the overclocking chops on the 6900K processor, upping the default 3.2GHz to a solid 4.4GHz clock speed. The test system sent by ASUS was the exact same system used to test the ASUS ROG GTX 1080 STRIX OC GPU reviewed earlier this week:
Asus ROG Rampage V Edition 10 Motherboard
Intel i7 Broadwell-E 6900K @ 4.4GHz
32GB (4x8GB) Corsair LPX DDR4 2133 (13-15-15-28)
Corsair Force LE 256GB SSD
Cooler Master GX II 650W
Cooler Master Nepton  120XL
Windows 10 X64
NVIDIA WHQL 372.70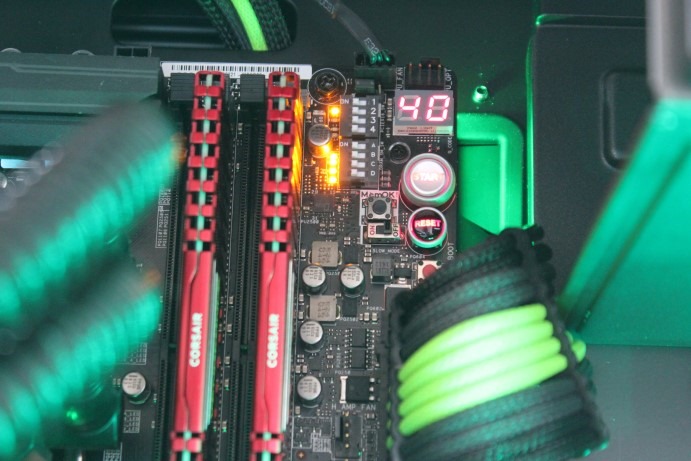 Overclocking proved to be extremely rewarding with the ROG Rampage V Edition 10, and even my uninitiated X99 hands were able to bring the monstrous i7 6900K to a 4.4GHz overclock with ease. The OC Zone on the motherboard is essentially the OC Panel integrated onto the motherboard, with MemOK to reset a bad memory overclock, an LED Post Code Debugger display as well as your usual Start/Reset buttons. For the more enthusiast inclined, there is an LN2 Jumper, Slow Mode switch, Retry Button, Safe Boot button, voltage read out points and boot device LEDs. There are even switches to disable PCI-Express slots and memory DIMMS, to really assist troubleshooting very quickly. I barely made use of any of these features, but for those in competitions, saving time troubleshooting is the difference between first and last.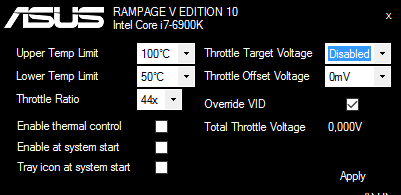 Something special that only seems to be supported on the Rampage V Edition 10 is ASUS Thermal Control tool, which essentially tries to manage your overclock depending on the temperature and applications you are running. For instance, a high AVX load (editing, video conversion etc) stresses all the cores and may lead to temperature and stability issues. Conversely, a gaming load can be a lot less intensive on the CPU and result in a bit more thermal headroom to overclock the chip a bit further. So, ASUS Thermal Control manages your overclock in the background, increasing your overclock when under specific loads, while decreasing it and managing temperatures when doing strenuous loads.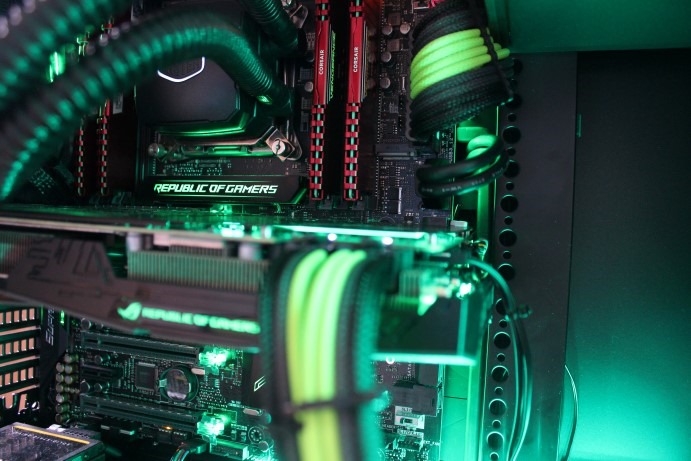 If there was a single issue I had with the board, it was the placement of the M.2 Slot and the proximity of the first PCI-Express 3.0 slot. First off, if you have any graphics card slotted into the first slot, removing or adding an M.2 device is impossible with a longer graphics card. The second issue is that the top most PCI-Express 3.0 slot is far too close to the heatsink and the clip pretty much touches it. Removing a graphics card there was not as carefree as it should be. Otherwise, layout and spacing was excellent; anyone who populates this motherboard enough to make it seem cramped deserves a slow-clap.
If you'd like to see what gaming benchmarks are attributed to the motherboard, have a look at the ASUS ROG GTX 1080 STRIX OC review earlier this week.
To give the extra bit of overclocking and benchmarking capabilities, I'd like to point to the way this motherboard's memory presets can help boost scores and claim those extra HWBot points. Unlike 3DMark Firestrike Ultra, the increase in CPU and memory performance does little to affect the overall score. However, within 3DMark's Time Spy DX 12 benchmark, the increase in memory bandwidth has an affect in CPU and overall scores—a testament to how efficiently the DX 12 API makes use of extra CPU–centric computational resources and bandwidth.
Conclusion: Having a Baby is expensive
New parents know this; having a baby is darn expensive. It may seem easy and fun to make one, but combining your features and genetics together presents a very expensive trip to the hospital, and subsequent 18 years. However, it's an investment in their and your future, which initially is expensive, but over time will pay it back eventually.
The extended metaphor comparing the ROG Rampage V Edition 10 to a baby, however ghastly, is meant to ease you into the idea that buying something made up from two different motherboards (X99 STRIX and Rampage V Extreme) is an expensive endeavour—but one that will reward you in time as you spend time with it, be it in intense workloads, benchmarking or gaming.
Last Updated: October 7, 2016
SUS ROG Rampage V Edition 10

It's a massive cost to get one of the most feature rich benchmarking and gaming boards on the market, one not many can stomach, but for those willing and able to use it properly, it offers you the means to make the highest performing X99 platform to date.