By this time everyone and their grandmother has heard about the immensely popular Pascal powered GTX 1080. I'm no stranger to the GTX 1080 power, having reviewed one a few months ago, feeling utterly satisfied and supremely sad that I had to give it back. I was so enamoured with Pascal's stupefying levels of performance, I went ahead a purchased a GTX 1070—Yes, my own review sold me on Pascal. #Ethics
Before going any further, it might be best if we untangle the ASUS GTX 1080 stable to help potential buyers know which card they're looking at here. There are three SKUs of theGTX 1080 strix,  a "common" reference clocked ASUS Strix, the mildly overclocked ASUS Strix Advanced Edition and the one we are reviewing, the ASUS GTX 1080 Strix OC. A standard STRIX already commands a price premium over other brands and the Founders Edition, but the GTX 1080 STRIX OC we have is the pinnacle of Pascal that ASUS has produced. Priced at a tear-inducing R15000 ($720 internationally), can the extra premium translate into justifiable performance increases over a cheaper Strix? Read on and find out.
Pick-a-Strix
If you've seen one ASUS Strix, you've seen them all. That's not to say they're boring, just recognisably sexy. The three Wind Blade fans dutifully cool the card, but thanks to Zero-RPM mode, it gets going when approaching 60 Degrees C. The 5-copper heatpipes making direct contact with the GPU ensured that the card never reached 60 Degrees C while idling or in low load.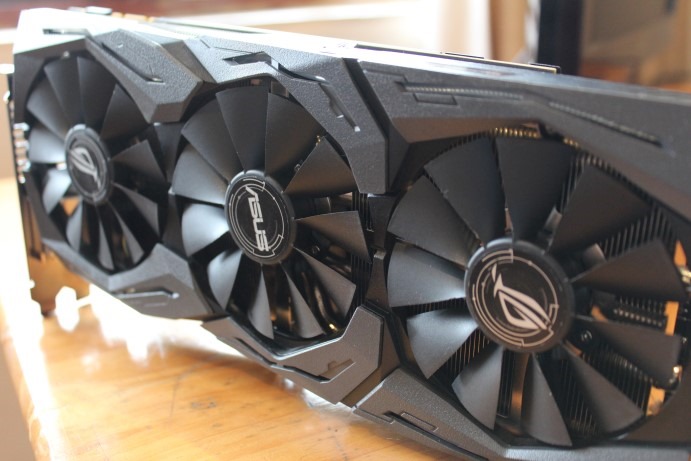 The card is quite simply engrossing; a dual-slot card measuring nearly 290mm long and 134mm tall. Its all-black fan-shroud, black PCB and blackened metal back-plate present a monotone monolith of a card; that is until you get going with RGB lighting through ASUS' Aura software.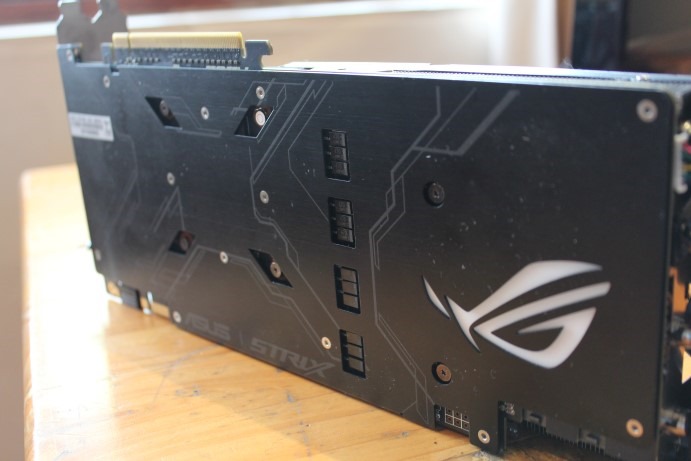 The RGB LED lighting is embedded on the top logo, rear backplate logo and fan shroud LEDs, all configurable using Aura RGB engine software. The lighting zones are superbly integrated and synchronised for maximum aesthetic effect, especially the ROG logo on the backplate. Paired up with the Rampage V Edition 10 X99 motherboard(review pending), and you can synchronise the colours to match the theme.
It's not just all pretty lights and no substance—under OC mode, it takes the GP104 chip to a maximum boost clock of 1934MHz—the fastest factory overclock to date on a GTX 1080, only shared by a few other premium cards from competing brands. Unfortunately, those in charge of memory didn't get the OC memo and it remains at stock, although there is more in store on that front.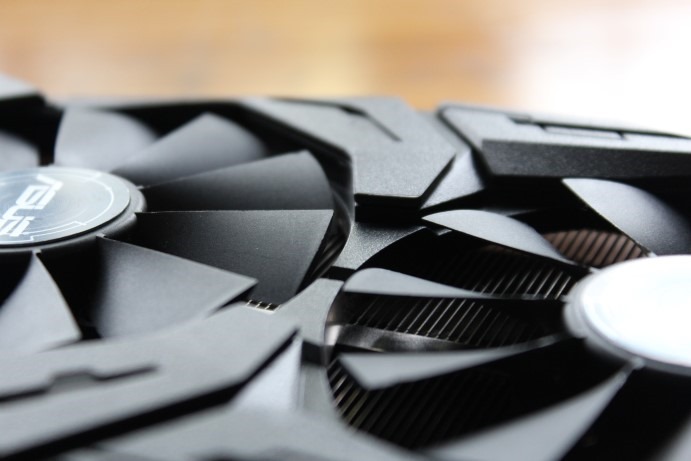 To help deliver the juice required, the reference 8-Pin power connector is joined by a 6-Pin connector to deliver 300W of power if needed. For "regular" users the extra power connector won't do diddly squat since air overclocking would not need more juice than an 8-pin can provide. For those perhaps looking to water cool or delve into extreme overclocking with a custom bios, the extra power it would prove useful. ASUS has equipped the card with an upgraded 8+2 phase Super Alloy Power II components system, which is an upgrade over the Founder's edition card.
Virtual reality is becoming a reality for a few lucky gamers, so ASUS has kept the two DisplayPorts 1.4 and single HDMI 2.0 port, but swopped out the third DisplayPort 1.4 for a second HDMI 2.0 port. This would allow gamers to have both a VR headset as well as a monitor with HDMI to be connected at the same time. Very sensible move ASUS.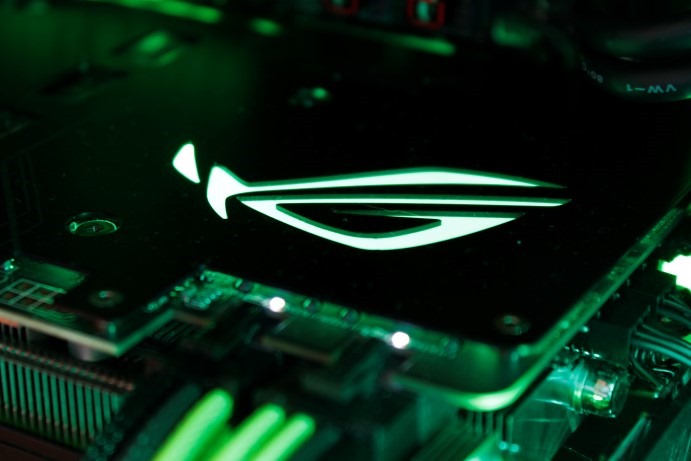 As a surprising extra, ASUS included two 4-pin fan headers on the rear of the PCB to be controlled via PWM signal based on the temperature of the GPU—essentially ASUS are now taking over your case fans to cool its behemoth. It's a unique feature and one so sublime it's a wonder this is the first time it's been done (as far as I'm aware).
It's big, it's exquisitely colourful, and it's time to get to the performance.
General Performance: Temperature, Overclocking and Colours.
I was handed the card along with an entire (sexy) system for testing, so all testing was done within the review system provided, all housed in an exquisite Cooler Master MasterCase 5 Pro NVIDIA Edition
Asus ROG Rampage V Edition 10 X99 Motherboard
Intel i7 Broadwell-E 6900K @ 4.4GHz
32GB (4x8GB) Corsair LPX DDR4 2133 (13-15-15-28)
Corsair Force LE 256GB SSD
Cooler Master GX II 650W
Cooler Master Nepton  120XL
Windows 10 X64
NVIDIA WHQL 372.70
Before we get to the numbers, the way ASUS have presented RGB graphics cards is something spectacular: Having first experienced RGB on a GPU with the MSI GTX 1080 Gaming X, the impression I felt was "Good Effort", as the single zone of RGB LED lights was limiting and bland. ASUS, though, with their AURA software, have made an RGB graphics card shines like no other, with colours that are striking and accurate.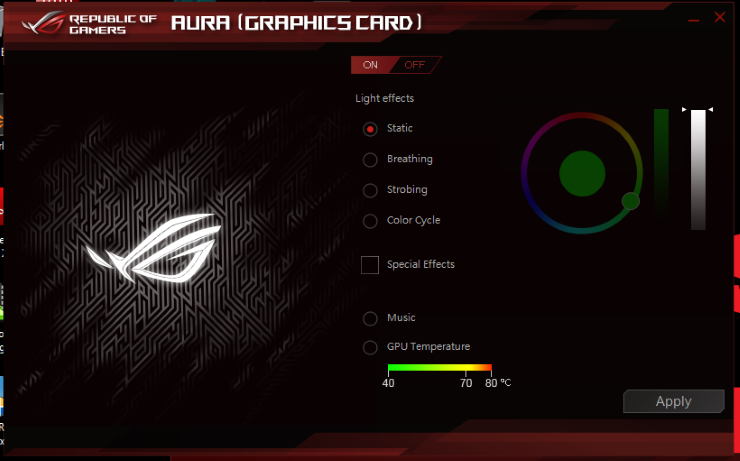 You get a few different common modes to choose from, like breathing or rainbow modes. If you pair it with a compatible ASUS motherboard, you can sync all the colours together, or have the GPU LED colour move in step with the GPU temperature.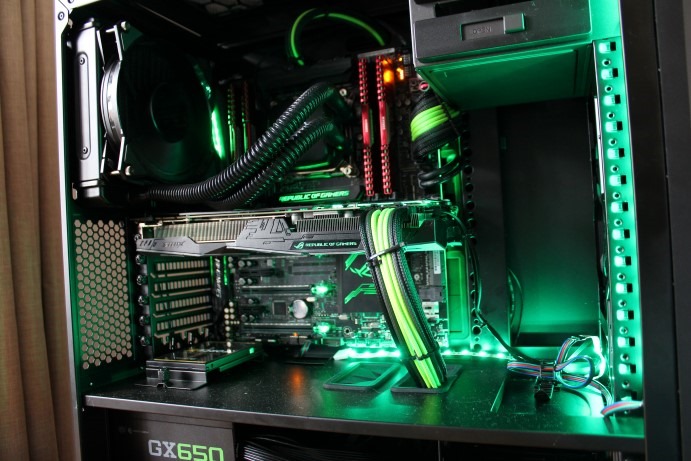 I realise RGB LED lighting on a GPU is essentially aesthetic non-performance fluff, but PCs are not just cold and detached things that give us pixels. When it's done right, it evokes an emotional response, something I observed when both my girlfriend and brother witnessed this PC, and the GPU within, for the first time. For system builders who want to create an emotive mood inducing environment around their PC, the combination of the Rampage V Edition 10 X99 Motherboard with the GTX 1080 STRIX OC is simply magnificent.
Temperatures And Overclocking
Something as powerful as the GP104 core does miraculously when it's cooled adequately. As the memory of the Founders Edition fades, we should not forget that as good as it was it would fastidiously stay within is operating reference boost and base clock speeds as it neared its 83 degree thermal threshold. The blower cooler limits the card, so when AIBs like ASUS step in, something very special happens.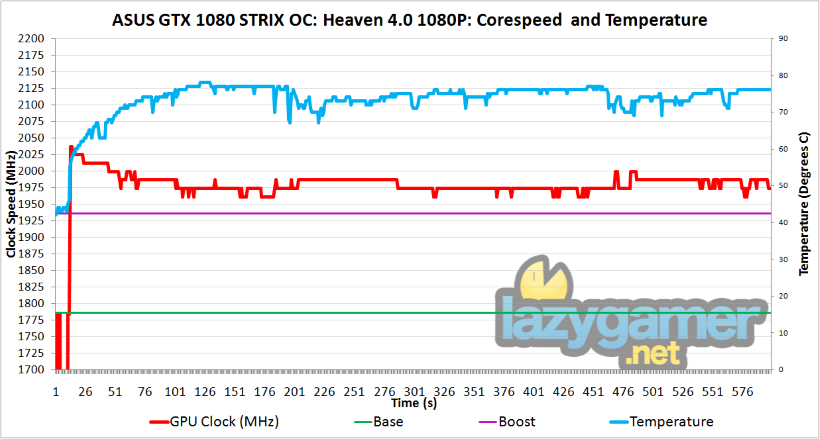 The GTX STRIX 1080 OC, even with the highest factory base and boost clock of 1785MHz and 1936MHz, is still able to achieve a clock speed above that figure ( average of 1976MHz) in a 10 minute Heaven loop, all the while keeping temperatures below 80 degrees C. Looking at the Fan speed to temperature graph, we see that the temperature never went above 65 Degrees C throughout the whole test. At 60% fan speed, the card was exceptionally quiet, although not as silent as the MSI GTX 1080 Gaming X.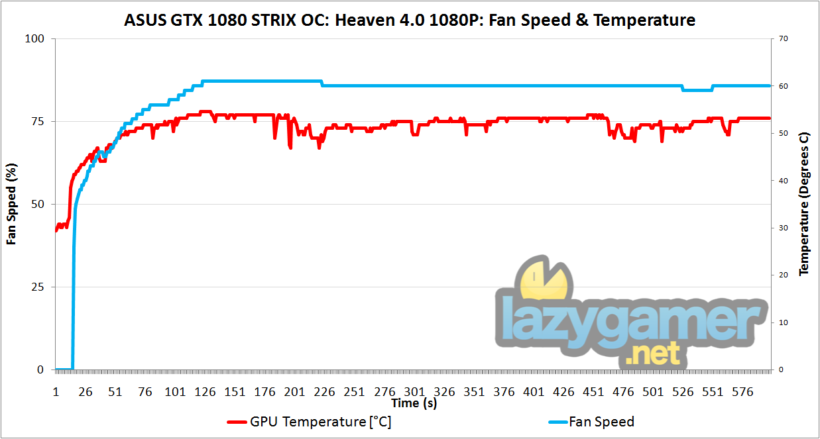 Once I cranked the dials up and delved into the dark arts, that's where this GPU showed its tricks. Although not a guarantee of winning the silicon lottery, the performance of this GPU when it came to overclocking, especially with the memory, was simply astounding. Increasing the core offset by +60MHz resulted in a base clock of 1845MHz a boost clock of 1996MHz, but an astonishing +825MHz on the memory was achieved, giving a total of 373,2GB/s of bandwidth. In Synthetic tests these clocks were stable, but under gaming loads there were driver crashes and it necessitated decreasing the memory overclock to + 790MHz to be stable across all games (11 580MHz effective). Using Witcher 3 I recorded the usual run I do, but with fan speed at 100%. Even though the memory overclock is spectacular, I fear the GP104 chip at the heart of the ASUS GTX 1080 STRIX OC is just a bit underwhelming, not getting past the 2100MHz air ceiling that seems to be common on most non FE based GTX 1080 cards.
Gaming And Synthetic Performance.
I would have loved to compare the performance metrics between the past GTX 1080 reviews we've done, but since those were done on older drivers and a Skylake System, they will not be comparable. However, as a card that clocked higher (at stock and once overclocked) than both the MSI GTX 1080 Gaming X and the GTX 1080 FE, I am confident that this is the fastest GTX 1080 Lazygamer has tested, and probably one of the faster air-cooled memory overclocks in the world.
Under DX 11 gaming, NVIDIA still maintains a strong mastery, achieving well over 60FPS at maximum detail at 2560X 1440. Cranking the resolution up to 4K, we see that the card maintains a strong 30FPS average across most titles.
DX12 and DX 11 Comparison
Once we look at DX 11 and DX 12 performance, it's a bit of a mixed bag. Once again 60FPS is easily maintained across titles at 2560 X 1440, however the performance benefits of going to DX 12 are not quite there yet for NVIDIA. In Ashes of the Singularity performance increases slightly, however in Tomb Raider and Total War:Warhammer, performance definitely takes a performance hit. Bare in mind, in Tomb Raider, even though the average frame rates are lower under DX 12, the lowest recorded frame rate is higher in DX 12 than DX 11. This basically means that frames in DX 12 wont dip under 30FPS and will have smoother, less choppy, gameplay overall.
Synthetic Benchmarks
Overclocking Performance
Although the ASUS engineers already squeezed out most from the tank, there was no much to gain…but gain we did.
Conclusion: Aura Inspiring
By this time the GTX 1080 GPU has netted itself a reputation of being exceptionally fast and easy to overclock, gaining amazing clockspeeds if temperatures are kept in line. AIB partners like ASUS, with fancily effective cooling solutions, are easily able to extract the highest level of stock performance by simply making sure the core temperature remains under 83 Degrees Celsius. ASUS does this with aplomb, churning out boost clocks that stun belief and shame any game you throw at it—all while being relatively quiet and colouring your case in striking LED lighting. Two HDMI 2.0 ports gear this card towards VR gaming, which although is expensively niche right now, it's not wasted on this card, which should easily churn out enough performance for VR gaming headsets.
The GP104 at the heart of the ASUS GTX 1080 STRIX OC is fast out the box However, the longer expensively overclocked GTX 1080 remain on the market, a cold reality starts to emerge: there are still very similar overclocking results between vendors: an upper limit between 2000MHz and 2100MHz. With the price and associated "premium" implied with the GTX 1080 STRIX OC, ASUS has managed to produce a card that has above average memory overclocking potential and a superb out the box factory overclock that beggars belief.
Last Updated: October 4, 2016
ASUS ROG STRIX GTX 1080 OC

For a card priced at R15 000 or $720, there is no value-proposition argument to offer since none can really be made at this price level. It boils down to a simple argument: If you want one of the fastest factory overclocked GTX 1080 cards out right now, ASUS has you covered…for a price.