Audio is an oft-overlooked component in any decent gaming setup. While most gamers will happily spend frightful amounts of cash on a good mouse and keyboard, they'll buy a set of cans attached by a piece of frayed string that's just good enough. That's understandable, especially given that so many gaming-focused headsets are terribly tuned, offering far too much bassy thump, and not enough of a rounded and balanced sound.
The Asus Strix Fusion range is an earnest attempt to change that. The ROG Strix Fusion 300 did a decent job of that, even if it had a few design niggles that stopped it from being an easy recommendation. For the last few weeks, I've been using the newer, shinier ROG Strix 500 – and in many ways, it's one of the best gaming headsets I've ever used. It too, however, has a few design issues that hold it back from being great.
We'll start with the good stuff though! Maintaining the sort of futuristic aesthetic found in the 300, the 500 is a solid, well-made set with premium finishes. It has a nice tight headband with ratcheted adjustment and great big comfortable earcup. They're made of a combination of protein leather and fabric weave, providing hours of use without becoming sweaty. If you prefer fabric, there's an extra set of cups that ditch the faux leather in favour of a lighter, more breathable fabric weave. I have a moderately sized melon atop my shoulders, and I found the headset unfathomably comfortable. I don't even think people with particularly petite pates would find much to complain about and there's enough give for those with nebulous noggins.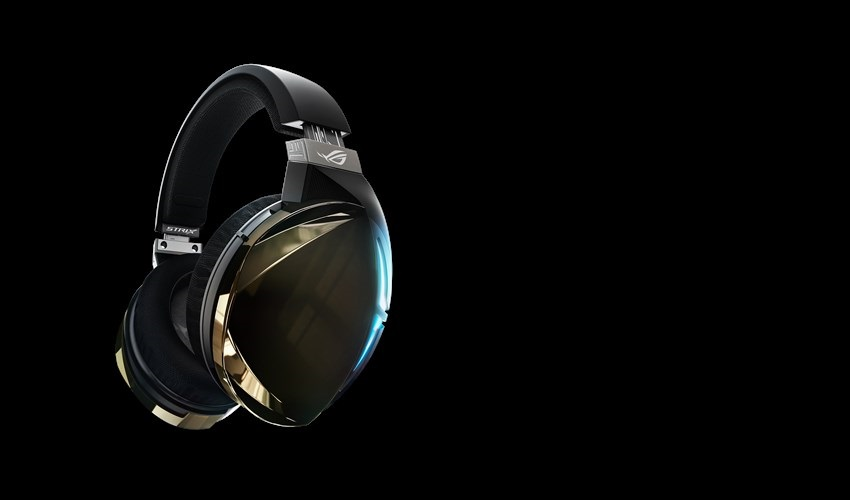 You'll find that connectivity options with the Strix Fusion 500 are limited, as it only accepts input through USB. There's a very good reason for this though; thanks to its on-board DAC and amplifier, the Strix Fusion 500 has to be powered. There's the delightful and sought-after combination of the fabled ESS ES9018 DAC and SABRE9601K Amp. The Digital to Analogue converter is the same one that's found in a number of high-end audio grade equipment, and the headphone amp ably powers the pair of 50mm drivers that each of the cups house. The 9601 does a very good job of reducing pop-noise, and weeds out hissing, delivering a very good listening experience.
I've used this headset for an awful lot of music listening over the last while, and it's been largely sublime. Paul Simon's Graceland, with its harmonious, ebbing and flowing isicathamiya is an auditory delight, while Eric Clapton's stripped-down Unplugged album shone. Naturally, The Eagles' live version of Hotel California from Hell Freezes Over sounded good too, with the crisp highs of the initial guitar work, perfectly replicated. Of course, implementation is more important than the equipment, and although the 9018 DAC is superb, the headset is tuned to be a little too bass-heavy for my preferences.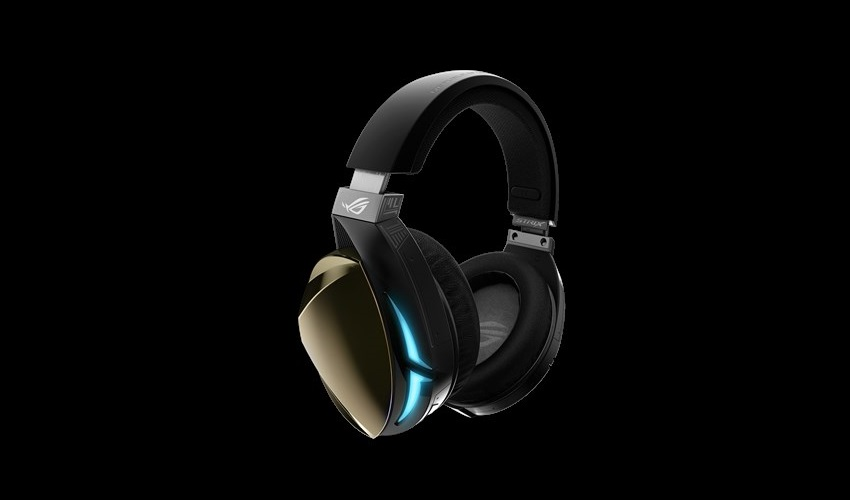 None of that mattered when I fired up some games though. Explosions and gunfire positively thundered, without as much as a bit of distortion from the drivers' airtight chambers. The Fusion 500 also includes virtual 7.1 surround sound. I've never really liked the sort of faux surround sound offered by headsets, as they have a tendency to produce deleterious, echoing audio. Here it's surprisingly good. I toggled the 7.1 on in 2017's Prey, and it definitely helped increase the intensity of that game's atmospheric exploration. I'm more afraid of mimics now than I've ever been. 2016's rebooted DOOM also sounded great, with its blustery soundtrack and blasting shotguns booming through the comfortable cups. As far as the audio goes, the Strix Fusion 500 provides an exemplary listening and playing experience.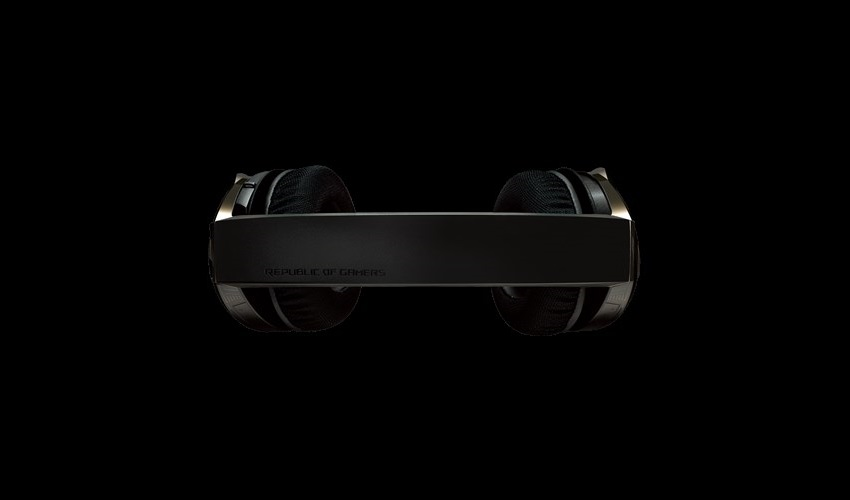 It's such a pity that the whole thing is dragged down by some odd design decisions. The most egregious is the capacitive touch controls. Instead of physical, tactile buttons or knobs for volume, the Rog Strix 500 has fancy touch controls. In theory, it's a nice idea, eschewing the bulk of physical knobs in favour of a streamlined, homogenous surface. Unfortunately, they're terribly unpredictable. You're supposed to be able to slide up on the left cup to increase volume, slide down to decrease it, and slide left and right to skip forwards and backwards through tracks. By tapping in the centre, you're able to play and pause. That's how it should work, but it often fails to register, and when it does it adjusts the volume in 4% chunks. It's needlessly fiddly and sometimes infuriating – and I found myself favouring the media controls on my keyboard for volume control instead.
The headset is also compatible with the PlayStation 4 via USB, but the touch-based volume controls don't seem to work there – or at least didn't for me. Instead, I had to rely on the system volume, which doesn't go quite as high as I'd like. There's an included boom microphone for voice chat, that auto mutes when nested. It works well enough but does, however, produce a discernible (but not deal-breaking) hiss. The headset is also an RGB one, though it requires connecting to the Asus Aura app on a mobile phone to control over its array of lighting options. It highlights another odd design decision, because the app connects via Bluetooth. Had Asus thrown in a battery and let it connect via Bluetooth for audio, it'd be a robust and versatile headset. Instead, its Bluetooth connectivity exists solely for lighting purposes. The need for it to be powered also means it lacks a 3.5mm option, which means it won't work with your mobile devices or the Xbox One.
I'm conflicted. There's some seriously good engineering and though that's gone into making the ROG Strix 500 a superlative headset for both music and gaming, there are also some odd design decisions that make it hard to recommend. Its price doesn't help there either. With a Recommended Retail Price of R3499, it's only a viable option for people with brimming wallets – and at that price point, there are better, more versatile options available.
Last Updated: April 3, 2018
The ROG Strix Fusion 500 is a fantastic, comfortable headset that delivers a superlative listening experience, but some quirky design decisions and high price make it hard to recommend.