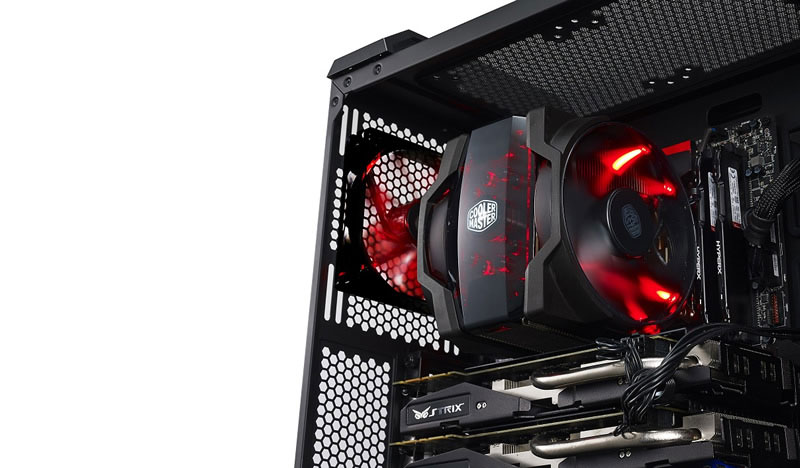 I've not come across a high end air cooler for quite a few years, so to see the likes of Cooler Master introduce high end air cooling filled my nostrils with nostalgia. Once upon a time in world of core 2 quads I had my eyes set on a Noctua NHD-14 or Cooler Master V8 GT. This was also around the time all-in-one water coolers were starting to become popular. So after much deliberation and review reading I settled on ditching air and going water.
If the Cooler Master MasterAir Maker 8 was around then, I think it might have been a much closer call about which way I swung my cooling needs. You cannot argue with how insanely sexy the cooler looks. As you'll see in the casual review video below,  for around the same price as modern high end water cooling (~R2000) you can probably achieve water cooling-like performance while feeding your nostalgia.
I know I did.
So, this mish mash of videos progresses on from from a cat filled unboxing through to an outdoor build video (with more cats) and eventual intimate one-on-one face time with yours truly. In it I extol the virtues and vices of the Cooler Master MasterAir Maker 8. I'm saddened by the fact that I did not have as much time as I wanted or needed, so I basically did all the testing I could cover in an afternoon. Regardless, more time with the CPU cooler would have still resulted in a single conclusion: this thing is more than capable air cooler and just has some concerns regarding compatibility for some high end builds.
The video is what some would consider, ahem, long, but they are divisible into digestible chunks, which I have laid out before you below:
Last Updated: August 4, 2016
Cooler Master MasterAir Maker 8

An exceptional air cooler that's quiet, cool and sexy; but should you take it over equally priced water cooling? If you need low temperatures but are averse to water cooling for some reason, absolutely.