There is this long history of Cooler Master "going green" and releasing NVIDIA branded Cooler Master cases. From as far back as the CM 690 NVIDIA edition, this tradition is still alive and kicking, and a few days ago Cooler Master released their brand new NVIDIA themed Cooler Master case, the MasterCase Pro 5 NVIDIA Edition. It's interesting to note that this edition was not exactly a  Cooler Master HQ mandate, and is more  a labour of love with NVIDIA Middle East: "MasterCase Pro 5 Nvidia edition started out as a small project with Nvidia Middle East and spawned into something much greater. We are proud to align one of our best cases with the best brand for GPU's"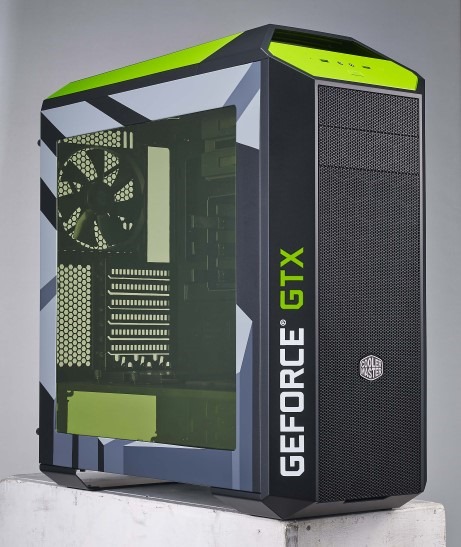 For those with green blood in your veins who are already looking to get one and fear they might not be available locally, you'll be happy to know that these cases are available right now for an exclusive time through Rebeltech. Even better, they are being sold with a discounted launch price of R2,349. For those counting costs, the NVIDIA case it is slightly more expensive than the regular MasterCase Pro 5, but for only R150 more you get a pretty slick and sexy green themed case that would cost you a few thousands to have done yourself, either through modding or paying someone to do.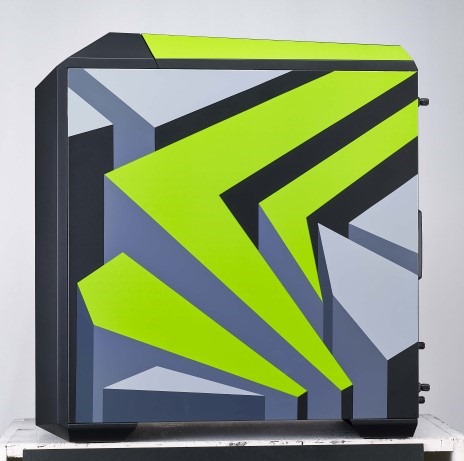 Personally, I think the case looks absolutely fantastic. Green and grey accents and the GTX logo along the front, side and top are nice touches, while the green-tinted window would make for some interesting green-hued lighting themes emanating from the inside of your case. Turning the case around, you see NVIDIA told Cooler Master to paint it like one of their French Girls, since the whole side panel is canvassed in total NVIDIA colours and logo—for me it's a bit over the top, but you have to admire the art work nonetheless.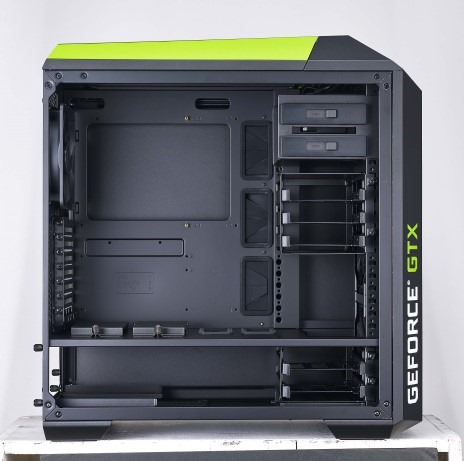 If only they took some of that green and moved it in towards their case in small ways—perhaps some green wiring or green SSD bays. Hell, even some green rubber grommets would have made me happy. Still, regardless of my personal choices for extra green on the inside, the case does stand proudly green.
Last Updated: August 25, 2016