I'd be lying if I said Cooler Master has not impressed me with their strong top of the line mechanical keyboards and gaming mice in the past. However, in the year of our Lord Pravin, maybe something more palatable to your soon to be haemorrhaging bank balance will suffice, which means the arrival of the recently released budget friendly Devastator II to our shores can offer some relief. With the Devastator II Gaming Combo, Cooler Master has updated their top-selling product line with some interesting features – some gimmicky, but most are noteworthy, especially for the RRP of R635.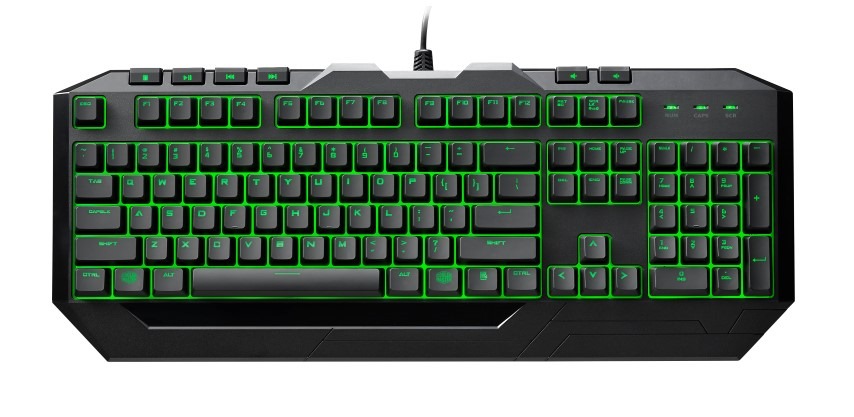 The CM Storm Devastator II is a keyboard and mouse combo, but with a little twist. One of the twists is what Cooler Master is dubbing their "Mem-Chanical" switch. This turn of phrase signifies their new "membrane" mechanical-like switches. Cooler Master are not the first to try sell membrane switches as "mechanical" like, but looking through their sales sheet, it seems like some effort was put into designing a more robust membrane switch. I'd never venture far enough to say they can replace mechanical operating switches, but for those who are interested to have a different feeling membrane switch, this seems like a good bet.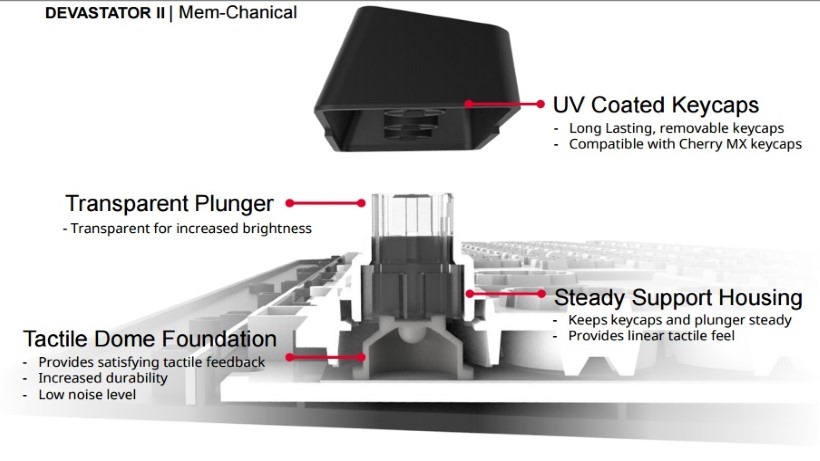 Usually a membrane key feels mushy and "soft" due to the much lower force required, but Cooler Master are stating a force of 50 grams and a lifecycle of 12 million clicks—hopefully we get one in to test the feel. The switch and keycaps looks to be well constructed and have some usage enhancing features like UV coated keycaps and a transparent plunger so that the LED's appear brighter. Like the original Devastator, there are three coloured versions to chose from: blue, red, or green. The keycaps are also Cherry MX compatible, which means gamers can customise using their own Cherry MX keycaps. Although I doubt it would be a key selling feature, customisation options for users is always a bonus in my book, even more so when considering the price. The keyboard also comes with some dedicated media keys, which is pretty much stock standard for any gaming keyboard out today.
The Devastator II Gaming Mouse is an optical mouse with a DPI between 500 and 2000 and a low lift of distance. There is a single DPI switch button, but we're not told what or how many levels of DPI there are. Is there simply 500/2000 or 500/1200/1600/2000? Cooler Master claim a 10 million click lifecycle, while the mouse will also be lit up with either red,blue, or green LEDs based on whichever combo is chosen. On the sides there are some rubbersised grips, which is great for a product in this price range, but there are also two side buttons that seem to be hard locked to "back/forward" function.
This might enhance boring productivity tasks or shave seconds off from stalking time on Facebook/Twitter, but do pretty much nothing else in a game scenario. It would be nice if even some barebones software was used to change their function. The side buttons also bring up another sticking point— Cooler Master claim the mouse has an "ergo ambidextrous" shape, but the presence of side buttons mean lefties are pretty much an afterthought.
Without having tested the products myself, I'd be interested to see if it's more marketing and less "mem-chanical". Regardless, even if it's no better than a regular membrane keyboard, the attractive RRP pricing of R635 definitely makes this a value for money budget combo, and that does not seem to dissuade Cooler Master offering some interesting innovations at the budget price.
Last Updated: February 25, 2016