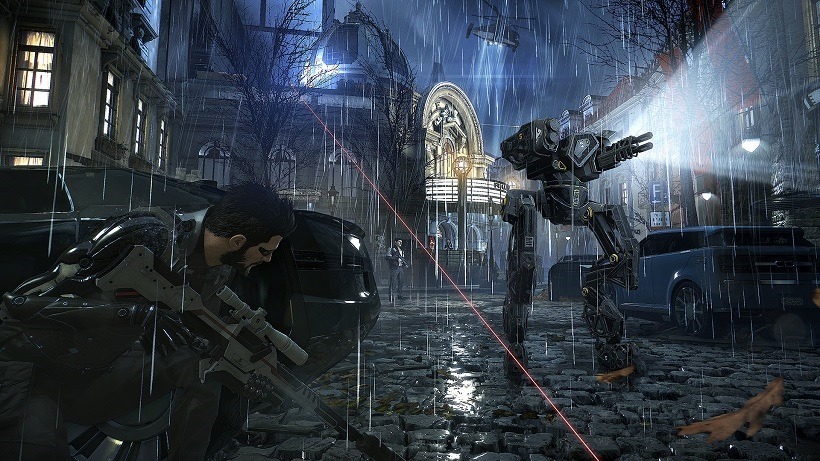 I must admit that the release of Deus Ex: Mankind Divided has snuck up on me. Being a massive fan of Human Revolution, I was all ready to jump right into this sequel back in February (where it was original scheduled to launch). Since its delay I've not kept close tabs on it, but we're just a few days away from jumping back into Adam Jensen's augmented boots. And just a few weeks longer if you want it looking its absolute best on PC.
Deus Ex: Mankind Divided is making use of DirectX 12 and an extensive library of AMD technology (like their hair rendering simulation tech, TressFX 3.0). With the game being built of the Dawn Engine, there's room for some DirectX 12 API optimisation, removing some overhead and (presumably) meaning smoother performance on cards with optimisation for the API. Here's some of the features it will add to the already visually striking title.
Under the umbrella of the Gaming Evolved program, AMD and Eidos-Montréal have been collaborating on Deus Ex: Mankind Divided, and the game will feature Microsoft's DirectX® 12 support as well as AMD's TressFX™. These features will not only raise the bar in game performance but bring unrivalled visual fidelity to the Deus Ex franchise.
Sure it's a little vague, but that should be expected given the same pool of titles that are really diving head first into DirectX 12 support. AMD and their cards have, traditionally, taken to the API far better than Nvidia cards, and Mankind Divided might just be the next game added to benchmarks to try and prove that this is where the future is heading. That's probably true, but we'll have to wait until September to really see what it does with the cyberpunk RPG.
Contrary to our previous announcement, Deus Ex: Mankind Divided, which is shipping on August 23rd, will unfortunately not support DirectX 12 at launch. We have some extra work and optimizations to do for DX12, and we need more time to ensure we deliver a compelling experience. Our teams are working hard to complete the final push required here though, and we expect to release DX12 support on the week of September 5th!
Reviews for Deus Ex: Mankind Divided are set to drop as early as tomorrow, with the embargo lifting a confident number of days before launch next week. We'll have our own review up soon after launch.
Last Updated: August 18, 2016