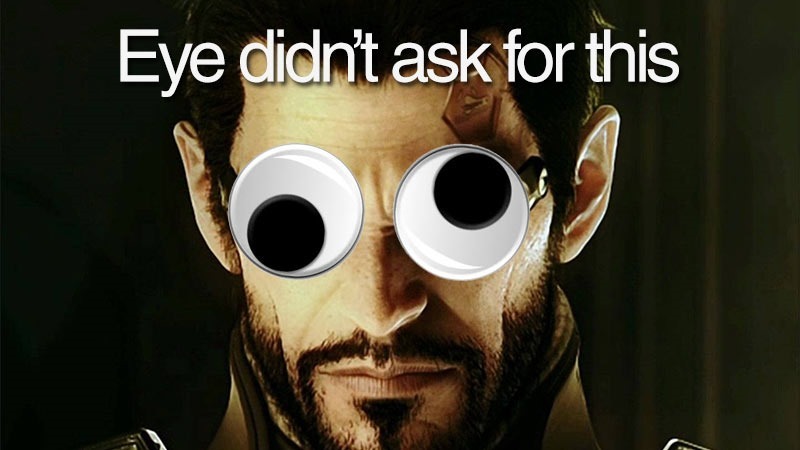 When I got to use Tobii eye tracking just a few months ago, I was surprised at how well it all worked. I was expecting, as these things tend to be, a complete gimmick – but using the technology in both the system's demo software and in an actual game like The Division made me think there's some decent potential use for the tech.
What better game to get support for the feature than a game that's all about augmenting humans to make them do things they couldn't before. Deus Ex: Mankind Divided is getting Tobii Eye tracking. Here's how Deus Ex: will benefit from your gaze:
Aim at gaze:  With Tobii Eye Tracking, gaze, aim, and click to activate a well-timed uppercut or simply fire away. It's your choice
Extended View: Explore the dystopic world that surrounds you in Deus Ex, just by staring at the edges of the screen. Look to the edge of your screen and the game's camera will pan – giving you a wider field of view with just a glance. Your natural eye movement immerses you further into the game's environment and lets you control what you want to see.
Icarus Dash at gaze: Lets you use your controls in a more fluid manner. Simply look in a direction you want Adam to move in – even vertically.
Interact at gaze: Move effortlessly using your natural gaze to intuitively interact with objects. Look at an object, press a button and automatically move towards it before picking it up. Easy come-easy go.
Clean UI: All the UI elements which remind you that you are playing a game fade away. Look and they'll appear; look away and they'll become nearly transparent. In a boss fight, you'll be able to check your vital stats. If you want to, when you want to.
Quick Inventory Items: Quickly select items in Augmentations or Inventory by gaze and
Cover at Gaze: This feature lets players find refuge when the heat is on just by gazing across the environment – highlighting places you can hide behind. (Not available on August 23, this feature will be available in an upcoming update.)
The only one that really, really interests me is the Clean UI, which is hardly worth spending the $164 necessary to implement eye tracking. It is, however, a glimpse of the future. Says André Vu, Executive Brand Director at Eidos Montréal:
With the Deus Ex franchise being a window to the future, we always try to provide innovative, ground-breaking experiences for our players. The numerous Tobii eye tracking features built into the game will provide PC gamers an extra layer of immersion that blends perfectly with the futuristic universe depicted in Deus Ex.
Last Updated: August 10, 2016