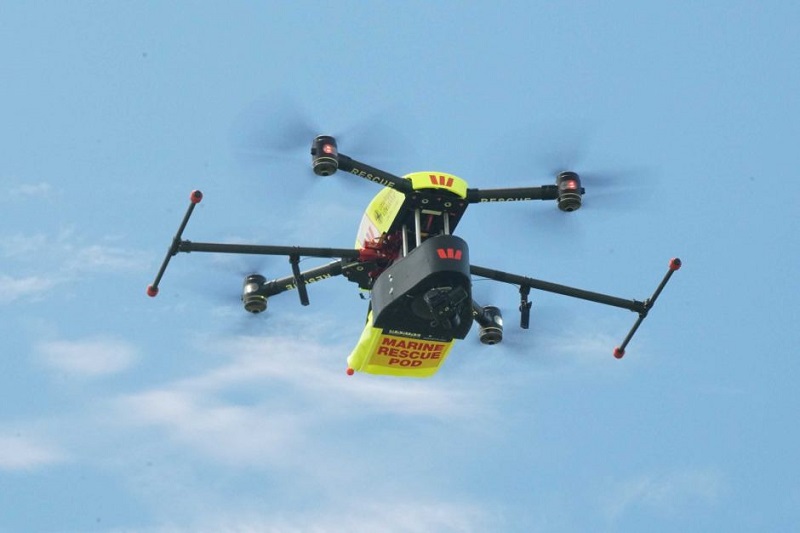 When I think of a distant world of drones, robots and artificial intelligence, I've got to be honest it conjures up more images of Skynet in my mind than it does anything positive or hopeful. Still, technological advancement has its benefits and for the most part the reasons why we want to develop all these new technologies is grounded in good intentions and not just for the sake of invading our privacy or taking over the world. I hope.
Which is why it's refreshing to also see examples of where some of these futuristic technologies are making a difference in the world and there is nothing that makes a greater impact than saving lives. In Austraila, a drone was used to do just that by the Australian Lifeguard when they were able to send a drone 700 meters out to sea to drop off a flotation device to the stranded swimmers. The done was able to perform this rescue in only 70 seconds, which is significantly less than what it would have taken for the lifeguards to get there even with a speedboat.
There is even a video of the rescue being carried out from the viewpoint of the drone itself that can be found on Quartz who first reported the news.
The drone, called Stella, is owned by a company called Little Ripper Life Saver is essentially a drone that carries lightweight pods that can used to carry a variety of life saving devices automatic external defibrillators (AEDs), flotation devices, electromagnetic shark repellent devices, and personal survival kits (that include water, a thermal blanket, a radio, and a first aid kit). It's quite a simple, but very effective idea that illustrates perhaps the best example of how drones can and should be used to get to places that humans can't t deliver some life-saving equipment.
All that is needed is to throw some AI into the mix and then the drones would be able to potentially respond to distress calls even sooner, before humans are even able to consider deploying it for the rescue. Well, that is until they realise that humans are actually a disaster unto themselves and they secretly decide to let us die instead – and now I'm back to thinking about Skynet all over again.
Last Updated: January 19, 2018