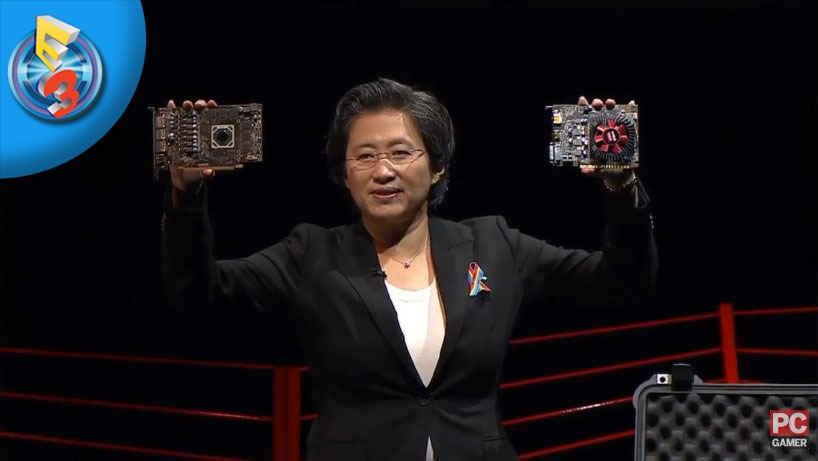 This is AMD's second year at the PC Gaming Show, and it's definitely not their strongest showing—last year we had a massive reveal of three new cards, a few rebrands, a dual GPU PCB  as well as enough details and prices to keep us interested. This year AMD barely announced two new cards—the RX 470 and RX 460, targeting "1080P" and "MOBA" gamers.
Just like last year we got the lovely AMD CEO Lisa Su coming onto stage to talk AMD. We got "the briefcase" this year as well, although unlike last year, what emerged from the box was a lot of hot air and very little substance for us PC gamers to actually grab onto.
Besides the already announced $199 (and above) RX 480 releasing on the 29th June , the new 14nm (not official Polaris 11) GPUs were trotted out by Lisa SU. Lisa described the RX 470 as an ideal 1080P 60FPS gaming card with 2.8X performance per watt over the previous generation, while the RX 460 was the ideal MOBA esports pixel pusher, using less than 75W. Going off the board design, there does not seem to be any 6 Pin connector(although there is space for one-AIB can add perhaps?), which means this reference RX 460 is getting all its power from the PCI-Express slot.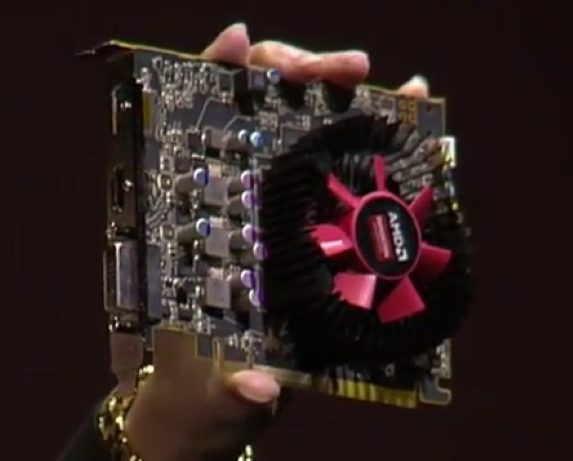 The miniscule cards, unlike the more fully formed RX 480, were quite barebones, as neither had what we would call "modern" cooling shrouds attached. Although Lisa did say that AIB partners will provide multiple versions of RX 470 , which tells me there wont be a "reference" cooling option, hence the absent cooling shroud on the RX 470. Specifications were glaringly absent, as well as price or release dates.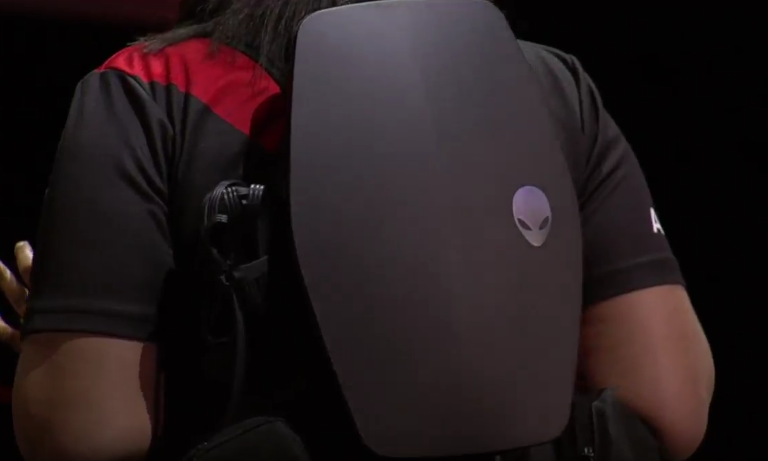 Of some interest to VR aficionados is a pretty sweet looking Alienware VR backpack with a RX 480 powered PC installed inside. The entire PC is in the backpack—we didn't see it run anything or get a price, but it looked cool nonetheless. Besides once again showing Doom using Vulkan API running above 60FPS (no resolution, GPU used or settings mentioned), we also got a teaser of CroTeam's Serious Sam in VR using dual AMD GPUs. Good to know that two AMD GPUs (supposed RX 480s) will be good enough for VR content.
As the finale, we got to see some Zen CPU tray batches like cup cakes coming out an oven, and then for some reason we saw Doom running on their 8 core 16 thread Zen, their new Summit Ridge CPU. I'm not sure what that was supposed to illicit, but if it was to prove that Zen is a gaming as well as performance CPU, it still offered very little substance to get at all excited about. All in all, a short showing from AMD, and I for one would have thought at least offer more than simply teasers of their products.
Last Updated: June 13, 2016