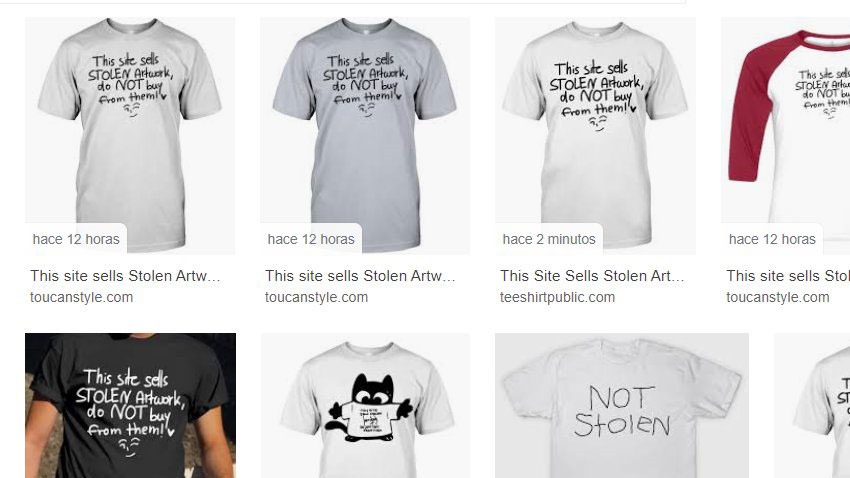 Thanks to the Internet, the proliferation of art has exploded in recent years. No matter your level of skill, creating art and uploading it is child's play these days as thousands of artists ply their trade with unique designs that make the world a better place. You've probably seen one or two designs online, thought you'd give the artist a compliment and tweet them back saying that you'd love to have their work printed on a T-shirt that you'd pay top dollar for.
Here's the catch: That's one of the worst things you can do these days.
With new technology comes new ways to steal, and Twitter happens to be crawling with bots programmed to pick up on complimentary tweets and grab the material that has earned such praise like a maggot on rotting meat. It'll be mere minutes before the algorithms find the art, convert it into a file and plaster all over actual T-shirts which you can buy, albeit at the expense of the artist whose livelihood depends on them not being taken advantage of like this by unscrupulous vendors.
So how do you fight back against these bots and the people behind them? There are legal channels to do so, but that's an exercise in pain and misery, a protracted uphill battle that seldom sees results in the grand scheme of things. If you're a more cunning artist however, you can use the bots to your own advantage and turn the tables on art thieves in much the same way that Nana did this week:
Clever, right? Within minutes, Nana's scheme had borne fruit with the following T-shirt vendors being caught with their hands in the cookie jar:
The idea evolved into an even deadlier form after this, with some people on Twitter reckoning that if bots were tricked into using imagery associated with the happiest place on Earth, they'd bring the full wrath of the House of Mouse down upon their guilty butts:
Pure genius. While it's always disheartening to see hardworking artists taken advantage of like this, it's double-encouraging to see their creativity come up with the cleverest of solutions. If you want an example of where to buy truly fantastic legal T-shirts that benefit the hands behind them, websites like Qwertee and TeeSpring are good places to start.
Last Updated: December 5, 2019