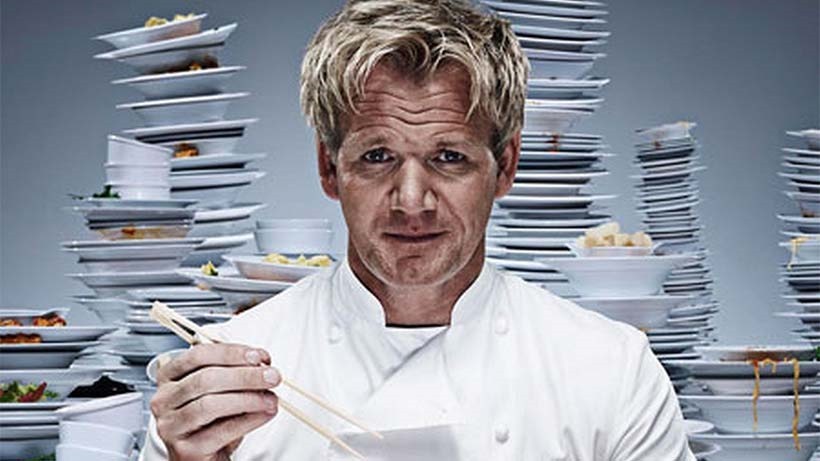 Mobile celebrity games are all the rage. There's that Kim Kardashian one, which we got Matthew to play through and review, and a Lindsay Lohan game that wasn't all about drugs and rehab. Britney Spears has done the same, and so has Katy Perry. We'll probably see many, many more stars banking on their celebrity to earn themselves tons of cash from a new generation of addicted casual gamers – with some games from unlikely sources, like the racist Southern butterfiend, Paula Deen.
It looks like other celebrity chefs are getting in on the mobile action. Glu Games has acquired the licence to use filthy-mouthed, shouty chef Gordon Ramsay in games.
"I'm thrilled to welcome undoubtedly the most recognizable and accomplished figure in the culinary world to Glu's family of celebrity partners," said CEO Niccolo de Masi. "We believe that the combination of Gordon's global fan base and Glu's leadership in the time-management genre with titles like Cooking Dash and Diner Dash make this partnership a recipe for success."
Glu says they've secured the rights to Ramsay's "name, image, likeness, voice, and creative direction."
And it makes sense. While "core" gamers bemoan this sort of thing, casual gamers (who are gamers too!) lap it up – spending millions of dollars on games of this sort. It is, of course, not the first video game to feature the chef; the TV show Hell's Kitchen was adapted to the medium – but it's not very good.
"One of the reasons we like the celebrity partnerships is that we get, effectively, a permanent marketing asset," de Masi said last October. "Unlike a movie IP, where there isn't really much social following, if you partner with someone who has 100 million social followers you have effectively in-built promotion."
While de Masi has namechecked Cooking Dash and Diner Dash, a Ramsay game influenced by the delightfully addictive Cook, Serve, Delicious! (a guilty pleasure of mine) would work well, I think – especially if the unfiltered chef's barking orders at you all the time.
Last Updated: January 21, 2016