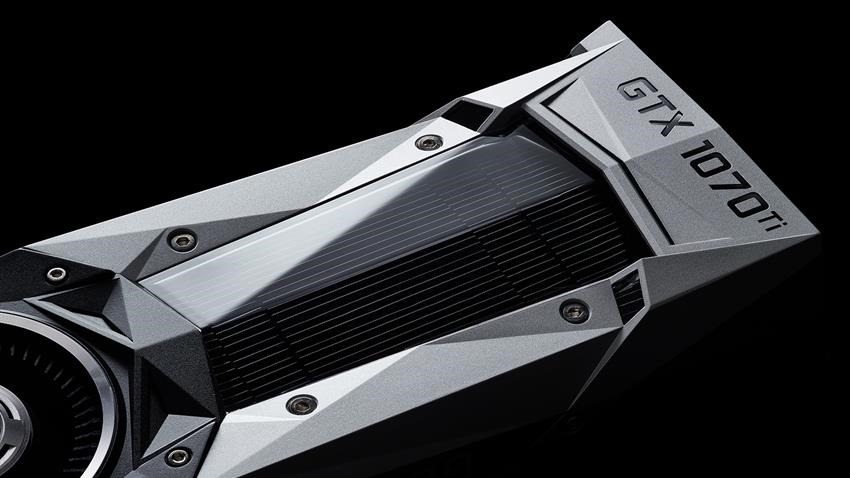 Nvidia and their Pascal line have really run away with the races. The architecture's combination of extreme performance metrics and impressive power efficiency make them almost certain decisions when choosing a card for your new build, with the massive range giving you many, many choices. Adding to that range this week is the GTX 1070 Ti – a beefier version of one of the more popular cards in the range, and one that adds just enough power to make it relevant.
Middle slotting cards are often strange, never hitting the peaks of the card that supersede it but offering enough to make you consider it over the base model. The GTX 1060 Ti, for example, is just slightly edging out the 1060 in performance, but its price bump sometimes doesn't warrant the little improvement. When choosing a Ti version, performance per extra dollar is important to consider, but the GTX 1070 Ti gets far closer to its upper ceiling in real-world tests than you might have expected.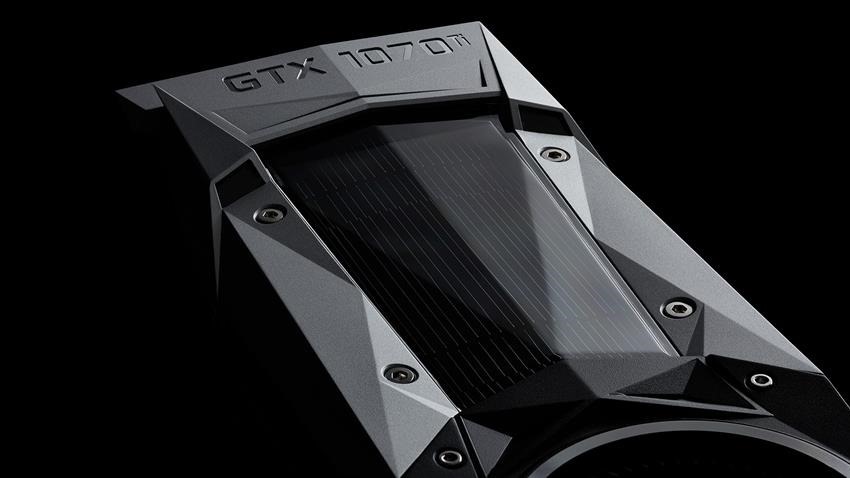 That's thanks to the near Frankenstein job Nvidia have done with this card. The 1070 Ti is far more than a slightly overclocked 1070. It features the same board as the GTX 1080, with the GP104 GPU giving the 1070 Ti much more headroom than the base model can offer. Despite the board change, the card retains the 8GB of GDDR5 (notice the missing X) memory, over a 256-bit interface and operating at 8Gbps. These are all familiar stats for GTX 1070 owners, as is the single 8-pin power connector which keeps the card running well below 200W at its peak.
What is drastically different is the Founder's Edition cooling. Nvidia was a little unclear with how its own extractor fan design differed between the GTX 1070 and 1080, but there was no question that the larger one did a far better job. So it's good that Nvidia chose to transplant the 1080 cooling directly onto the 1070 Ti. The copper vapour chamber pulls in air from your chassis and pushes it out the exterior. It's not going to keep your card as cool as third-party manufacturing solutions, but it does an incredible job at keeping things both cool and quiet. The GTX 1070 Ti didn't exceed 55 degrees Celsius during testing, and the entire system remained whisper quiet at the same time.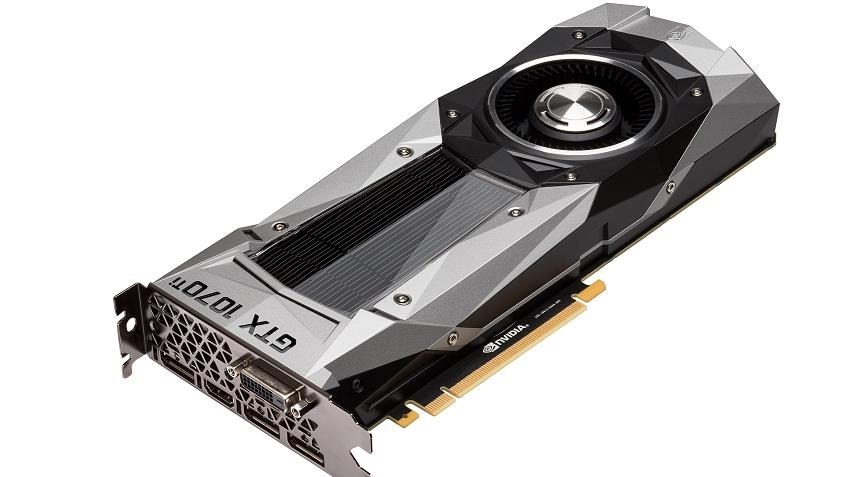 And given just what metrics the GTX 1070 Ti manages, that's impressive. We paired it up with the same tests we ran on both the GTX 1080 and GTX 1080 Ti Founder's Editions, and the bigger 1070 slotted in just about where you'd expect it. Which isn't to say it's a slouch. Far from it.
Metro: Last Light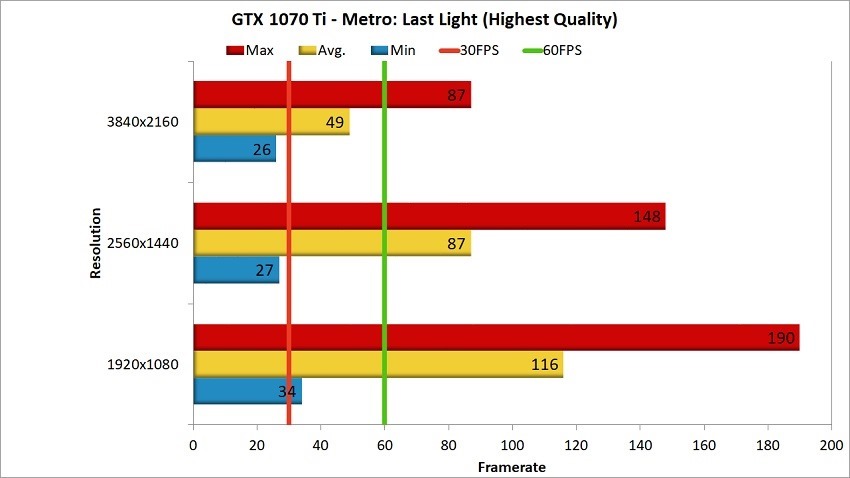 Metro: Last Light and its benchmark feature still offer a good playground for testing out cards, especially when things start breaching the 4K region. But as Pascal has shown over the course of its life, Nvidia has made some big strides forward. The GTX 1070 Ti managed pretty much any run thrown at it, even reaching nearly 60FPS at 4K with the highest settings active.
DOOM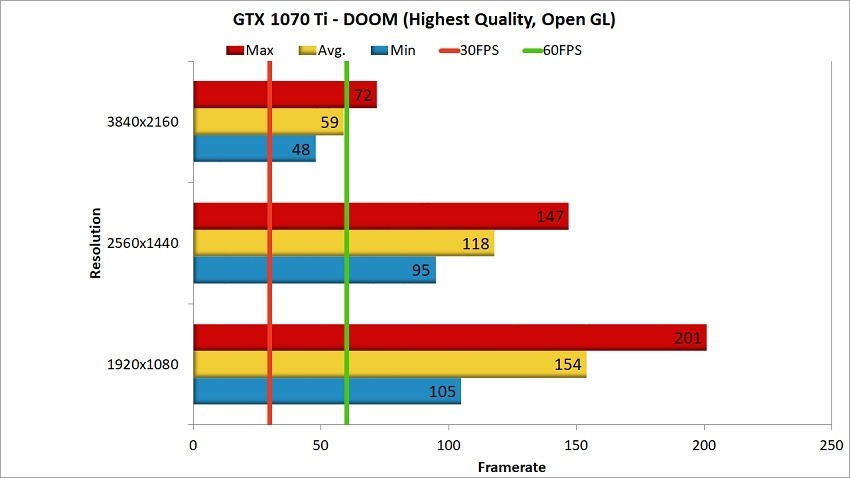 DOOM is one modern game that is ridiculously well optimised, which serves only to allow for a larger range of cards to hit that sweet spot of 120FPS at high resolutions. Running the game at 1080p is just a disservice to the GTX 1070 Ti, and the card puts in an even stronger showing ramped up to 2K. But DOOM averaging out at 59FPS at 4K is great, and shows just how much muscle this card really has.
Grand Theft Auto V
As with Metro, GTA V's benchmarking runs are taxing. Swooping in from the sky into a busy street really does a number on memory bandwidth, as long draw distances and assets are cached in abundance at high resolutions. The GTX 1070Ti does a good job of dealing with it though, even without the GDDR5X memory of its bigger siblings.
The Witcher 3: Wild Hunt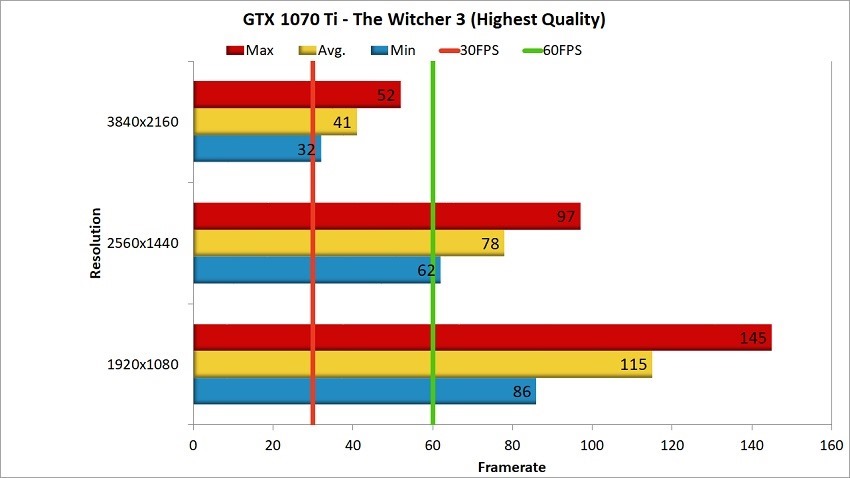 The Witcher 3 is a technical and artful masterpiece, and it's still one of the best looking games you could hope to run on some shiny new hardware. It's taxing too, especially if you're cranking up the Nvidia exclusive settings pertaining to Geralt's sweet locks of hair. But the GTX 1070 Ti stood up tall against it, even if it's starting to show its limitations on the 4K spectrum.
3DMark FireStrike and TimeSpy
If you're looking for more generic benchmark results, FireStrike and TimeSpy do a great job of levelling the playing field. And the GTX 1070Ti scored well – but Ultra really seemed to push it hard. This is where the highest temperatures were recorded, but with good reason. The Boost Clock shot up past 1900 MHz to keep up, and that's without even touching a dial for overclocking just yet.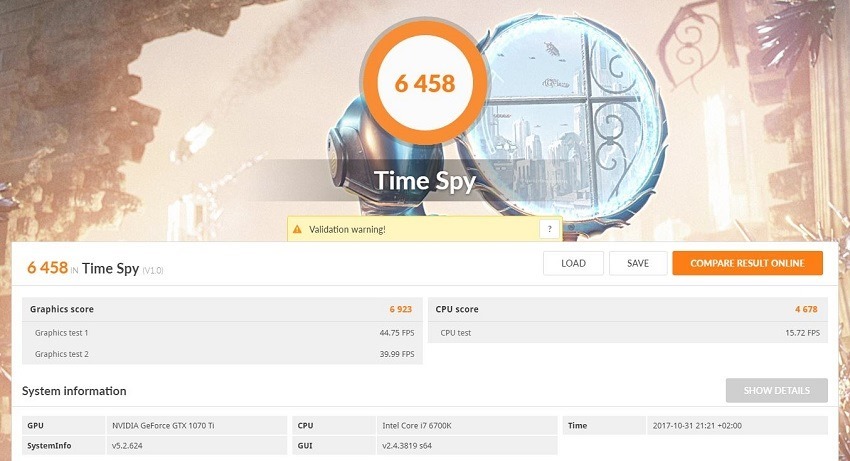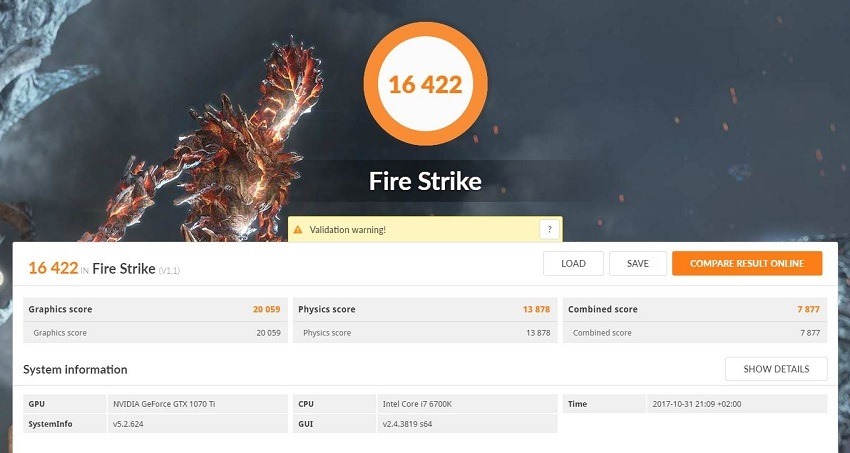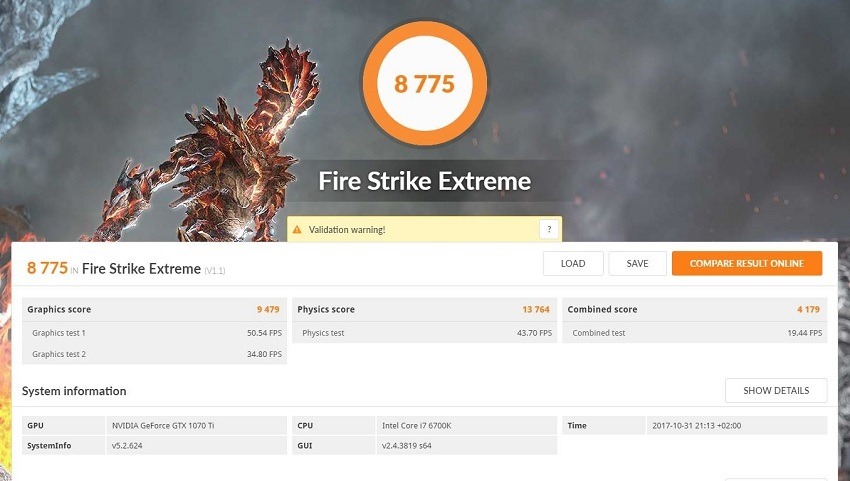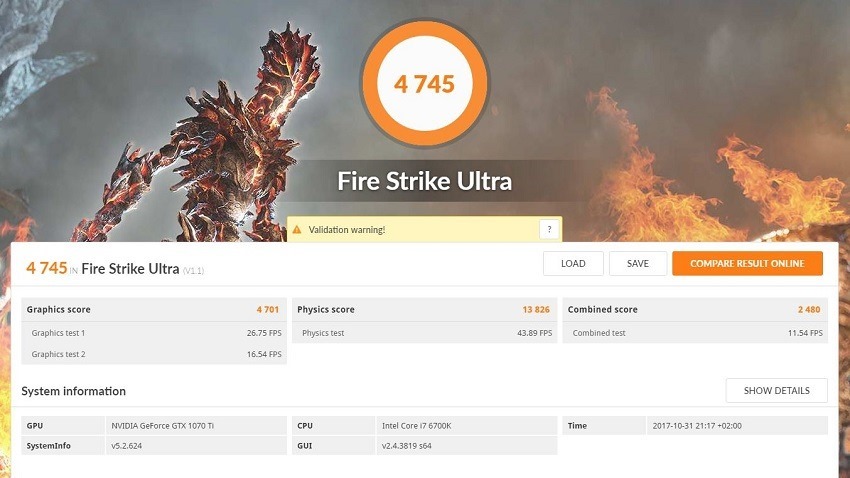 How do these metrics stack up against the GTX 1080 and GTX 1080 Ti though? Looking at two games in particular, it's clear that the closest rival for the GTX 1070 Ti is the 1080. The Ti version of that card starts really pulling away at 4K, but up until then the GTX 1070 Ti really holds its own. What's surprising is the few wins it gets. There are certain cases where the GTX 1070 Ti turns in slightly better results than the beefier 1080, which certainly makes pricing on these cards far more interesting.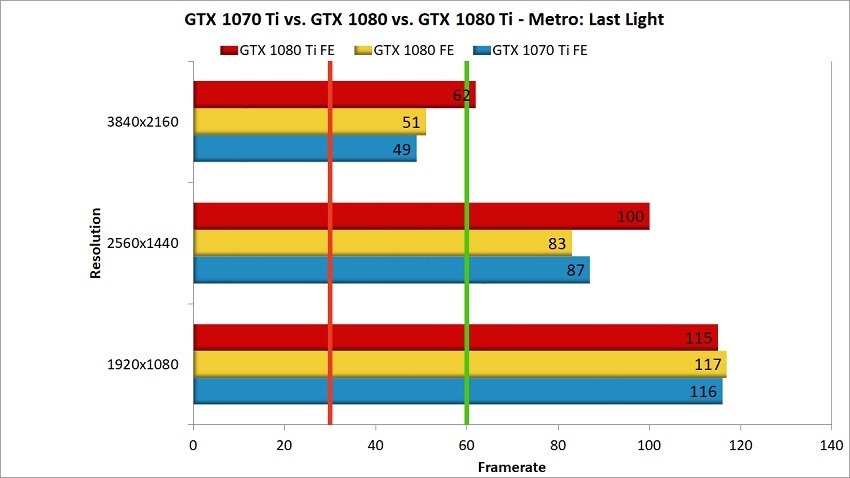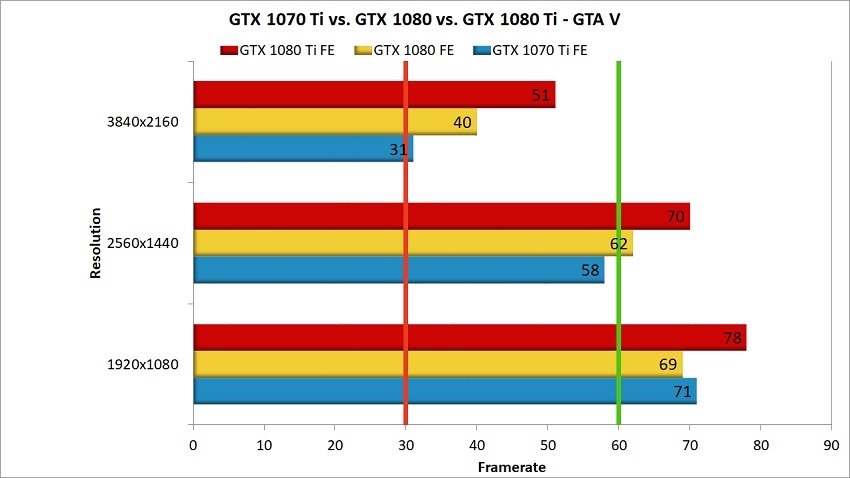 Being on the same board at the GTX 1080, it's unsurprising that the GTX 1070 Ti features a lot of headroom for overclocking too. Even without touching a thing, the card does a great job of scaling its boost clocks. Starting at a core clock speed of 1607MHz, the GTX 1070 Ti managed to push well into 1900MHz territory all on its own. And with the slightest of delicate changes, I managed to set 200MHz more on the core clock, and squeeze out 500MHz on the Memory Clock. These are similar figures to what I've been able to get out of a GTX 1080 Ti with little effort, and more dedicated overclocking is sure to yield even more.
The biggest issue with the GTX 1070 Ti right now though is pricing. No matter which way you cut it, it's still the smaller of the two cards when compared to the GTX 1080, even by the smallest of margins. So to have both cards retailing for near identical prices (locally, at least) is strange to say the least. You could just as easily pick up a GTX 1080 for around the same price as most GTX 1070 Ti cards right now. Although some AiBs (Zotac in general) could find you a deal for about R1000 less.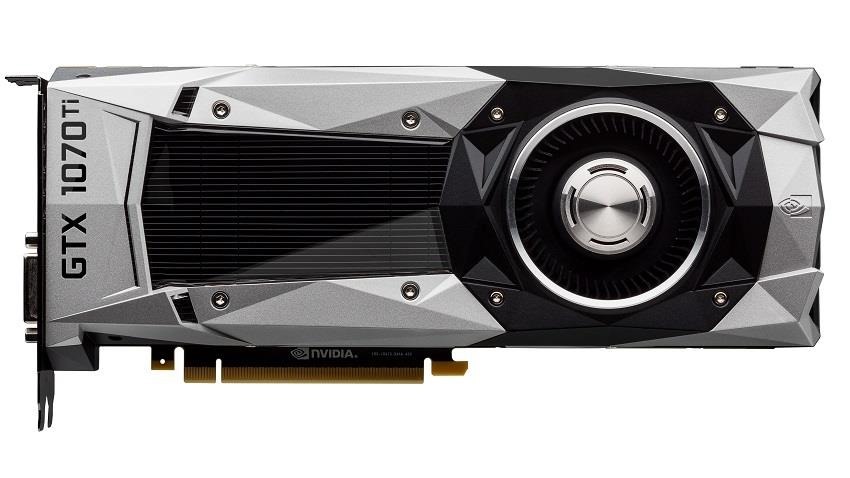 It's a pity too, because with the correct pricing the GTX 1070 Ti would easily be the card I'd recommend to new PC users. It's fast for a variety of resolutions and framerates, has the headroom to extend beyond its default limits and brings together the best parts of two brackets of Pascal cards. But if the larger card is retailing for the same price, it undercuts its value proposition. So until things space out a bit and launch pricing changes, think long and hard about what you might actually get for the same price.
Last Updated: November 2, 2017
Nvidia 1070 Ti Founders Edition

The GTX 1070 Ti is as blazing fast as you've come to expect from the Pascal line, with the Founder's Edition doing a good job of keeping operation cool and quiet. It's meant to be a card that shakes up the GTX 1080 space, but its price keeps it caged in a strange fight for relevance.