Years ago, the idea of wearing a watch – let alone a smartwatch or fitness tracker – was an alien idea to me. I'd grown up not wanting or needing a timepiece attached to my arm and later, when mobile phones became ubiquitous, I'd always had one with me for timekeeping purposes. I didn't need any of the fitness-tracking because I'd always lived by the motto of no gain, no pain!
That changed recently. I received a few smart and not-so-smart watches to review and ended up becoming particularly attached to one of them. And since realising that my advancing years will have me coming face to face with my own mortality, I've begun trying to be a fitter, healthier and more active version of myself. To that end, my watch has become an integral part of my daily routine. I use it to track how badly I sleep, how many steps I get in and how many calories I burn when I drag my usually sedentary behind to the gym or outdoors for a run. Of course, I put my hand up when there was an opportunity to review Huawei's latest watch, the Huawei Watch GT 2.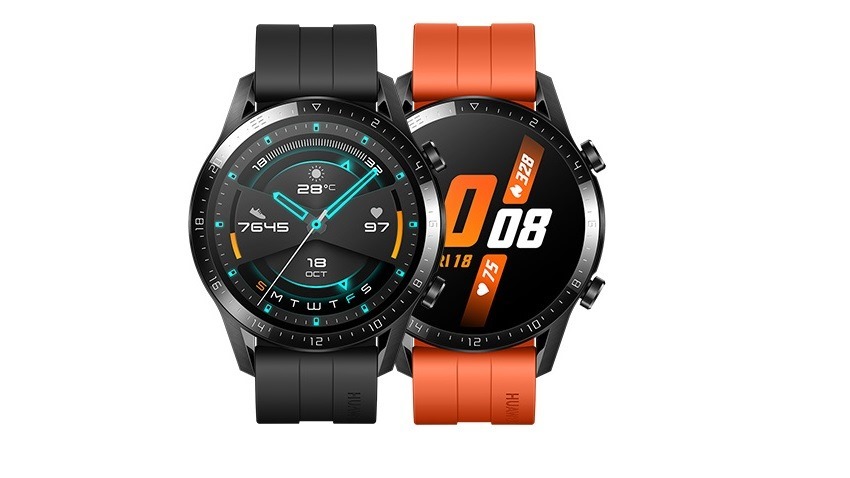 It's available in two different sizes, a smaller and more elegant but less feature-packed 42mm version, and the larger but more useful 46mm version which I was sent for review. The most striking thing about it is the big, bold and unbelievably clear screen. With a 454 x 454 resolution display at a crisp 462ppi, it's actually sharper than most flagship phones. It's a gorgeous timepiece, with two crown buttons on the right side, and an etched dial that's flush with the 3D crystal covering the display, which makes it both striking and elegant. On the underside, you have the standard array of green light sensors which are used for heart-rate tracking. There are different editions of the watch that come with either a classic leather strap, a fancy metal one or a fluorine rubber, which is the unit we were sent. The rubber is smooth, comfortable and doesn't yank at your arm hairs like some other straps. At just 41g, the watch is one of those that once you're wearing it, it's barely there and easy enough to forget.
Watches that aren't specifically geared towards pro sportspeople (like the Garmins and their ilk) or ones that aren't made by Apple, with their more harmonious ecosystem, are in a weird spot. Google's just bought Fitbit after effectively abandoning its Watch OS, leaving manufacturers to come up with their own systems. Samsung has its Tizen OS on their Gear devices while Huawei's opted to use its own Lite OS, which will soon be rolled into its Harmony OS. It's that software, Lite OS which powered the first Huawei Watch GT, that forms the backbone of this newer device.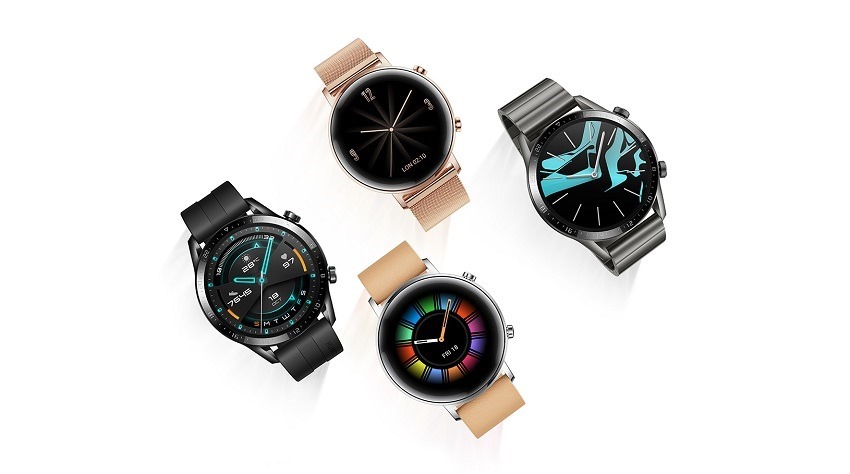 As a result, it's actually a little limited on the software side. It doesn't allow you to load any apps, third-party or otherwise, so you're stuck with what's already on the watch. For me, that's perfect. I don't really want my watch to be a minicomputer attached to my arm. I want something that tells me the time, tracks my fitness, my sleep and general health, while also giving me access to things like notifications, weather, a timer, an alarm and a stopwatch. The GT 2 does that and more.
Of course, it has the usual, step tracking, heart-rate tracking and sleep tracking you'd find in most trackers, but the GT2 now also measures your general stress levels. I'm not too sure how useful a feature it is, but I suppose if your watch tells you that you're constantly overstressed then perhaps you need to re-evaluate your life. If you are stressed, the watch can also guide you to calmness and clarity through built-in breathing exercises. There's also a built-in barometer for air pressure tracking for those who might run in strange climes. While you can enable constant heart-rate monitoring, there's, unfortunately, no EEG monitor like you'd get on a new Apple Watch (not that that feature's actually available on Apple watches in South Africa, but I digress).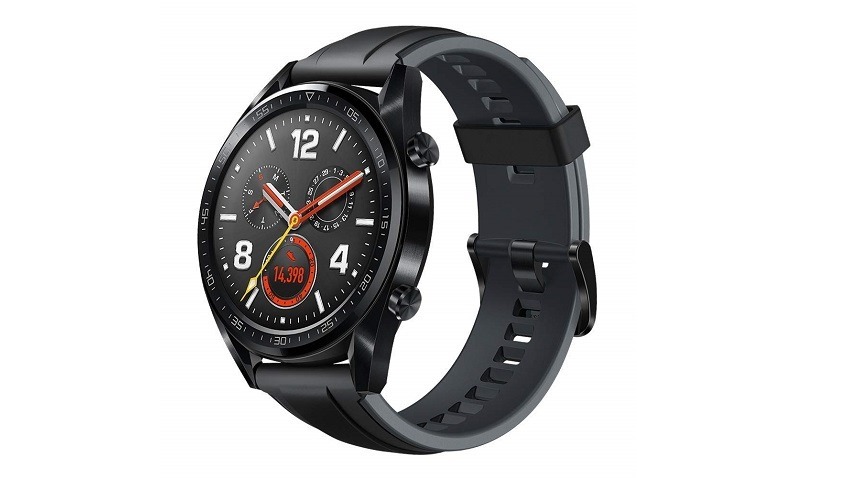 As far as exercise tracking goes, there's a lot on offer. It'll track 15 different sports including indoor and outdoor runs, cycling and stationary biking and will even track a swim (it's got a 5ATM rating). When I first used the watch, I wore both it and my own, and found there to be little difference in the step counts and calorie burns from my workouts, so I'd say it's fairly accurate. It also offers some built-in coaching, so you can use it as a guide to better fitness. Unfortunately, the Huawei Health app that the watch interfaces through isn't the best. While it offers all of the information you really need, it's a bit rudimentary, and the lack of direct Strava integration makes it unsuitable for those who take running seriously. It's a pity, because it's capable on that front, with a built-in GPS that adequately tracks run distances and elevations. The other downer is that it doesn't automatically pick up when you're exercising, so you'll have to manually start an activity to track it properly. The Huawei Health app links to Google fit, but it sends all exercises – no matter what activity you do – to that app as a walk. It doesn't really matter because it tracks the calorie burn and activity time correctly, but if you're detail-oriented it can be irksome. Still, it's a handy exercise companion.
Making it even better on that front is the handy storage space it has for your own music, letting you upload tracks to the watch through the Health app. You can connect your own Bluetooth headset or earbuds to the watch directly, and go for a run without having to carry a phone with you. The better, 46mm version also has a built-in microphone and a speaker that you can use for calls. It does so by routing the call info through your phone and does make you look like a wannabe secret agent, but it's a handy addition I found myself using more than I thought I would. That speaker is improbably good for its form factor too, producing clear and loud audio that's good enough to listen to a song or two.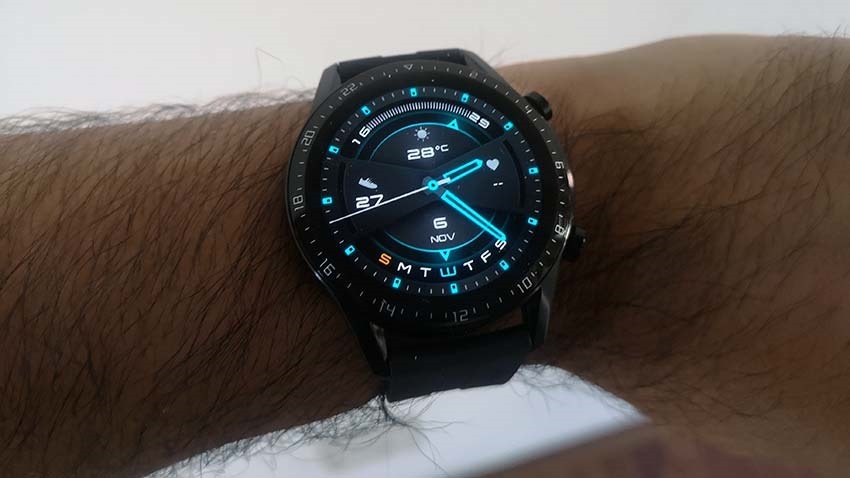 It would be remiss to talk about the GT2 without mentioning its stellar battery life. Huawei promises that you'll get two weeks of use out of it on a single charge. I've had the device now for just over two weeks, and I've charged it just the once – and that's while using the thing to track my sleep, and my workouts, but without constant, real-time heart rate monitoring. That is, of course, using the setting that only switches the screen on when I lift my arm. You can opt for an always-on screen, and perpetual heart-tracking, but you'll cut the battery life in half, easily. Thankfully, it charges really quickly with the included USB C puck charger that connects magnetically. It's not wireless charging unfortunately and does rely on that proprietary charger.
The Huawei Watch GT2 is available now, for a recommended retail price of R4999 for the better 46mm version. The smaller 42mm GT2 doesn't appear to be available locally just yet.
Last Updated: November 6, 2019
Huawei Watch GT2

Overall, the GT2 is as nice, but unnecessary upgrade over the older GT. There's not too much in the GT2 that makes it a must-have upgrade, and it's also not really a device that's for everybody. For me though? It's perfect. As I said, I don't want a smart watch that's a micro-computer; I just want something that looks great, and does what I need from a fitness tracker. The Huawei Watch GT2 ticks those boxes.