If you're over 20 years old, I'm pretty certain you lived through the "golden" years of overclocking, i.e, the Core 2 and AMD Phenom days back in the middle of the last decade. Although hardware was less robust and more prone to giving up the ghost back then, almost everything could be overclocked and cooked past its operating parameters. Fast forward a couple of years to the Sandy Bridge lineup, and overclocking became the preserve of wealthier PC gamers, only present in designated "K" unlocked multiplier CPUs and Z-Chipsets.
The days of taking a lowly dual core processor to within spitting distance of its more expensive silicon effectively shuttered. There were a few attempts and "Anniversary" throwbacks to the dark art, although I think the most recent method of bypassing locked Intel processors most assuredly registered on Intel's radar for the latent need to have overclocking at more palatable price points.
Which is why I can finally get to the point of this article: The recent reveal of an unlocked Core i3 Processor from Intel in their Kaby Lake lineup, the Core i3-7350K. It has been nearly 7 years since we've been able to overclock an i3 Processor (Clarkdale), so the reveal of this processor is quite exceptional.
This processor is a dual core chip priced at $177. This is quite close to the $189 Core i5-6400 quad-core chip, and although it has two fewer cores, it still has Hyper-threading is is clocked very fast out the box, at a base frequency of 4GHz, and a boost of 4.2GHz.  Unlike the locked i5 and locked i3 chips of Skylake, this chip has an unlocked multiplier which means it will have support for overclocking out the box.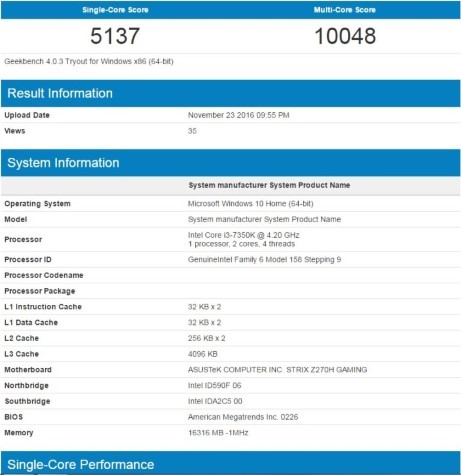 Although revealed as a rumour 2 weeks ago on HWbot, recently two benchmarks were found through Geekbench which more or less confirmed the existence of this SKU (although nothing from Intel themselves). The 7350K scored quite respectably, a 5,137 points in single-threaded tests, and 10,048 in multi-threaded test. When compared to current Skylake i5, it handily manages to  best a lower clocked  i5 6400(2.7GHz-3.3GHz) and even a higher clocked Haswell i5 4670K (3.4GHz-3.8GHz). Not only do the gains in IPC manage to propel the 7350K ahead comfortably, but the idea that overclocking it could lead to widening that gap is a very juicy thought for people looking to dabble in some overclocking without breaking the bank too much. It seems like there is no reason not to do this, since not only will it increase interest in overclocking, K-CPUs from Intel are pretty much cash cows for them, so it should add to their bottom line quite nicely.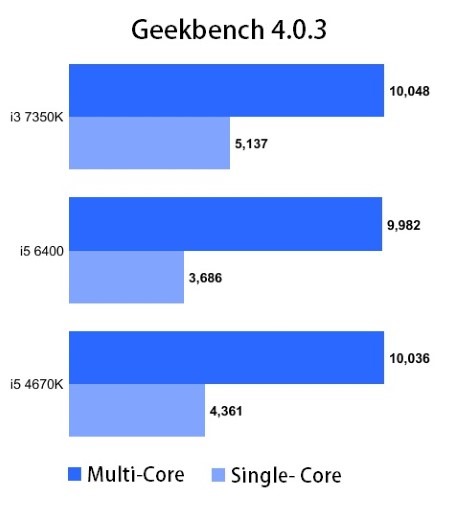 Last Updated: November 30, 2016