We're living in a very connected age these days. Smarter phones, tablet devices with enough computing power to handle the Apollo missions to the moon and consoles which are that little bit closer to the bridging the uncanny valley effect. When used properly, the technology of today makes for a fantastic piece of learning hardware.
Instant information at the swipe of a finger, with activities that'll keep your mind busy and away from boredom. Such technology however, is on the pricier side of life. So not a f*** would most parents ever give a child their very own high tech tablet to play with. That's a recipe for disaster, with most kids liable to break the fancy Apple device or make Samsung cry.
But there are alternatives. Enter the LeapFrog EPIC, a tablet that stands for "Explore, Play, Imagine and Create" according to the manual lingo. It's supposedly designed especially for kids from the ages of three and up, a brightly-coloured tablet that can be used by the roughest of hands and the smallest of toddlers.
Naturally, I was chosen to review it, presumably because of my child-like hands. And maturity, just like your face.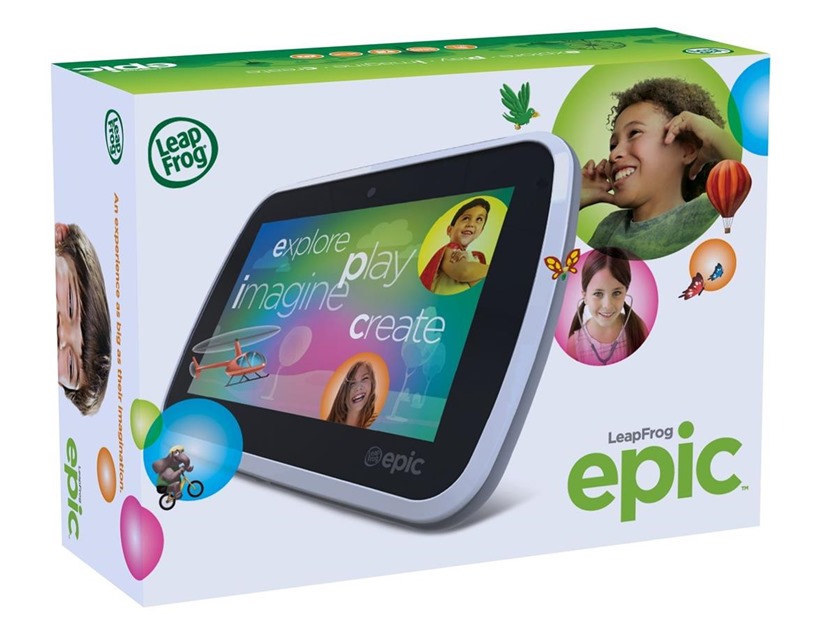 So what's in the box? For under R2000, you get a 7 inch touchscreen that is powered by a quad-core 1.3 GHz processor, 1GB of RAM and an Android operating system. You've got a resolution of 1,026 x 600, 16GB of internal storage that can be expanded with the micro-SD slot and wi-fi and bluetooth connectivity. All of, that capped off with 2-megapixel cameras on the front and rear, as well as a chunky battery which can handle over 6 hours of play.
Not bad, but not exactly brilliant when you see what other tablets can do, with a similar price tag. Here's the thing though: None of that matters.
Listen, kids aren't smart at this age. I know you think your darling spawn is a little Einstein, but they're not going to bust your chops over screen resolution and storage capacity. Most of them can barely tie their own shoelaces at this age (hell, a feat I only managed to achieve when I turned 21), so it's not about how much hardware is under the hood but said technology does with it.
What the Epic is, is a tablet housed in some safety silicone, a brightly-coloured sleeve that is also home to a big stylus for their still-developing claws. While the software is adequate, you get the feeling that it never takes full advantage of the processor, resulting in some middling speeds. And that's a slight shame, because the software is where the tablet really shines.
If I've learnt anything in life, it's that children can easily be distracted by bright images and loud sounds. The interactive home screen is a winner, waiting for your brood to plug into their own custom profiles and sample the scores of activities on offer. Daily events, activities  with interactive elements and learning programs are all packed into the EPIC tablet, creating a balance between fun and actually learning something from your experiences.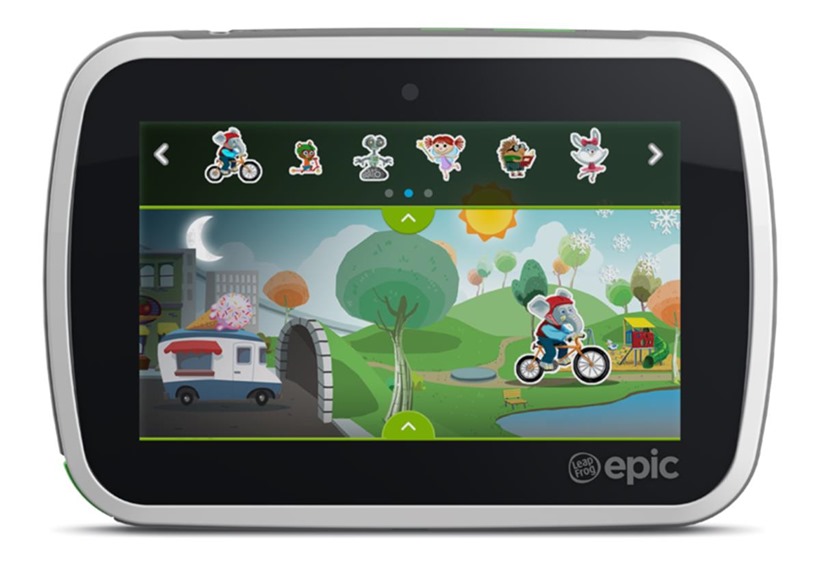 I think, because I'm not exactly the target market here and running after children outside of a school while promising them EPIC fun got me arrested more than once. But the apps are fun, at least for a while. There's a handful of proper games on offer, but adding more to the tablet will cost you several bucks. And remember, this is a dedicated device, built on custom software: Which means no undercutting the LeapFrog marketplace and looking for cheaper apps on the Android marketplace.
LeapFrog says that there is an update that'll allow you to access the Amazon Appstore, although I never got a chance to confirm this. Here's perhaps the most important question however: Is it safe?
When you hand your child their first smart device, you're also risking them being exposed to less than savoury content. Content that any parent does not want to explain or find on their devices. Fortunately, the EPIC has a built-in child-safe browser that allows you to monitor which websites they can visit, as well as a lockdown system for added protection. Which means that you won't have to explain the disgusting facts of life sooner than you'd like.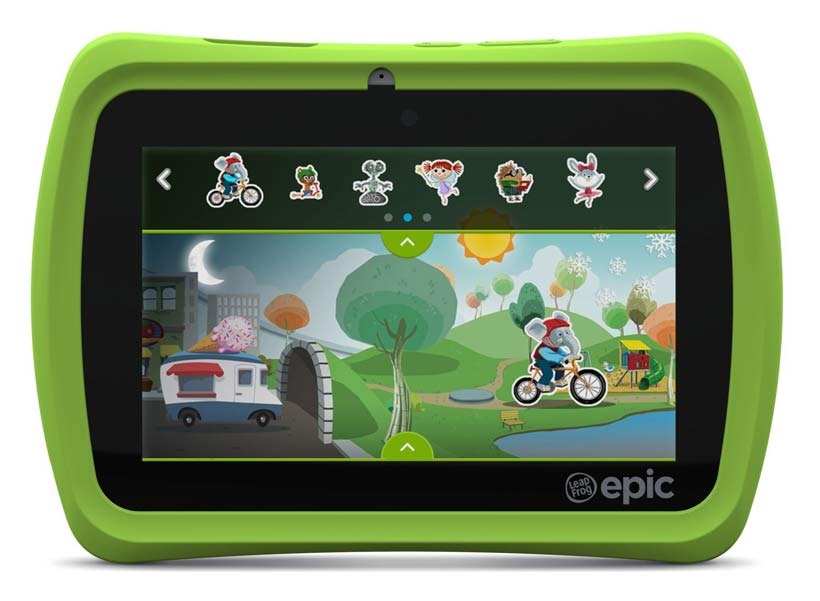 Last Updated: January 19, 2016
LeapFrog EPIC

The LeapFrog EPIC isn't a bad tablet. It's not the best tablet either, but kids won't realise that. What it is, is a device packed with plenty of software, apps and tools that won't have your children accessing the kind of content you'd like them to avoid. At least until they turn older, and develop a more discerning taste in tablets that is.