I don't really like gaming keyboards. While I'll happily expound the clear benefits of mechanical keys over those horrible rubber dome monstrosities, I'm generally not fond of the large, hulking gaming keyboards that look like they're made from appropriated Martian technology and sparkle like they're powered by toxic unicorn vomit.

That sort of ethos is changing though, as hardware manufacturers realise that many gamers prefer sleeker, more understated hardware that combines both form and function, without looking like a gaudy key to interdimensional travel. I've always liked my keyboards to be slimmer, with a lower profile – which has made finding the right keyboard tricky. Low profile keyboards just aren't as satisfying as pressing down on full profile keys. Logitech's G815 is an attempt to deliver a satisfying keyboard that delivers a premium experience, but in a sleeker, less chunky for factor.

For the most part, it succeeds on that. It's a delightfully well-engineered keyboard that offers all of the features you'd expect of a high-end keyboard, just without taking up half a desk. It's definitely a high-quality keyboard, something that the grey-blue, 22mm high aluminium body. The bottom of the board is made from reinforced steel, so it's heavier than you'd expect from an aluminium construction. The G815 is a full-size keyboard, so it packs in the numeric keys, along with a lovely volume wheel on the top right of the board. I do wish the wheel was made of metal to match the body instead of the plastic that's been used; it's discordant to the expensive feel of the rest of the keyboard. Despite being ridged, there's no tactile feedback to the wheel either, which seems like a missed opportunity.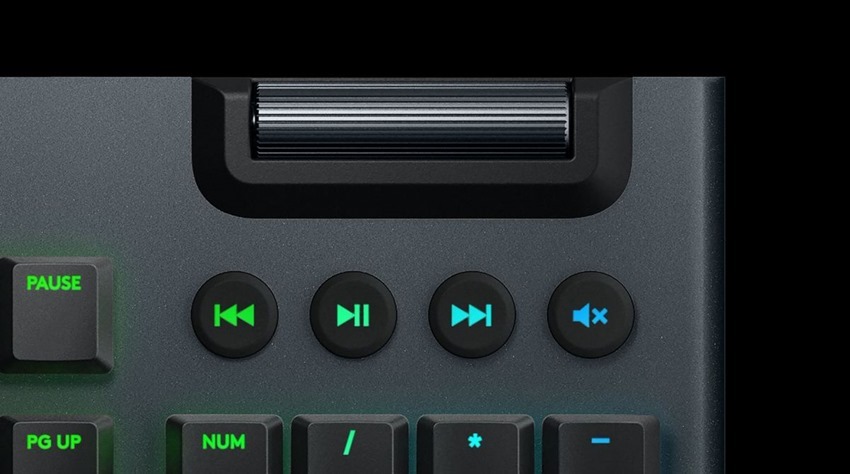 The keyboard has a nice thick braided cable and uses two USB ports. It routes through a single USB 2.0 port for easy access for flash drives or USB headsets so it doesn't feel like a waste. You can also just plug in the one cable and skip on the routing if you choose.
In addition to the standard keys, the G815 includes four circular rubber M" keys along the top that can be used to switch preset profiles on the fly. They're joined by keys for switching on game mode(which disabled the Windows key), and for setting the brightness and turning off the RGB lighting. Because they keycap lettering is dark, having the lights on is almost necessary, because it's terribly hard to see the lettering with RGB off. Below the volume wheel there's an array of multimedia keys, using the same rubberized circle keys for the presets. They're soft and spongy, and feel a little out of place. On the far left of the keyboard there're five programmable "G" keys, which are my first real complaint about the keyboard. I found them far too easy to press, so I ended up disabling them for my standard workday preset.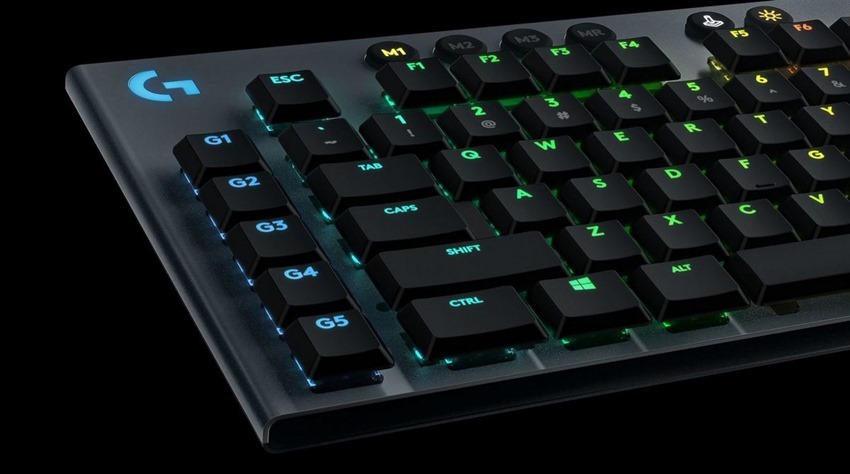 Of course, the important thing about any mechanical keyboard is the quality of the switches. Here, Logitech has switched out its Romer-G switches for its super low-profile "GL" switches. The board is available in three variants, with clicky, tactile and linear switches available. Clicky switches, as their name implies, make a very audible, satisfying click with each key press. Tactile switches have a little bump before actuation, making them best for situations that require feedback – like typing. Linear switches actuate with no bump so are the quietest of the lot, and probably the best suited for offices (unless you want your colleagues to hate you).
The clicky keys have an actuation distance of 1.5 mm with 2.7mm of total travel, which is incredibly low. They manage to still feel satisfying to use though. While I can't speak for any sort of improved WPM, and I'm still the king of typos, I do rather like the audible click – and the much shorter travel time means it's feels like you're typing or performing actions faster. That's really what a keyboard is about, isn't it? And the G 815 feels great; much better than similar lower-profile keyboards I've used. Another nice touch is that the keys and the body are oleophobic, so they're resistant to smudgy fingerprints.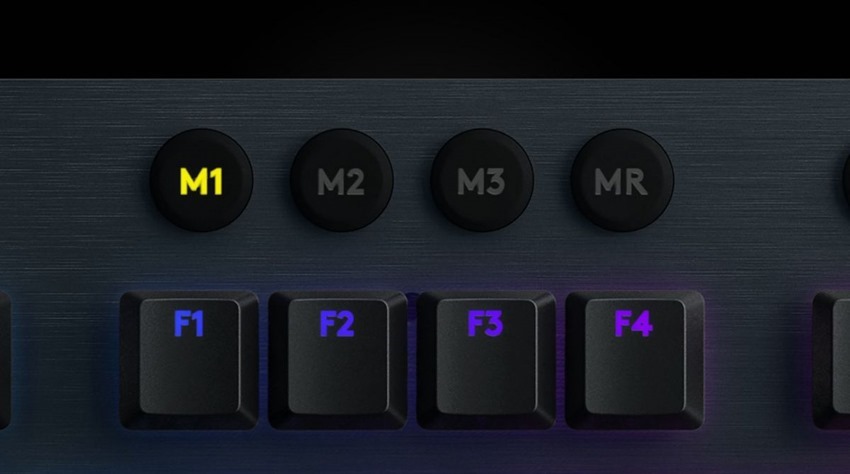 The whole thing's controlled through Logitech's updated G-Hub software, where you're able to set Macros for the G-keys, enable and disable lighting effects and set per-key RGB if you wish. There's a load of presets too, but the most interest RGB effect is Logitech's Lightsync. That allows the keyboard's lighting to reactively change based on what's on your screen. It's a neat effect, and one that – like Philips Hue – genuinely adds to the atmosphere. Games, videos, even mostly static webpages will be reflected in the colours of your keyboard. It's very nearly instantaneous and undeniably cool to see in action.
It is, unfortunately, a very expensive keyboard indeed. With a retail price of around R3199, it's on the pricier end of available mainstream keyboards. If you've got the money to burn, there's also a wireless version – the G915 – that's functionally the same but eschews the cables.
Last Updated: December 4, 2019
Logitech G815 Lightsync RGB Low-Profile Mechanical Gaming Keyboard

Logitech G815 Lightsync RGB Low-Profile Mechanical Gaming Keyboard is a premium low-profile keyboard that comes at a premium price. The clicky keys have a satisfying click despite their short travel distance, offering up a superlative experience. It's a pity that the G keys are ill-placed and the volume wheel feels cheap because everything else about the G815 screams quality.