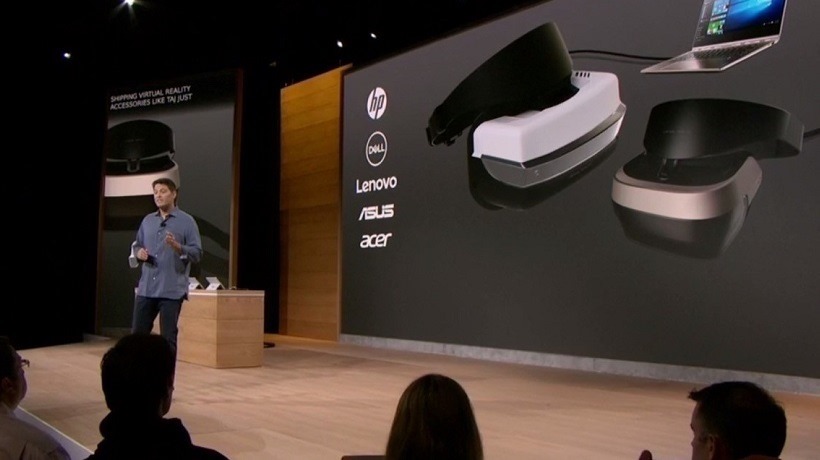 Microsoft's massive hardware event yesterday afternoon was exactly that: massive. They revealed two brand new PCs, most notably their incredible expensive Surface Studio PC that's already allowed Darryn to combat the drought with his drool. But it was some third-party hardware that really lifted eyebrows. Not because it was innovative, but rather because it revealed Microsoft's intention to get into the Virtual Reality market.
Microsoft spent a lot of time talking about their next Windows 10 Update (which they've dubbed Create). The update will bring some massive changes to productivity apps and an overhaul of Paint, making it a much more robust program for designers. But the real hook is 3D creation tools, which will be supplemented by Microsoft's own Augmented Reality headset Hololens and third-party VR headsets.
Microsoft detailed business deals with companies such as Acer and Asus already working on headsets compatible with Windows 10. HP and Dell were also revealed as partners, although both companies look to be concerned more with VR capable PC support rather than their own headsets. The headsets themselves are expected to launch for only $300, and offer inside-out head tracking. It means the cameras are built right in to the headset, and can caculate the angles your head is at. For some uses it's more limited than the external camera solutions the Vive and Oculus Rift use, but for Microsoft's  purposes it's perfect.
Oculus, however, were absent from the event. Given their presence at the Microsoft conference at E3 in 2015, their absence could indicate that Microsoft isn't yet ready to step into the waters of gaming VR. Sony, HTC and Oculus own this space, and it's not unlikely that Microsoft will get there eventually. But for now their focus seems to be on everyday-VR, which quite frankly still holds the technology's greatest potential.
Gaming is but one limited feature of VR, and the more people start using it (and other solutions like Hololens and mixed reality devices), the more we'll start to realise just how society changing the technology really is. This is a good first step in that direction.
Last Updated: October 27, 2016