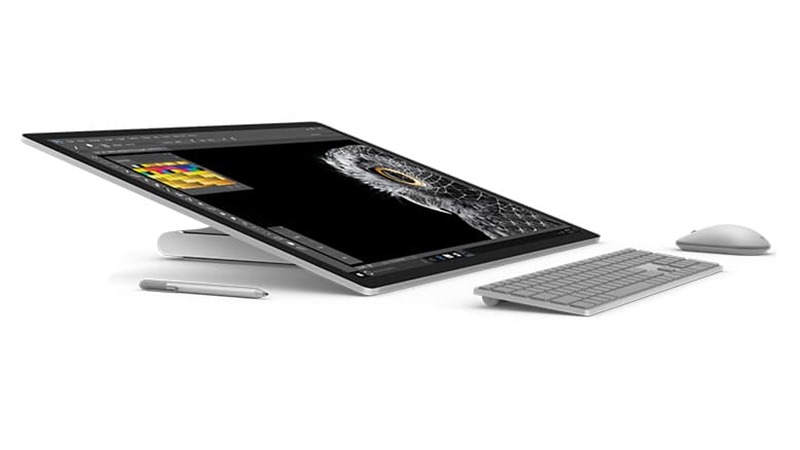 I've got a lot of love for the Microsoft Surface Pro devices, even if I don't own one. Dammit, now I'm sad. Anyway, Microsoft has had some success with their Surface Pro tablets, large-scale mobile screens which reach the halfway point between dedicated PC power and an ergonomic high tech slab on which to view videos of kittens when you're out and about.
Yesterday, Microsoft revealed a new edition to the Surface family at their Windows 10 event: The Surface Studio PC. Leaning closer towards a big budget desktop, the Surface Studio features a ginormous 28 inch screen with touch features and a pixel count of 13.5 million colourful dots. That's 63% more than a 4K TV apparently. Powering the 12.5mm wide monitor is an Intel Core i7 processer, and the Surface Studio will even have support for Xbox controllers.
But here's where it really gets interesting: The Surface Studio is meant to be a workhorse device for creatives, using expanded colour output that Microsoft refers to as "TrueColour" and has an Nvidia GTX 980M on the high-end models. The display can thus be orientated downwards to a 20-degree angle, to give people a flatter surface to draw on. For anyone working in a creative position, that's massively helpful stuff, especially for artists.
As for peripherals, the Surface Pen and the new radial Surface Dial will all be supported. The Surface Dial itself – a sort of puck that you place atop the screen –  can be used for menu options and just about anything that needs adjusting such as volume or screen brightness. Just like the iPad Pro focused on creating a device that would cater to artists and graphic designers, Microsoft is going for pretty much the same market of professionals with the Surface Studio.
"Every now and then in pursuing our mission, we see the opportunity to create a new category of device," Microsoft's Windows VP Terry Myerson said at the event via The Verge.
We seize these moments to create something so much more than a product.
Here's a full breakdown of what's under the hood of the regular Surface Studio:
Display: 28-inch 4500 x 3000 PixelSense LCD (192 PPI), 3:2 aspect ratio, Adobe sRGB and DCI-P color settings, 10-point multitouch
Processor: sixth-generation Intel Core i5 or Core i7
Storage: 1TB or 2TB hybrid drive
Memory: 8GB, 16GB, or 32GB of RAM
Graphics: GeForce GTX 965M 2GB (in Core i5 Studio) or GTX 980M 4GB (in Core i7 Studio)
I/O: 4 USB 3.0 (one high power), 3.5mm headphone jack, SD card slot, Ethernet, Mini DisplayPort
Wireless: 802.11ac Wi-Fi, Bluetooth 4.0
Cameras: 5MP front camera with Windows Hello support, 1080p video rear camera
Sound: Stereo 2.1 Dolby audio
By now, you're probably wondering how much this all costs. Short answer: A lot. More accurate answer: It all depends on the model that you're after. Depending on the configuration that you go for, the Surface Studio will set you back $2999, $3499 or $4199. Ouch. Right, time to lure Al to a seedy motel bathtub filled with ice again.
Last Updated: October 27, 2016