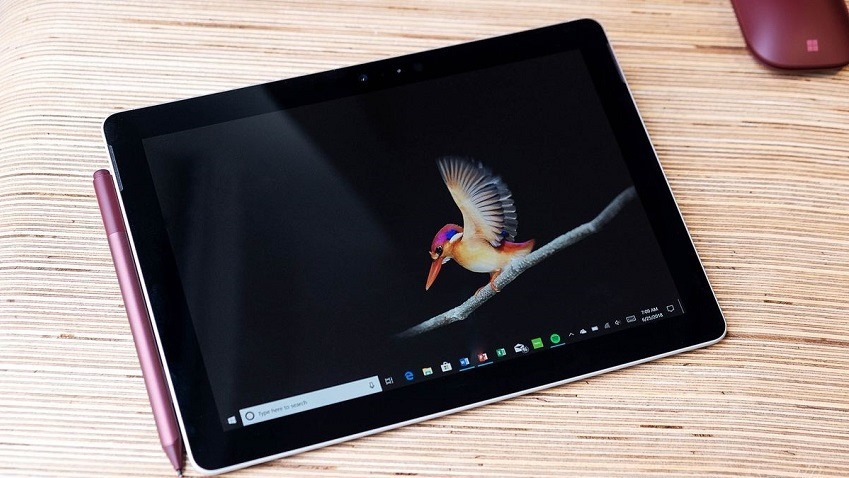 Microsoft's Surface line of PCs and laptops has brought them a wealth of success. There's almost a Surface for everyone; ranging from the exquisite and incredibly expensive Microsoft Surface Studio to the luxurious, powerful and portable Surface Laptop, with all sorts of variations in between. But with the latest Surface, Microsoft is targeting a smaller market that Apple hasn't yet been able to satiate. What if you could have a tablet as small as an iPad, but didn't lock you into the less than capable iOS? That's what the Surface Go is, essentially.
The Surface Go is Microsoft's smallest and cheapest Surface product to date. It's only 10-inches large, with Microsoft retaining the 1800 x 1200 resolution and more productivity-focused 3:2 aspect ratio of other Surface devices on a smaller footprint. The Go will feature the new Surface hinge, allowing you to prop it up in a laptop fashion or gently push it down for a more comfortable sketching experience. It has the hallmarks of a Surface device with a lovely brushed finish, front-facing camera and support for every Surface peripheral under the sun.
The includes the new Alcantara Surface Keyboard covers, which bring the soft (and difficult to keep clean) material based keyboards from the Surface Laptop to the tablet line. They'll cost a premium $129 over the regular $99 for the Surface Keyboard cover, each of which connect to the Go using the Surface connector. The same connector can be used to dock the Go to an external monitor and charge it, while an additional USB-C port provides speedy data transfer and alternative power connections. The Surface Pen can be used with the Go (for another $99), and Microsoft also unveiled a new ambidextrous mouse that rings in at a lower $35.
All of this is secondary to the Go itself, which packs to variants of internals right now. At the $399 base, you'll get 4GB of RAM and 64GB of eMMC storage. Rising up to $549 nets you double the RAM and double the storage space, with Microsoft promising 256GB variants to be priced later. LTE versions will increase the price even more, but are only due out later this year. Each variant will be powered by a dual-core Intel Pentium Gold 4415Y processor. They aren't the most powerful out there, and usually used in less demanding Chromebooks, so it'll be interesting to see how they hold up with Windows 10.
The Surface Go will be up for pre-order this July 10th, and out later in August. It ships with Windows 10 S, but comes with a free upgrade to standard Windows 10 if you want to break out of the Windows App Store. It's a direct question to Apple at this point, who have struggled to make compelling cases for tossing aside your laptop in favour of an iPad with a keyboard. With Windows 10 fully equipped, and based on your specific, less power hungry means, the Surface Go might be just that.
Last Updated: July 10, 2018