The last MSI laptop I reviewed was the MSI GE72 2QD. It was my travel companion to Gamescom, and proved to be pretty damn efficient as both a work and gaming notebook. My only concerns with the device really, were its cost and size.
The former can't be helped – it is a top end piece of hardware out of the MSI stable, and thus, would have a matching price tag. The latter however can be remedied for sure. I much prefer the standard 15.6" size of a notebook personally, which is why I was extra excited when the MSI GS60 6QE arrived for me to review.
Being a smaller and much slimmer device next to the GE72, you'd expect the GS60 to underperform in comparison by default. This most certainly isn't the case. The slimmer frame comes packed with a brand new Intel Skylake processor, a 4k capable LCD, and a whole lot more…
Touchy Touchy
All the innards of the GS60 are housed in a brushed aluminium chassis. It must be noted that it does serve as a rather effective fingerprint magnet, but that's hardly a deal breaker.
Much like the GE72, the design looks neat and professional. Once powered up, there is no doubting that it's ready for gaming too. This is apparent thanks specifically to the SteelSeries powered keyboard. Once the GS60 is switched on, they illuminate with a a variety of different colours that can be customised according to personal taste. With the lights out and nothing but the laptop lit, it really is gorgeous to take in.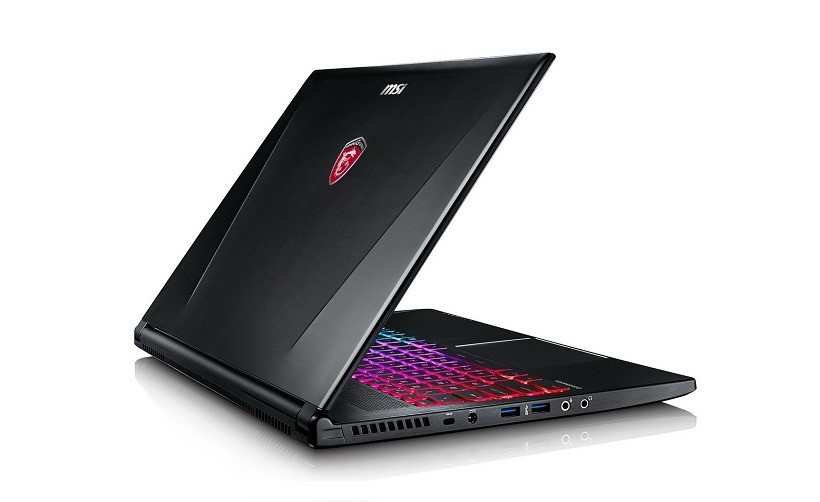 The screen itself is also beautiful to behold, though truth be told, I am not sold on this 4K hype that every technophile seems to be enamoured with. Don't get me wrong, I do look forward to the day when 4K is as common as 1080p is now, but I just don't see what the fuss is all about at the moment. The GS60 is definitely capable of 3840 x 2160 resolution however if you do need that in your life.
Weight wise, the GS60 shouldn't be breaking backs anytime soon. According to my kitchen scale, it weighs around 2.1kg. This is the right kind of device for those who are looking to carry around a powerful machine without too much of a hassle.
With regards to carrying it around, MSI ships the GS60 with a really nice notebook sleeve. Unfortunately, it only has space for the device itself, and none for cables, a mouse, and any other potential accessories. It's a a nice bonus nonetheless.
Dynamite does come in small packages
I admit, I tend to assume that the larger the device, the more capable it is of crunching numbers and the like. Seeing as I reviewed the GE72 so recently, I automatically thought that the GS60 would never stand shoulder to shoulder, based purely on its smaller size. How wrong I was!
The GS60 comes packed with a new Skylake processor after all, as well as a GeForce GTX 970M. These are hardly hardware components to scoff at. Just take a look at the results of the following tests…
Batman: Arkham Origins
Ah yes, the good old Arkham Origins benchmark, which has survived the test of time since 2013. The caped crusader's prequel may not be the most intense  of tests anymore, but it is capable of doing a 4K crunch when asked…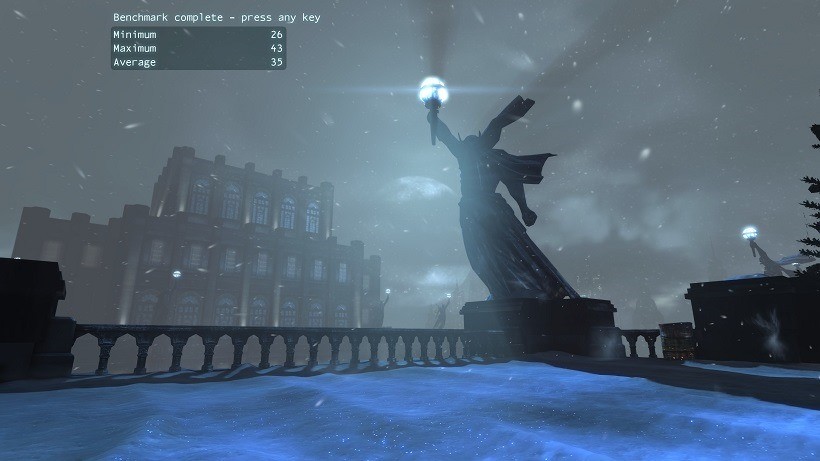 Hey, 35fps ain't bad at all! I did do a traditional 1080p test too…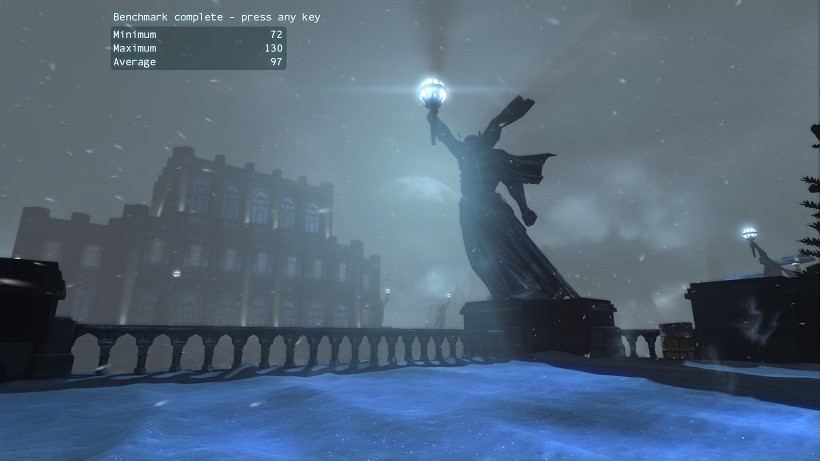 An average of 97fps is quite something. For comparison sake, the older, more bulkier GE72 only managed to output an average of 74fps when I put it through the same test.
3DMark
Sky Diver 1.0
Sky Diver is a test aimed more at mid-range and gaming laptops, making it the perfect test for the GS60. How did it handle?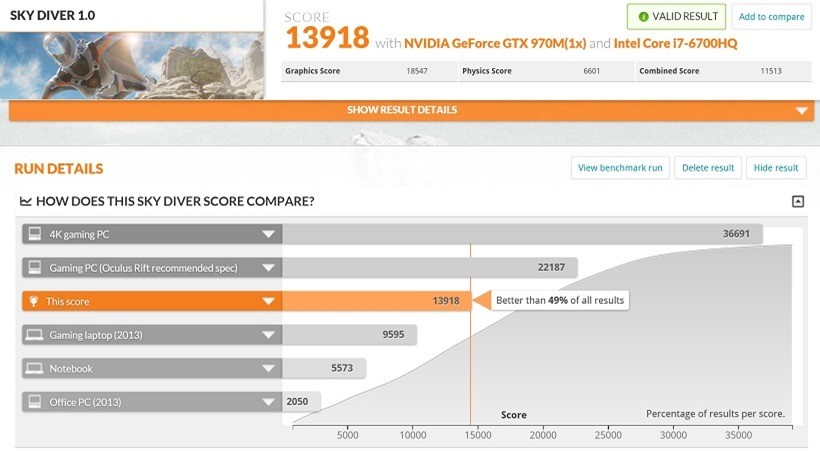 As expected, pretty damn well! According to the results, the GS60 is better than 49% of other results with a score of 13918. The GE72 on the other hand, managed 13249, which isn't too far behind.
Fire Strike 1.1
Fire Strike is probably more suited for the GS60, which isn't just any old gaming laptop. With a new Skylake CPU and GTX970 under the hood, how did it manage this demanding test?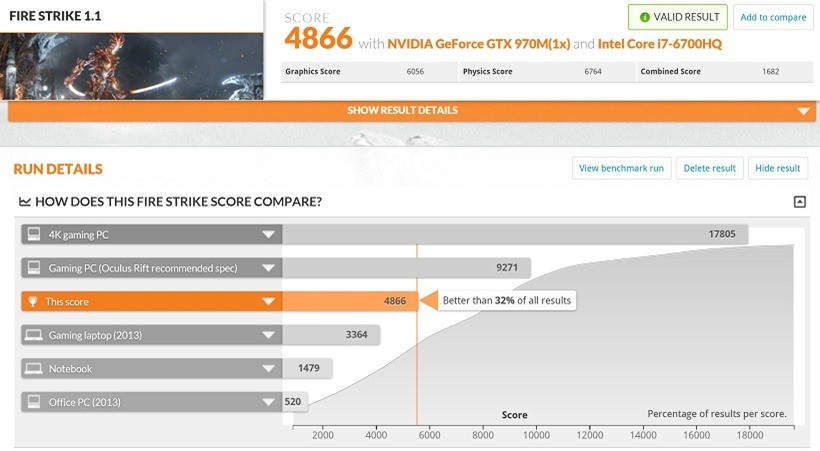 Again, rather well. With a score of 4866, the GS60 is better than 32% of other results. As expected though, it doesn't quite match up to a Gaming PC with recommended Oculus Rift specs. Comparatively, the GE72 scored 4133.
Unigine Heaven 4.0
The Unigine Heaven test is a monster, designed to make all pieces of hardware cry. I had faith in the GS60 though, which scored the following…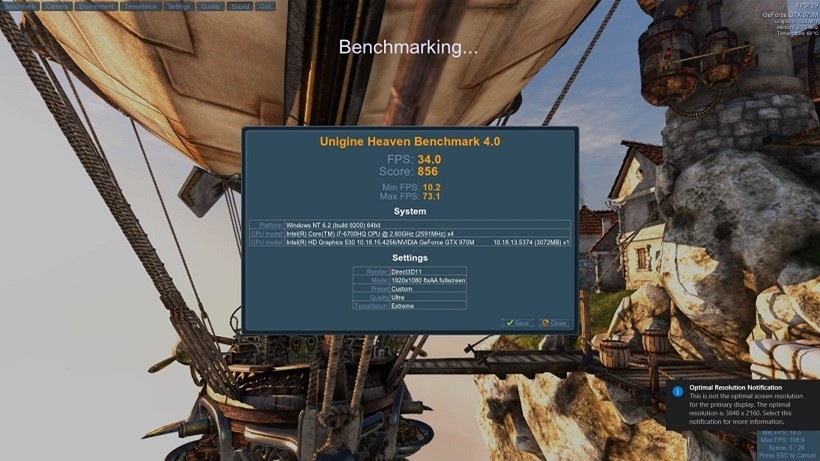 The average FPS is 34, and the score is 856, which really is something to take note of. The bigger GE72 only managed to grab a score of 505, and output a measly 20fps!
Specifications
The GS60 is certainly superior to the GE72 not only in test, but in hardware too. Just take a look at all these juicy specs it comes packed with…
Model: GS60 6QE-024ZA
Dimensions: 390(W) x 266(D) x 19.9(H)mm
Weight: 1.9kg (without battery)
OS: Windows 10 Home (64 bit)
Processor: Intel Core i7-6700HQ Processor (2.60GHz)
LCD: 15.6″ UHD (3840×2160), Wide-viewing angle, IPS level panel
Graphics: GeForce GTX 970M (3GB GDDR5)
Memory: DDR4(L) 16GB (8GB x 2)
Storage: 1TB 7200RPM + 128GB SSD
WLAN: Killer 802.11 a/c WiFi with Smart Teaming
Bluetooth: Bluetooth 4.1
Webcam: FHD type (30fps@1080p)
Battery: 6-Cell
Ports: 2 x USB 3.0 ; 1 x USB 3.1 (Type-C interface) ; 1x mini-display; 1 x Ethernet
RRP: R28-34k (depending on desired specs)
While the GS60 does certainly feature some amazing tech, it is not without some minor niggles I'm afraid. The battery life for starters, isn't that great.
On my way back from BlizzCon, I used time between between and during flights to work on articles. I was not doing anything intensive, yet the battery died out after around 1.5 hours. Granted, I had not realised the screen brightness was turned up to max at the time, but that's hardly an excuse for a modern day notebook to die out that quickly. Even when back home, I messed around with the GS60 unplugged, and I was astonished to see that the battery drained down to minimal levels in no time at all.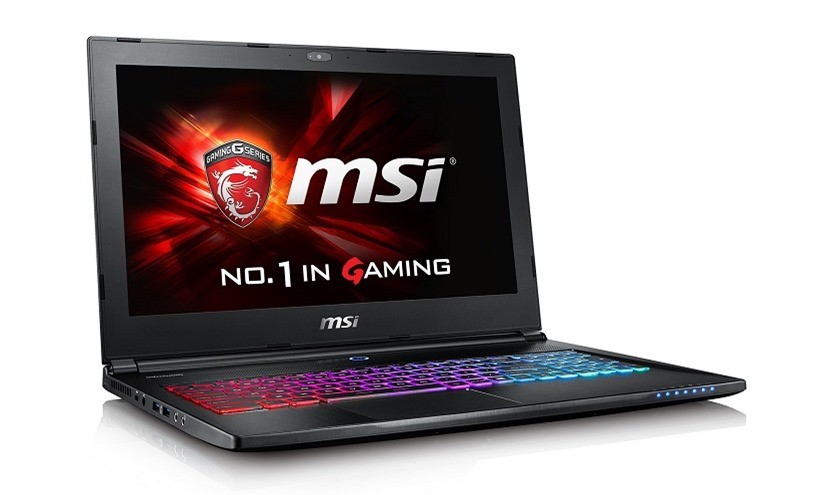 While running the above benchmarks, the notebook's fans ramped up to maximum levels. This will annoy some people.. The back left of the device also heated up quite significantly during these tests. I don't think gaming in bed will be a thing, not unless you like your legs being nice and toasty.
Another point I have to mention, because it irritated me to no end, was the lack of USB ports. Being at BlizzCon to provide coverage, I needed to juggle between two USB 3.0 ports, for my mouse, camera, and external battery pack (to charge it). It may seem so minor, but in this day and age, I'm convinced a device should have at least 3 ports. Yes, the GS60 does come with USB 3.1, which is nice, but I don't own anything personally that would make use of this new input just yet.
Lastly, that price. Holy moly! The GS60 is freaking expensive – at around R30 000. That's what you should expect to pay though, if you want one of the best notebooks on the market, which the GS60 certainly is – even with the above problems.
Would I pay for it personally? No. If you're somebody looking on the other hand, who is looking for a top end laptop though, and has the cash to spare, you really can't go wrong with the GS60.
Last Updated: November 18, 2015
MSI GS60 6QE (Ghost Pro 4K) Gaming Laptop

A 15.6" notebook that comes packed with all the latest bits and bobs of hardware - the GS60 is an enthusiast's dream in a portable form. Unfortunately, it does have some minor issues, but they are hardly reason enough to completely skip MSI's premium offering. The device is well suited to both work and gaming, and won't disappoint – if it can be afforded in the first place.