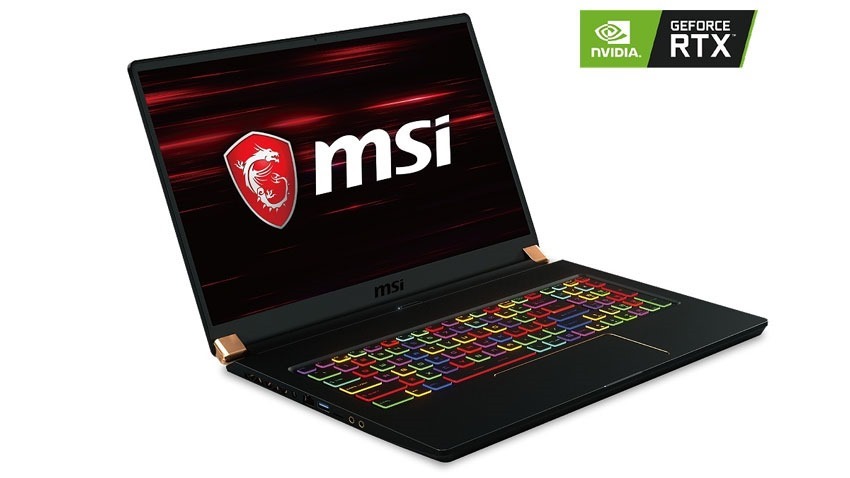 Yesterday, Nvidia revealed its somewhat more budget-friendly raytracing-capable card, the GTX 2060. During the same pre-CES conference, the chip giant also revealed that it would bring its newfangled, fancy RTX chips to the laptop market. Nvidia is bringing its mobile RTX chips to over 40 laptops sporting RTX 2080 chips through to RTX 2060 ones.
Nvidia's Max-Q tech will come in to play here, allowing for lower power consumption, which means thinner, lighter and quitter laptops, which, Nvidia boss Jensen Huang says pack in "twice the performance of a PS4 Pro."
Somehow, despite the larger power draw required by RTX cards, the new laptops will be up to 40 percent more efficient. The Max-Q RTX 2080 will reportedly offer a 20 percent increase in performance over the last gen 1080, while gobbling up less power, which means longer battery life.
"Max-Q models with GeForce RTX 2070 deliver up to 20 percent higher performance than the popular GTX 1070 on traditional games; and with GeForce RTX 2060 up to 50 percent higher performance on traditional games compared to GTX 1060," Nvidia adds
MSI's newly updated GS75 Stealth and its smaller cousin the GS65, as examples of the new RTX laptops, will couple Intel 8th Gen i7 CPUs with RTX 2080 to deliver the cutting edge in mobile graphics. Surprisingly, MSI's 17" GS75 Stealth weighs just 2.2kgs, which is pretty damned light for such a powerful machine.
Manufacturers like Acer, Asus, Dell, Gigabyte, HP, Lenovo Legion, MSI, Razer, and Samsung will be selling their own Max-Q, RTX-enabled laptops from January 29.
Last Updated: January 8, 2019