This week MSI invited Lazygamer to Taipei's Le Meridien to cover their most comprehensive gaming laptop refresh that they have in store for gamers. MSI kept us seated for an hour or so as they worked their way through their many features and performance notches in order to get across their key defining idea for their laptop gaming range: "shattering desktop performance clichés". I think there were far simpler ways of saying their laptops are better than equivalent desktops; I think just removing the word "clichés" would do it actually.
The entire event was entertaining and informative of their new features, although I feel the time press had to walk around and play around with the laptops and features were on the short side.
It's no secret that Virtual Reality gaming, besides being the next level of "immersion" serves as the next best metric for companies to try and get a head start in differentiating themselves. With VR requiring massive performance out of both laptops and desktops. Thankfully the gargantuan leaps in performance from Maxwell to Pascal has allowed MSI to hit the virtual ground running by brandishing their entire new laptop gaming line-up as VR ready. This make sense, since as we've known for a while now, the MXM Pascal versions are not a traditional "mobile" versions at all; usually coming out with cut down CUDA Cores and clock speeds. In fact, besides the lower core speed, the GTX 1070 actually has more CUDA core over its desktop variation, which would actually exceed desktop performance if clocked at the same core speed.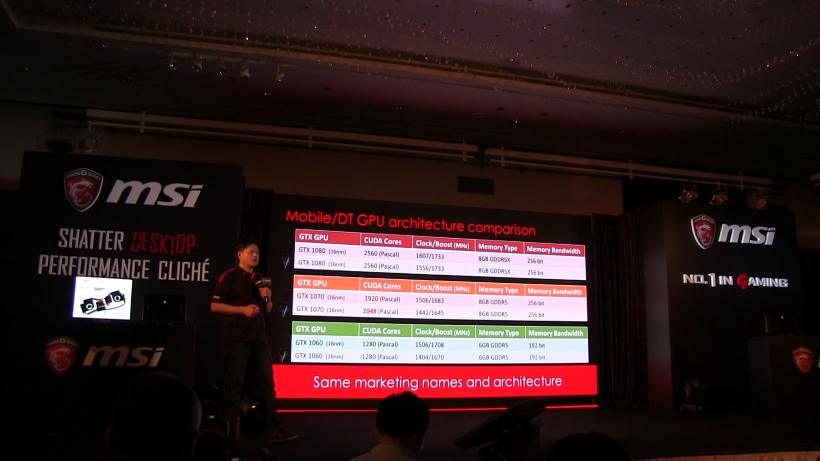 That being said, MSI are confident that everything from the dual GTX 1080 or dual GTX 1070 in the GT83VR Titan SLI all the way down to the diminutive GTX 1060 in the 14' GS4VR will be VR capable machines. Since the GTX 1060, GTX 1070 and GTX 1080 are all essentially VR ready graphics cards, this is achievable, and depending on the optimisations within MSI's laptops, possibly exceeding their desktop counterparts.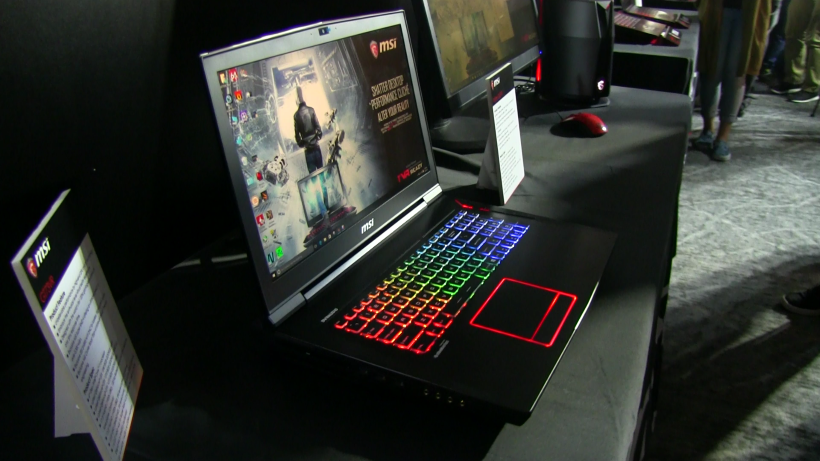 One aspect I really enjoyed about the refreshed MSI line-up is the focus on giving users choice over their hardware within a certain series. MSI released 12 new gaming laptops of various sizes and performance metrics, and although there are massive differences in looks, performance and cooling, most of the machines are able to take 32 or 64 GB of DDR4 memory, while Skylake i7s will be available in different flavours of unlocked and locked variants—and I was assured, not the lower clocked "U" variant of mobile i7 Skylake, but proper i7 "HQ/HK" mobile quadcore Skylake chips. To cover the ultrabook and "lower" performing products in their gaming range, the GTX 1060 takes care of the GP62M VR, GE62 VR, GE72 VR, GS43 VR, GS63 VR and GS73 VR.
In the case of the GS or "stealth" versions of their laptops, MSI have produced ultra-thin gaming "ultrabooks". These are a thing of beauty, but are also quite beastly; capable VR performance, and NVME storage while being extremely thin and lightweight while being able to output to three desktop monitors. Being both workhorse and gaming laptop, the GS63 VR and GS73 VR have features suited to particular gaming and productivity needs—the 15.6" GS63 VR weighs just 1.9KG and has 17.7mm height. This makes it perfect for someone who wants mobility and high end VR performance. The GS73 VR ups the ante for professional users by upping the monitor size to 17.3" with options for both a 4K 100% Adobe RGB IPS-level panel or 120Hz/5ms monitor. For me, this laptops was the standout among an already impressive line-up, if simply based on the amount of performance that such a light and thin computer was able to achieve.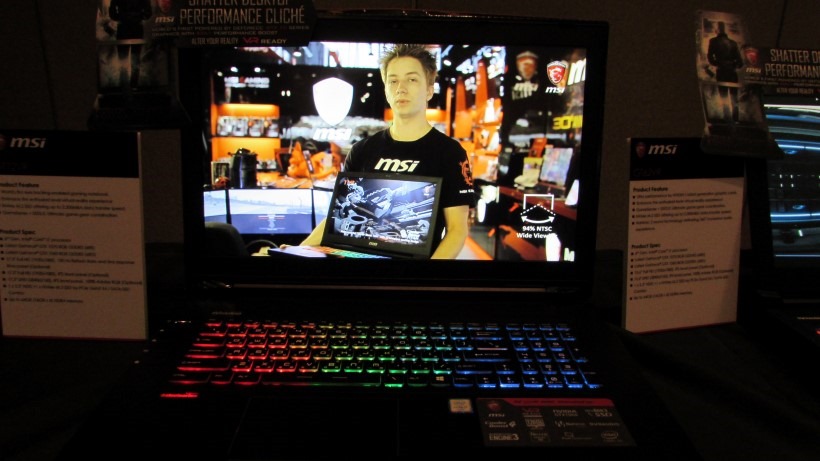 Moving up a gaming wrung, the graphical and screen options start to open up a little to give users more choice over the kind of laptop they want. Both the GTX 1060 and GTX 1070 are options for the GT72 VR and GT62 VR. On the GT62 VR there are screen options for either a 15.6′ 1080P screen or a 4K screen, while the GT72 VR has a 17.3" panel in either IPS-level 4K or regular 1080P, or a first on a gaming laptop; a 120Hz/5ms 1080p panel. The great thing here is you can choose a GT72 VR with a GTX1060 and a 4K IPS 100% Adobe RGB monitor for more creative content work for colour accuracy, or you can go the gaming route with a 120Hz/5ms 1080P screen and a faster GTX 1070. These nuanced options are essential for gamers who know what they want to use their laptops for and can get what they need.
One would think the GT83 VR Titan SLI would surely steal the show. But for me the cream of the crop GT83 VR Titan SLI was just an unbalanced machine. It may the best cooling in the Cooler Boost Titan and a full Brown Cherry MX mechanical keyboard, the 18.4 FHD IPS-level screen is a big mismatch for the performance under the hood. When you have the graphics arsenal of either SLI GTX 1080s or SLI GTX 1070s, but are limited to a simple 1080P screen, it just does not make sense. This lack of premium choice for their flagship is a clear miss in my mind, so I hope MSI return to the drawing board for that unit and update it with the same options its other high-end laptops enjoy. It's also still only got single red-coloured lighting, which should indeed get an upgrade to RGB mechanical lighting if it wants to stay hip like the cool kids.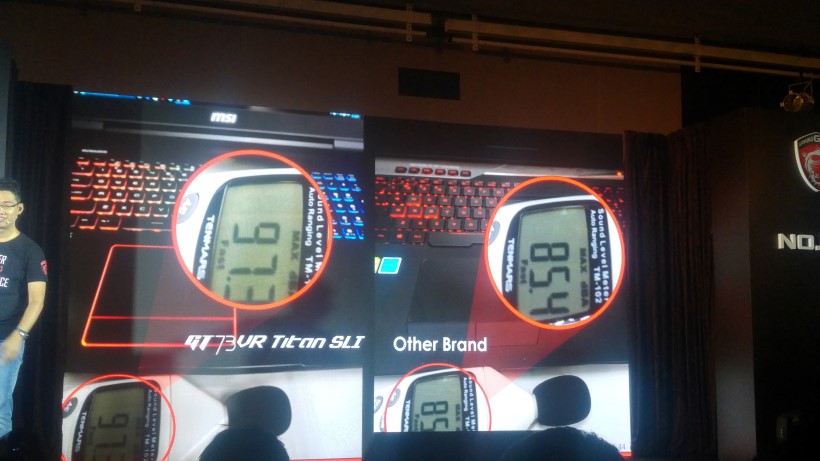 MSI are again using Steelseries and their chiclet-based keyboards (which are brilliant) across the entire range, as well as some impressive Raid 4 storage, which is not entirely new, but still improved upon by better cooling. As far as Audio is concerned, MSI are still punting Nahmic audio 2.0 and ESS Sabre HiFi, although this time they've brought on Dynaudio resulting in an on-stage demo showing around a 10dBA increase in volume–not bad indeed.
MSI, just like proud parents, could not seem to wait to show us their new darling; the GT73VR Titan SLI. This unit has the graphical grunt of using SLI GTX 1070s or either a single GTX 1080 or GTX 1070—more than enough to power either the optional 17.3" 4K IPS-level screen, 1080p 120Hz/5ms panel or a regular 1080P IPS-level monitor.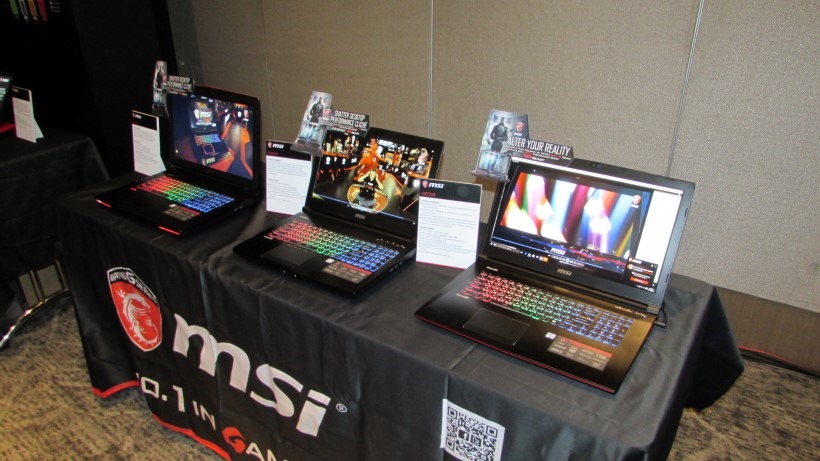 MSI are being extremely aggressive in a massive top-down approach to gaming laptops—their entire range on offer offer clear use cases, either for content creators wanting IPS 4K screens or  fast 120Hz/5ms panel for twitch-shooter gamers or people who favour mobility and light-weight gaming. It's as fully formed a line-up as I've seen, and one that does not cost as much as it did last year for similar VR performance.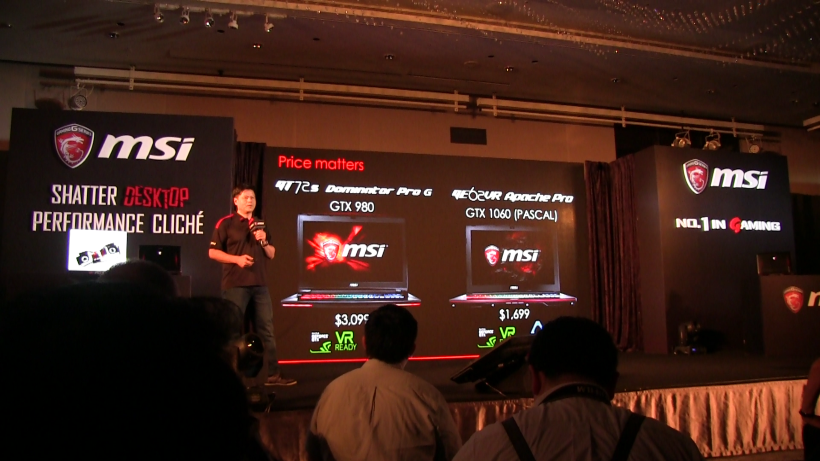 Even though definitive pricing was not given, a hint of it was shared when MSI put up a slide showing their GT72s Dominator Pro G from last year sporting a GTX 980M with an initial $3100 price tag. Compared to the most likely better VR performance found in the GTX 1060 powered $1699 GE62 VR Apache Pro, VR performance in a laptop is not as high as you'd think. The stand outs for me were the Titan and GS branded laptops, which really show what kind of high end desktop-crushing mobile computing is capable off achieving-I just dread hearing the final price of those units.
Last Updated: August 22, 2016