If there's one argument to be made for AMD cards at the budget end of the spectrum, it's their dedication to multi-GPU setups. NVIDIA have forsaken low and mid range SLI (for the GTX 1060 and below), so it's one tool in the AMD shed that can be wielded to attract buyers. With their new Radeon Crimson Edition 16.10.1 driver, AMD have given those people running more than one AMD graphics cards a trick up their sleeve—Frame Pacing for a much smoother experience in DX 12 games. The likes of Total War: Warhammer, Ashes Of the Singularity, Hitman and Time Spy benchmarking.
What is frame pacing you ask? To explain that, we must explain Alternate Frame Rendering (AFR) technology. AFR is used to manage the delivery of frames  by multiple graphics cards in a system. Using AFR, the GPU workload is split between GPUs, allowing the first frame to be rendered by one GPU and the second by the second GPU, alternating between each frame and so on.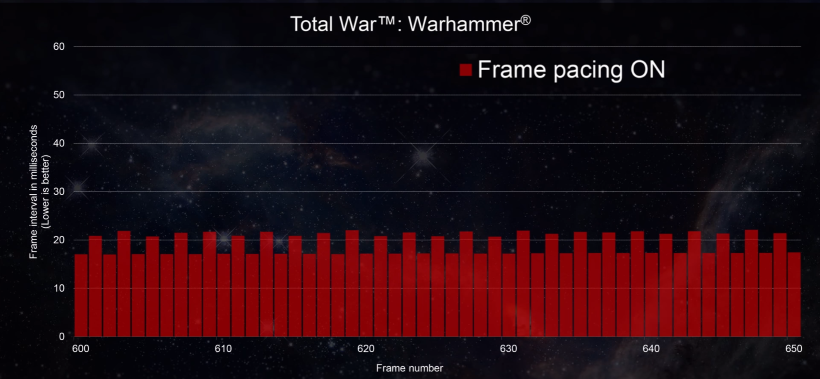 This technology brings its own bevy of problems, in that some frames might take longer to render than others due to the changing on-screen environment or engine complexities. This can often result in stuttering or incomplete animations. The solution AMD's Radeon Technology Group has produced, is Frame Pacing.  It's a software algorithm that detects discrepancy with GPU rendering, and corrects them, thus ensuring that frames are delivered crisp and clean. There's a video below from Scott Wasson at RTG discussing the technology in a bit more depth.
It's good to see RTG deliver technology that give's their cards an edge over the competition , especially when NVIDIA have all-together abandoned SLI on the cheap.
Last Updated: October 7, 2016