In what is probably the least surprising rumour to surface in the past 2 days is a screenshot by Benchlife showing what seems to be a new card from NVIDIA—what some are calling the GTX 1050. There was simply no way NVIDIA would let AMD have the sub $200 GPU market.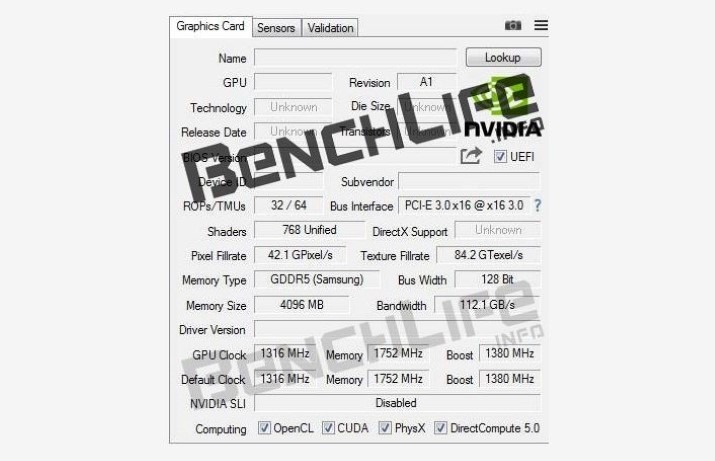 The screenshot shows what seems to be GP107 chip, a card with 768 CUDA cores, 4GB of memory at 7GHz and a base clock of 1316MHz and a boost of 1380MHz—not sizeable at all considering past Pascal cards going at least 150-200Mhz boost over stock clocks. Either it's an engineering sample with lower default clocks or the GP107 is simply starved of power since it's rumoured to not use any external power connectors with a TDP of only 75W. Considering the levels of power conscious performance NVIDIA unleashed with Pascal, it was simply a given at this level of the market, as they've done in past low end GPUs, like the 750, 750 Ti and some GTX 950s. This does mean that AIBs can simply use the stock standard no PCI-E power connector board, or sell some editions with more juice to overclock a bit further and stretch out those boost clocks.
The card has a total of 112.1GB/s along a very narrow 128-bit bus interface, which is the same bandwidth as last generation's GTX 960—a good step up in the price/performance category. At an expected price of around $149, we can see this board slotting into the price gap left between the $109 RX 460 and $179 RX 470 4GB, so the expectation is high performance low power 1080P gaming scenarios.
We're unsure if an even lower-range GP107/GP108 board might eventually show up to directly challenge the RX 460 in price. Rumours state that an October release would be on the cards, and we don't suspect there will be any "Founders Edition" malarkey to mess up the line-up pricing.
Last Updated: September 6, 2016