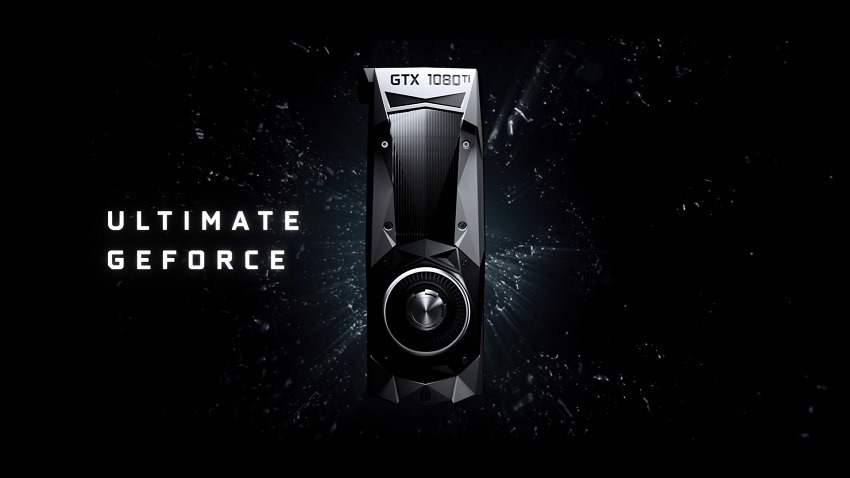 Right on time, Nvidia have revealed likely their most powerful Pascal card they're ever going to put out. Taking the stage at GDC, the company lifted the curtain on the GTX 1080 Ti – a new gaming focused card that takes the best bits of the Titan X and redirects them to create a more powerful, faster card. And fast it is, with Nvidia not only boasting a 35% increase in power over their previous flagship, the GTX 1080, but better performance than their current $1200 Titan X.
Which isn't at all surprising, given that the GTX 1080 Ti features a lot of the same innards at its Titan brother. The card will feature the same GP102 chip, a full 224 texture units and 3,584 stream processors. The difference comes in with the memory. The Titan X featured a full 12GB of GDDR5X VRAM, while the 1080 Ti will feature one whole gigabyte less. The odd 11Gb configuration allows the entire card to run the memory a lot faster though, across a 352-bit memory interface. The 11GHz speed puts it a whole GHz above the Titan X, giving the Ti a bandwidth of 484GB/s. Crazy.
Being more gaming focused, the card will also feature a little boost in clock speeds. The Boost Clock will sit in at around 1.6GHz, while Nvidia promises the same ease of overclocking well beyond the 2GHz mark. The Founder's Edition of the card will also feature a revised cooling design. Although difficult to see on the outside, Nvidia promises the design will better cool the card while keeping the operation noise to a minimum. That's good news, considering the limitations of the cooling on previous Founder's Editions.
The GTX 1080 Ti will make you squirm if you've already splashed out on a Titan X, retailing at $699 as opposed to the enormous $1200 of the Titan. As always that's the starting price, and other manufacturers could bump that prices up with cooling solutions and overclocks of their own. The better news is that you won't have to wait long for it to hit shelves wither, with the 1080 Ti launching on March 10 globally.
Last Updated: March 1, 2017