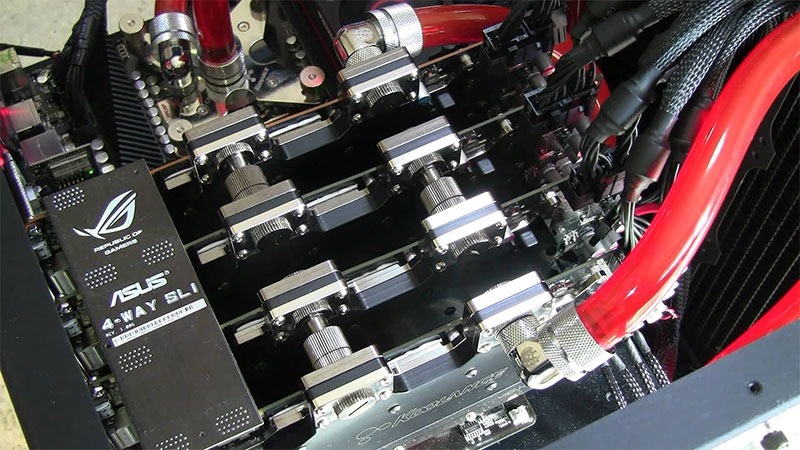 For the kind of gamer who has way too much money – or the enthusiast overclocking, must-have-the-biggest-ePeen sort, multi GPU setups have been the way to go. NVidia's SLI allows for multi GPU setups of up to 4 cards. That's changing. It looks like Nvidia is dropping support for 3 and 4-way SLI to focus on dual GPU configurations.
In a statement to PC Perspective, Nvidia reasoned why.
With the GeForce 10-series we're investing heavily in 2-way SLI with our new High Bandwidth bridge (which doubles the SLI bandwidth for faster, smoother gaming at ultra-high resolutions and refresh rates) and NVIDIA Game Ready Driver SLI profiles.  To ensure the best possible gaming experience on our GeForce 10-series GPUs, we're focusing our efforts on 2-way SLI only and will continue to include 2-way SLI profiles in our Game Ready Drivers.

DX12 and NVIDIA VR Works SLI technology also allows developers to directly implement and control multi-GPU support within their games.  If a developer chooses to use these technologies then their game will not need SLI profiles.  Some developers may also decide to support more than 2 GPUs in their games. We continue to work with all developers creating games and VR applications that take advantage of 2 or more GPUs to make sure they'll work great on GeForce 10-series GPUs.

For our overclocking community, our Game Ready Drivers will also include SLI profiles for 3- and 4-way configurations for specific OC applications only, including Fire Strike, Unigine and Catzilla.
And honestly? It makes a lot of sense. How many people, realistically, have 3 or even 4 GPU systems? And how many of them work well. The truth is that SLI just doesn't scale well past two GPUs – so you end up with severely diminishing returns with each additional card.
It makes very little sense to focus development time and driver tuning for such a small fraction of people – especially given how the new SLI bridge and the power of the 1070 and 1080 should more than suffice. If Nvidia's software engineers can spend the extra time tuning dual GPU setups, SLI may actually be more worthwhile with this new generation of cards.
And then, those who do just want to run benchmarks all their lives will still be able to run 3 and 4 way SLI.
Last Updated: June 10, 2016