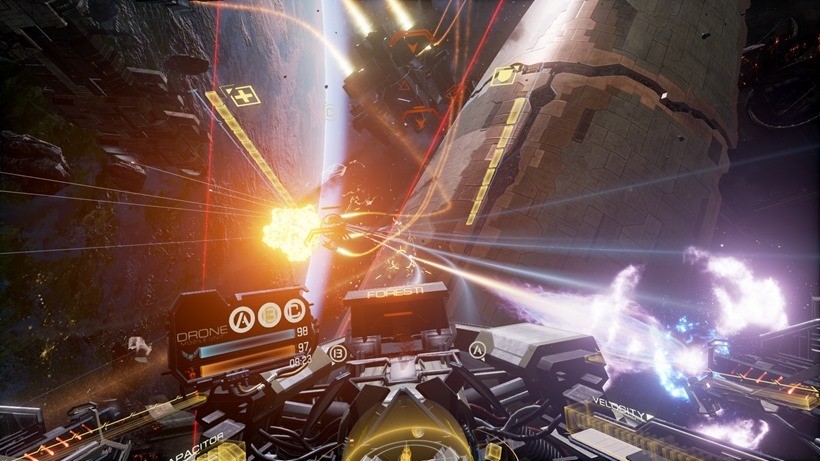 EVE: Valkyrie was one of the very first VR demoes shown off for the Oculus Rift years ago. Since then it's evolved – becoming a full-fledged EVE spinoff shooter for both the Oculus Rift and PlayStation VR. It is still the most compelling looking title to sell VR with, especially since it's embracing VR for a full length game instead of just a brief tech demo. It's one of the reasons I want a Rift, and now Oculus has made that offer even more enticing.
Oculus' Luckey Palmer revealed yesterday that the CCP space shooter will be bundled with every pre-ordered Oculus Rift for free, kicking off your shift to virtual reality with a sense of slick style. EVE: Valkyrie will also debut first on the Rift, although considering it doesn't have a release date or launch price we really have no idea when that will be.
If you're still not entirely sure what EVE: Valkyrie looks like in action, direct your attention to the latest gameplay trailer below – which shows of loads of zero gravity dogfights with the camera views controlled entirely using your eyes and neck muscles. The rest is left up to the controller in your hands thankfully.
I tried out EVE: Valkyrie on the retail version of the Oculus Rift earlier this year at E3, and it pretty much sold me on both the hardware and the game itself. There was something rather magical about being able to whip my head (back and forth) around to see the trails left by enemy ships, steering my vessel to follow them down in a flurry of bullets. The game itself is strictly shooting, with flight controls as simplified as possible. But it's engaging, and a perfect way to sell VR to the masses.
So it's a great move on Oculus' part, and a step in the right direction for ensuring a good launch for the Rift. It's hopefully going to be out within Q1 next year, but who knows at this point.
Last Updated: December 11, 2015