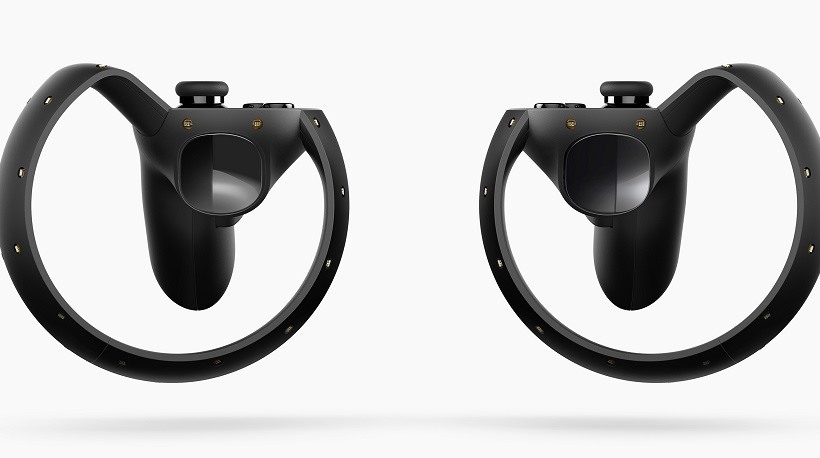 The Oculus Rift is severely restricted right now, requiring the use of an Xbox One controller to pretty much do anything. There's a camera that tracks your head, but aside from that you're sitting in a chair with most of its experiences. It's a far cry from the Vive's room scale VR, which uses two cameras and motion controller to allow players to actually move within their VR space. Oculus Touch – the optional add-ons to the Rift – are meant to bridge that. But they won't come cheap.
Starting out as a rumour, UK retailer GAME has now confirmed that they will be selling the Oculus Touch controller at no less than £190, with pre-orders starting soon. It's the first indication of price yet, with Oculus expected to make things official at the Oculus Connect 3 event next week. That takes the complete Oculus Rift package price extremely close to that of the HTC Vive – while still not being able to do the same things.
The Oculus Touch controllers are going to ship with an additional camera – a reactionary move by Oculus to the popularity (and superiority) of the Vive's room scale VR. These camera were never designed to be used in this way, so it's a sort of hack from Oculus' side. It's unlikely to deliver the same experience, but will definitely give the current Rift a lot more to work with. It helps explain the massive price too, but it's still going to be a hard sell for Oculus.
Because when it comes down to it, the Oculus will only be a measly £20 less than the Vive – which makes the decision for one a lot less appealing. Not only can you buy a Vive right now, you're probably going to have a better time with it. Sure the Oculus Touch controller are a little bit better from my own personal experience, but nothing beats the freedom that Vive currently gives you in a VR space. And unless Oculus has something magical up their sleeves, that isn't going to change.
We'll know for sure next month. Maybe. Luckey Palmer might be too busy funding terrible political memes to show up.
Last Updated: September 23, 2016