Love it or hate it, Pokémon GO is here to stay (for now at the very least), and it continues to inspire bizarre stories. Just last week for example, I told you all about a moron guy who got arrested, a shooting, a stampede, lost kids, and an MMA evolution from brawler to trainer. What other unusual stories or happenings have occurred since then?
I thought you'd never ask! Over in down under land, the City of Canada Bay Council have asked Niantic to remove two of the three PokeStops found in one of the small local parks. Having them there has resulted in a sharp increase in visitors, which has proven to be a bit of a nuisance.
"There have been a number of concerning instances already including an emergency services vehicle having difficulty reaching an apartment fire due to traffic congestion, traffic accidents, and reports of motorcycles using cycle and footpaths to get around traffic congestion."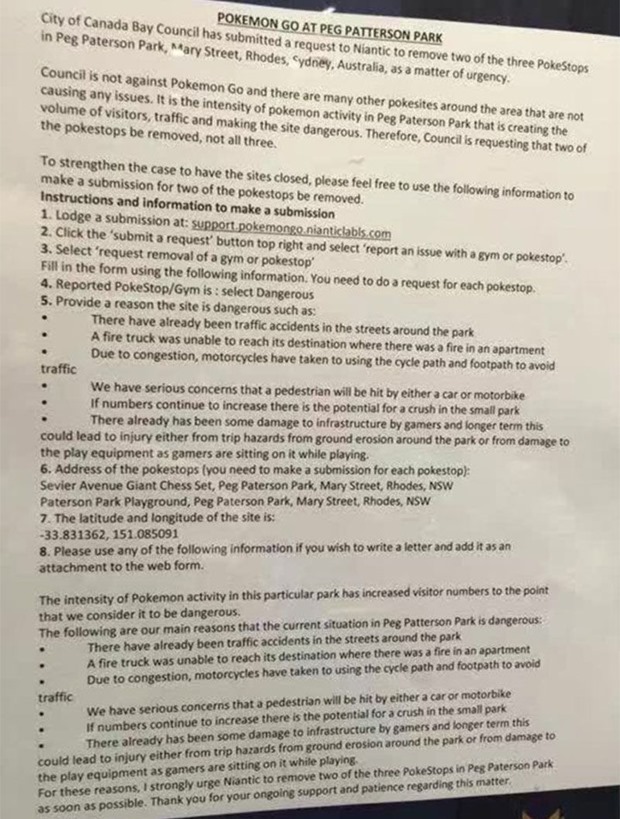 As you can see in the notice they've posted at the park, the council is not against Pokémon in any way. They're only concerned about safety and such, which is fair.
Meanwhile, in America, an Iowa lineman had four guns pointed at him. The police stopped Faith Ekakitie thinking that he was a suspect of a bank robbery that had occurred ten minutes earlier.
"My pockets were checked, my backpack was opened up and searched carefully, and I was asked to lift up my shirt while they searched my waistband. Not once did they identify themselves to me as Iowa City Police officers, but with four gun barrels staring me in the face, I wouldn't dare question the authority of the men and woman in front of me. This is what happened from my point of view. "
As it turns out. Faith had no stolen cash on him. He was just out and about, playing some good ol' fashioned Pokémon GO.
Staying in the land of freedom, a reporter was caught playing the mobile game during a US State Department briefing. Here's footage of the incident…
I like how John Kirby (OMG best surname ever) calls the guy out, resumes without issue, asks him after if he actually caught anything, and then says he's sorry when the offender says no. I feel like the reporter should have reversed the scenario regarding the capture of ISIS. OOOOH that would've been a sick burn!
Finally, Rihanna made a very important announcement regarding Pokémon GO at one of her recent concerts.
Not the Pokemon Rihanna!!! pic.twitter.com/GA8qUpAwj5

— Shady Music Facts (@TheShadyFacts) July 24, 2016
Some people just don't listen though…
To be fair, if I found myself at a Beyoncé concert (for whatever reason), I'd be doing the same. I'd need every distraction I could find to survive that harrowing experience!
Anyways, that's the latest news in the world of Pokémon GO. Has anything of significance happened to you while playing the game? Do tell!
Last Updated: July 25, 2016