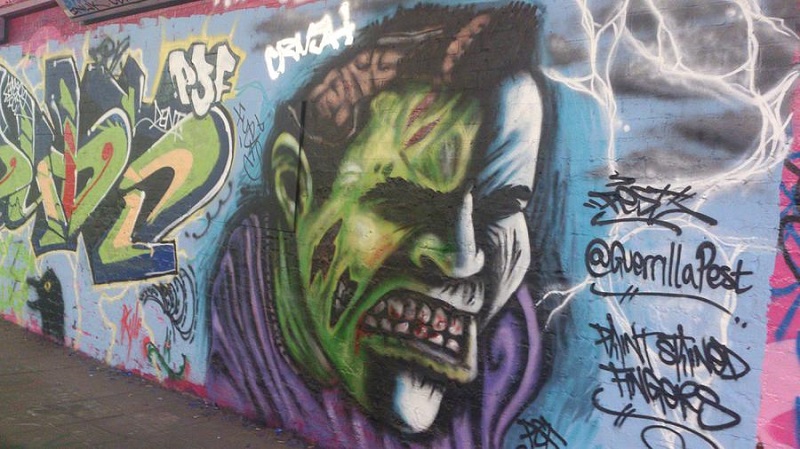 Graffiti is one of those forms of urban artwork that people either love because of the bright colour it brings to otherwise dull urban landscapes or they see it as a gross defacement of property. Both sides have merits though, but I think the more talented the artist, the better their graffiti is likely to be received as a good piece of art should always add value to its surrounding. Much like the way people want to spend money on hanging good artwork in their houses.
Like with most thing in this digital age though, technology is coming to the rescue in a rather strange way as a new app, called Mark AR, uses augmented reality to allow budding artists to express their thoughts and visual creations in digital format that can be viewed by others through an augmented reality lens.
The app, created by mobile publisher iDreamSky and Subway Surfers developer Sybo, debuted recently at New York Comic-Con and had visitors borrow a phone and walk through a Mark AR pop-up installation, either viewing professional artwork or creating their own. Talented artists might use a virtual spray can to paint freehand, while an artist could pick from a set of comics-themed stencils as well to contribute to their little piece of virtual graffiti. The current availability of designs at the moment is limited, though, in future, users could make their own stencils or even design images in Photoshop and import them directly.
An obvious concern is that often graffiti artwork is used to promote political and social messages that can prove to be controversial and offensive to others, but according to The Verge, the company is already working on ways if addressing this, without removing the spirit of urban graffiti. The company is planning on starting small and trialling it out in certain cities before rolling to out to a wider audience. So soon we could see cities have different virtual and real-world versions of their many urban structures that are littered with the artworks of its citizens. Though, considering the problems that people already have with walking around cities with their phones, I can only foresee bigger issues until they get this to work with proper AR lenses. Still, it is a fun little app and something which could certain lead to fun little pieces of artwork and messages made around the world.
Last Updated: October 14, 2019