If there's one thing that strikes a chord with all of us in the connected world it's that we want everything at our fingertips; not later, now. There are a few ways the tech industry has serviced this need, most notably cloud storage and Video-On-Demand. For those with home entertainment and central file server needs, the cut-and-dry method seems to gravitate towards a home NAS system, with the more robust being SOHO (small office home office) solutions. I've never used a NAS device before, so the dual bay QNAP Turbo NAS TS 251 was as much a learning experience as it was a test of its features and capabilities, something I came to enjoy quite a bit. Priced at around R5 700 just for device excluding any hard drive makes the NAS seem a touch expensive, but there are many redeeming factors and qualities to justify investing in a NAS device given the features on offer.
The NASty Bits
NAS devices are pretty much mini-computers with a dedicated purpose—centralising control of your home networking capabilities. To do that requires some hardware capable of dealing with many devices connecting to and making use of its storage and applications. To run these tasks the NAS has a Intel Celeron J1800 CPU, a nimble 2.41GHz dual core CPU with an "Al-Gore approved" 10W TDP. This particular unit comes with a 1GB of low power DDR3 RAM, which is upgradeable to 8GB. Bear in mind that the unit only has two DIMM slots, so upgrade accordingly. The unit also comes with two Gigabit Ethernet ports, so it has more than enough throughput to your router. Coming with two USB 2.0 and two USB 3.0 ports mean it has enough connection options for a variety of devices.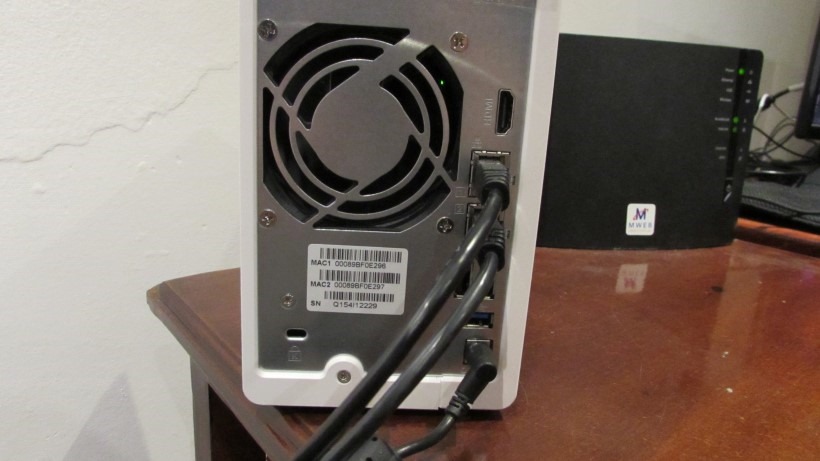 This dual bay NAS device is lightweight, even with the 4TB Western Digital Red hard drive installed. The unit is small enough to fit alongside or under your desk or within a breathable space in your TV cabinet. Its white finish may be more "chic" than I am used to, but I found it more or less "Feng Shui" enough for my Qi—i.e it's not horrible looking. A surprisingly pleasant feature was the stubbornness of the unit—even though there are no suction cups or hardcore rubberised feat, the material they use on the feet is simply excellent at keeping it in place; perfect if you have little ones or a cat who doesn't want you to have nice things.
My First Time…Setup
Placing the unit was simple—right next to the router by my desk. Proximity to the device itself does mean the spinning disk is heard, but it's a sound that I found at worst to be mildly audible when doing heavy lifting tasks like transcoding or installing new applications.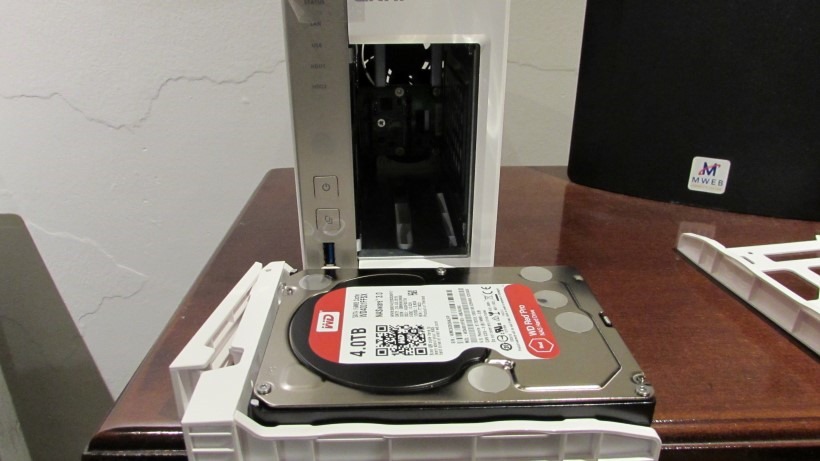 Setting the unit up was a simple affair—simply screw the Hard drive in place, power up and plug the Ethernet cables into a router and use the QR code on the side of the unit to access, add and set up the unit through the myQNAPcloud interface. Installation using my cellphone threw up some errors, so eventually I went through setup on the desktop.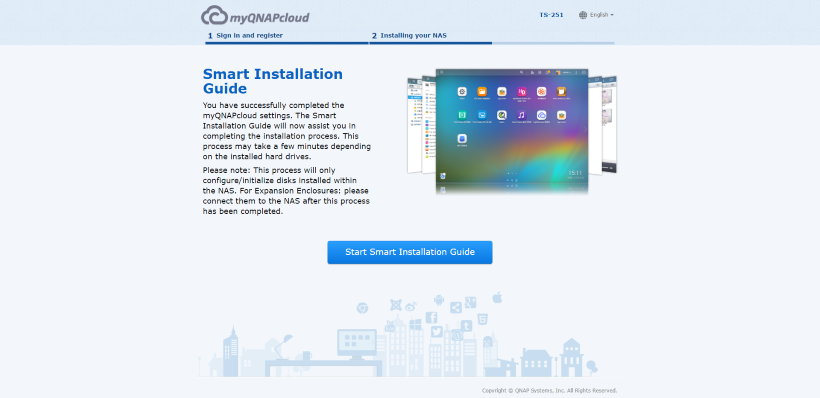 The instructions were simple to follow and after about 20 minutes the device has been setup and paired to an account with a username and password. To access the device you can either install Qfinder Pro which is a "top layer" software interface to access your NAS or change some basic setting. For the more robust features, you have to access the device itself via IP.
Performance, Interface and Features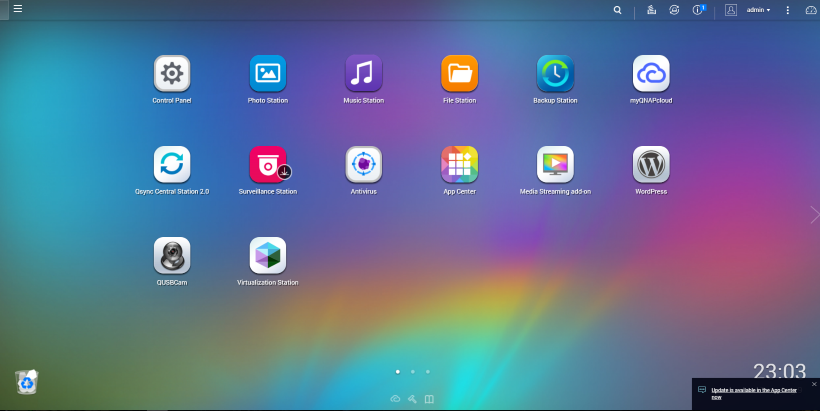 The initial interface appears very neat with your installed apps and is almost mobile-like in its layout—moving to the top "hambuger" icon revealing more apps and system options, with the control panel section that opens up a layout familiar to desktop users—it is also far more intimidating for fist timers as you're presented with a ton of unfamiliar icons and words like "LDAP Server". Although jolting at first, eventually the interface and navigation opens up as you explore the different options, settings and apps.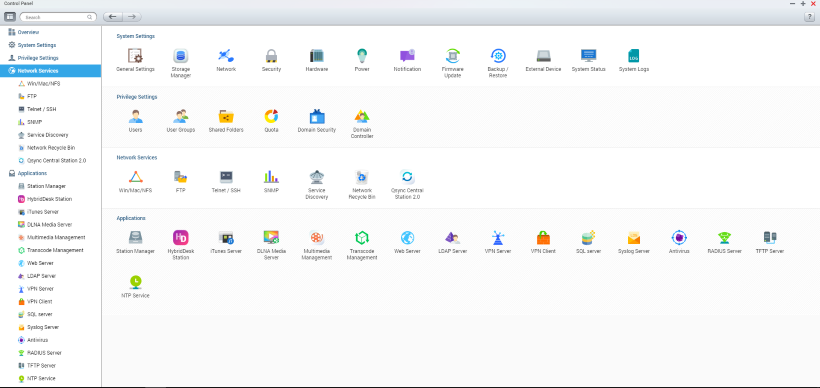 Once you are really "jacked" in to the device it reveals itself to be a very feature rich device with loads of apps to use, from business to entertainment apps all the way to apps that turn your NAS into a virtualised cloud storage device. If a NAS device is meant to simply store, manage, backup and share files over a network, then the QNAP 251 delivers superbly in this regard. But then again, so do many other NAS devices. To truly stand out, software and ease of use are key, and I believe QNAP has delivered in this segment as well. Besides the included default apps covering media functions, business apps and server tinkering, the App center reveals an ever larger swathe of apps to download.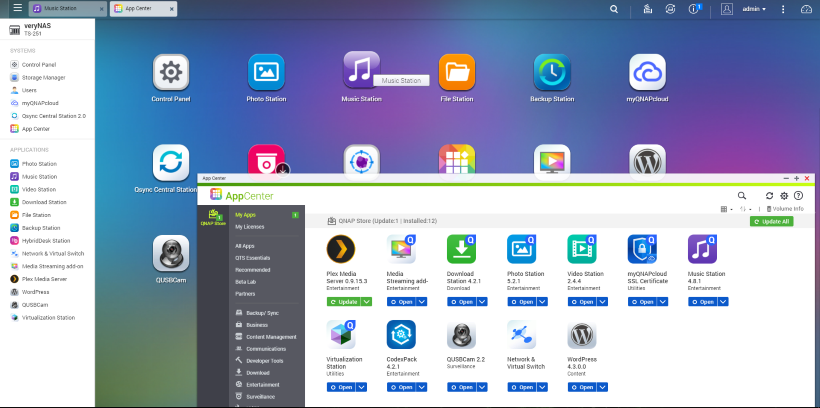 For the more tech-savy user the QNAP 251 is capable of creating Virtual Machines. This opens up the device to a lot more creative use case scenarios, where for instance you can have a business centric VM for your online store while the main OS on the NAS is a file server for home entertainment. Sadly, this unit had that capability chopped off at the knees since the device needs at least 2GB of RAM to create a Virtual Machine, and this unit only shipped with 1GB of RAM.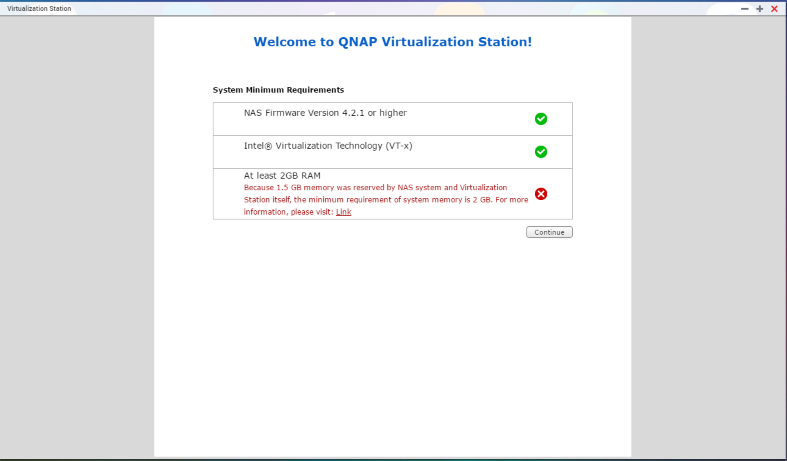 Since I don't have a business to run, a blog to update or a VM to create, I used the NAS how most would use it—as a media and file server for the home. I was also unable to test the RAID 1 capabilities  such as RAID 1 rebuilding or backup functions since I was only sent one HDD and I did not have a spare to use with it. Copying over the network yielded a consistent 11.1 MB/s,  but for the quickest results using a USB 3.0 external to copy to the device was much faster. It has you covered in the download department as a low power torrent box with an okay default torrent client. For media consumption the standard music, photo and video application could do with some more "modern" touches, but for the most part they perform just fine. Some BluRay/MKV rips of mine could not play through the standard video player/XBMC player on my Xbox, so using Plex Media Server proved to be the most rewarding. Although, the NAS has a transcoding card up its sleeve which helps make it a very capable pseudo-cloud entertainment driver.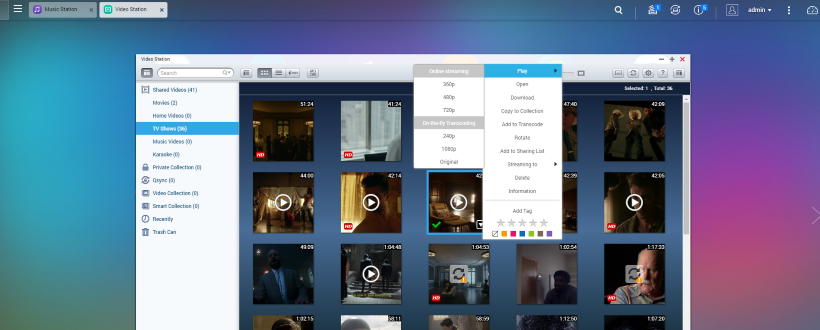 Plex Media Server transcodes on the fly, and for home PCs with a modern i3 or better CPU, this CPU intensive transcoding on-the-fly is a piece of cake; for this little dual core Celeron, not so much. On-the-fly transcoding would bring the Celeron to its knees and slow down the unit far too much.  As a work around QNAP have built in an automatic transcoding feature in which you can set the NAS to automatically (either at set times or when new files are added) transcode and convert files that are in specific folders. It's capable of converting files to 1080p and down 240p. Be warned, though, the most recent Codex update meant that transcoding some MKV files and video using DTS audio became unsupported, requiring me to manually install an older Codex to retain those capabilities. The on-the-fly and automatic transcoding feature is great if you travel a lot and want to access your media while being limited to a home ADLSL internet upload connection of 512KB/s. I'm typing this as I'm watching media on the NAS while waiting for my flight to Taiwan in a few hours—so, pretty nifty, especially if you have a better home connection.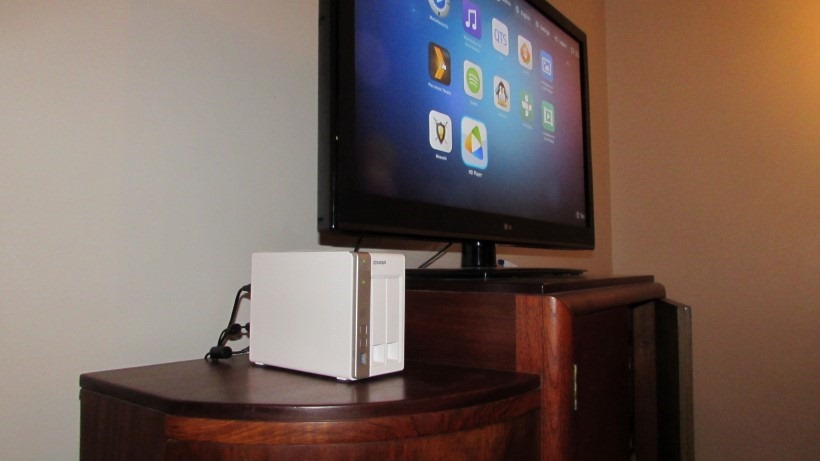 The presence of an HDMI port also means this NAS, if connected to the internet while connected to the TV, can effortlessly transform your TV into a pseudo Smart TV. The HybridDesk Station App comes chock full of apps like Kodi, iTunes and Plex, Skype, Facebook, Google Chrome and even Youtube. The HybridDesk Station app does need to be installed through your computer initially, but if you are looking for a easy plug-and-play entertainment box, look no further. The only sticking point is if you don't have your NAS connected to the internet while connected to the TV, you cannot use your phone as a remote control. You can, however, make use of wireless mouse or keyboard and use the aforementioned USB ports to power them. The kind of effortless portability and instant functionality is something you don't really get with a HTPC.
Conclusion: It's very NAS
As a first time user of any sort of dedicated NAS there is not a great deal of past experience I can bring towards evaluating NAS devices beyond their stated capabilities as a centralised home server, something a regular HTPC can be used for. The only sticking point is the price; one could build a cheaper HTPC box with a hard drive included than for the price of the QNAP Turbo NAS 251. However, what you lose out on is an easy plug-and-use setup, portability and ultra low power consumption, let alone the mountain of apps and features you can use it for. Although I could not test the device along more business applications or make use of its RAID 1 functions, for those who do work from home, this could very well serve as small business server for those running a home business, provided you make sure the unit you buy comes with more RAM and you get two hard drives for RAID 1 failsafe options.
Last Updated: August 15, 2016
QNAP Turbo NAS TS 251

Reviewing the QNAP TS 251 was a learning and illuminating experience in the world of NAS devices. Not simply "dumb" file servers I can happily say that I am starting to take them seriously as a replacement for a dedicated HTPC/Home server machine, especially when the level of App support and ease of use is so robust.