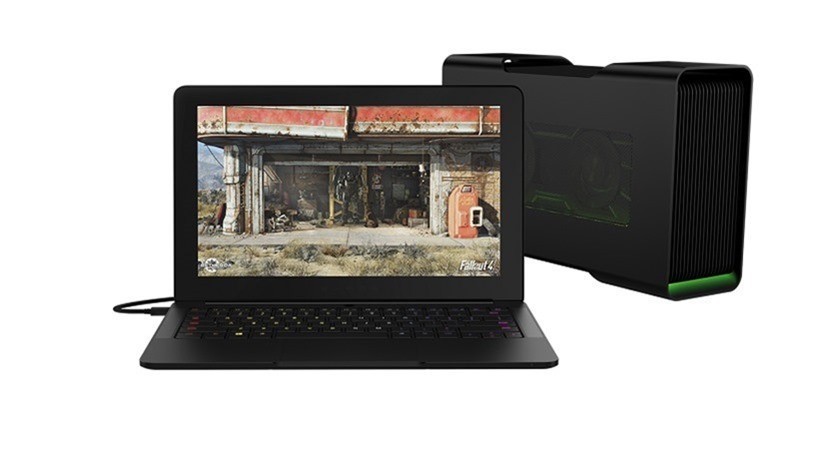 Razer might be known primarily for their rather great, but expensive, peripherals, but they've also been in the market of making equally great, and equally expensive laptops for some time. The Razer Blade range of gaming laptops has been one of the best solutions for gaming on the go for a while now, but Razer is seeking to bolster their line-up with something a little more malleable. Like a small, thin laptop that's portable but capable of playing games just like a desktop.
Something like the new Razer Blade Stealth – a new Ultrabook revealed at CES 2016 that comes with a little bit of a catch.
First things first, the laptop itself. Razer has never been shy of showing their love for Apple's MacBook design, and the Stealth is no different. It's a gorgeous black unibody metal design, housing a 12.5" display that can be configured for QHD and UHD resolutions (2K vs. 4K). The 0.52" thin body comes with four USB 3.0 ports, an HDMI Out and a single USB Type-C connection, giving it one foot in the door of the future without forgetting about where you need to plug in a mouse and keyboard.
That USB Type-C connector comes in handy too with the Stealth's most interesting feature, which Alienware dabbled with last year. Along with the Stealth, Razer revealed their Core – an external GPU housing device that can connect to the laptop via USB to provide desktop processing power at the snap of a finger. The external housing of course requires you to double down on a graphics card, but offers some intelligent cooling, more connection options for multiple displays and more. It's the bridge towards desktop gaming with a laptop.
That does leave the laptop as a standalone product in a weird space. Utilising 6th-gen Intel processors it's no slouch, but it only offers integrated graphics without the Core. That makes intense gaming on the go a little bit difficult, but it does mean that portability is key. And starting at $999, Razer has positioned the Stealth in the perfect stop to go toe to toe with its nearly identical competitors. A smart move for gamers on the go with work needs too.
The only gamble is the Core though, which lacks both a release date and price. Too late into the year and too expensive will make the Core a luxurious accessory, but also strip the Stealth of any true gaming bite. Considering it's out next month, that might be a risk not too many are willing to take.
Last Updated: January 6, 2016