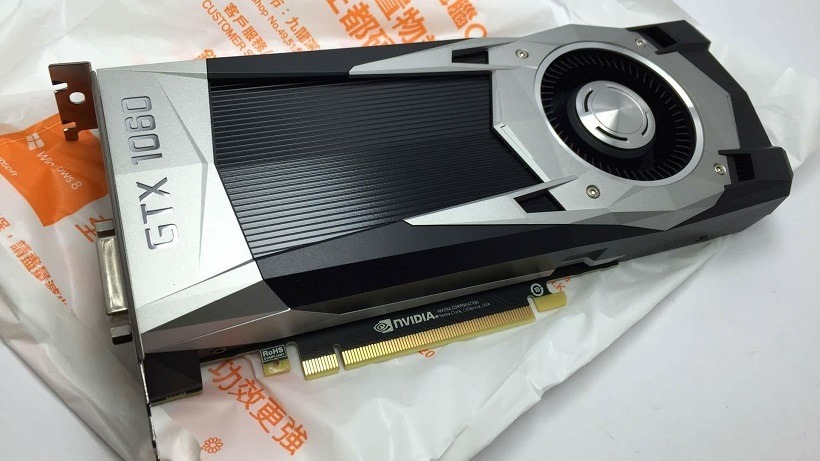 Nvidia really let off its load last month, with the reveal and launch of their first Pascal based graphics cards, the GTX 1080 and 1070. As we've seen in the weeks afterwards, both are incredibly good products, although both carry rather high price tags for the mid-range market. AMD has been teasing that market now with the launch of the RX 480 (which launches and has reviews dropping today), and it seems Nvidia wants to fight them from the start line.
The GTX 1060 has had its first batch of photos leaked, and it shows that production on the scaled back Pascal card has indeed begun ahead of schedule. A report from Digitimes suggests that Nvidia is now aiming to launch their cards in July, so as to directly compete with the RX 480 at launch. This is around a month earlier than expected, and although Nvidia has yet to officially confirm it there's some plausibility to it all.
More reports further flesh out the card itself, which is unsurprisingly and even further cut down version of the GTX 1080. It's going to ship with its own version of the Founder's Edition NVTTM cooler design, with an opaque heatsink window and presumably the same cooling design as the GTX 1070 (which didn't feature the vapour chamber that that GTX 1080 did). The naming can be seem embezzled on the cooling shroud already however, and it does seem set in stone that this is the direction Nvidia will take with their naming convention.
It doesn't however mean that there will be only one card. It's reported that the GTX 1060 will ship with two variants – with either 3GB or 6GB of VRAM. The former might be the one Nvidia will use to directly undercut the RX 480, and it doesn't seem impossible for it to get scarily close to the AMD card in terms of price. And if it manages to deliver close to GTX 980 performance, that might already make it a more enticing offering, seeing as Nvidia did deliver with their promises on their first line of Pascal cards.
Either way, if you're in the market for a mid-range upgrade, there's no better time than now to wait. The RX 480 is out soon, but the GTX 1060 might provide a compelling reason to question AMD's strategy. We'll know for sure soon enough.
Last Updated: June 29, 2016