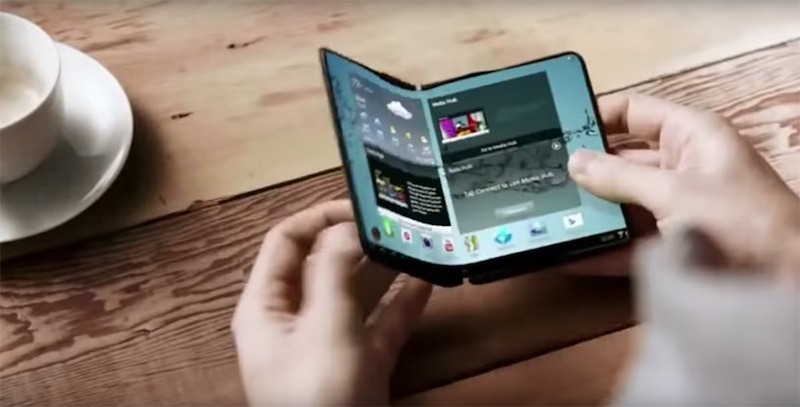 Foldable screens are the sort of future tech we'd been promised by films set in the near and not-so-near future. Some companies have even shown that it's possible, if not really commercially viable.
A new report by Bloomberg suggests that we could see the commercial release of foldable phones by Samsung next year. According to Bloomberg, secret ninja sources familiar with the inner workings at Samsung say that two devices could be coming from the Korean manufacturer next year that feature pliable OLED-based screens.
The first would fold in half like a make-up compact, while the other sounds a little more interesting – to me at least. It could be a 5 inch phone that could fold out to become an 8 inch tablet. I don't know how Samsung would be able to do that without there being tell-tale fold-lines in the screens which would annoy many (like me!).
According to Bloomberg's source, the foldable devices are codenamed "Project Valley," and could be unveiled at next year's Mobile World Congress in Barcelona. If this is true, it could give Samsung a leg up on whatever new devices Apple shares and recapture some if the mindshare they've lost as sales have slumped in the last two years.
"This product could be a game-changer if Samsung successfully comes up with a user interface suitable for bendable screens," said Lee Seung Woo, an analyst at IBK Securities Co. in Seoul. "Next year is a probable scenario. Their biggest obstacle was related to making transparent plastics and making them durable, which seems resolved by now."
It's not the first time Samsung has been linked with folding displays. In 2013 at CES, Samsung unveiled Youm, its brand name for prototype flexible OLED displays. That technology may have come to fruition.
Last Updated: June 8, 2016