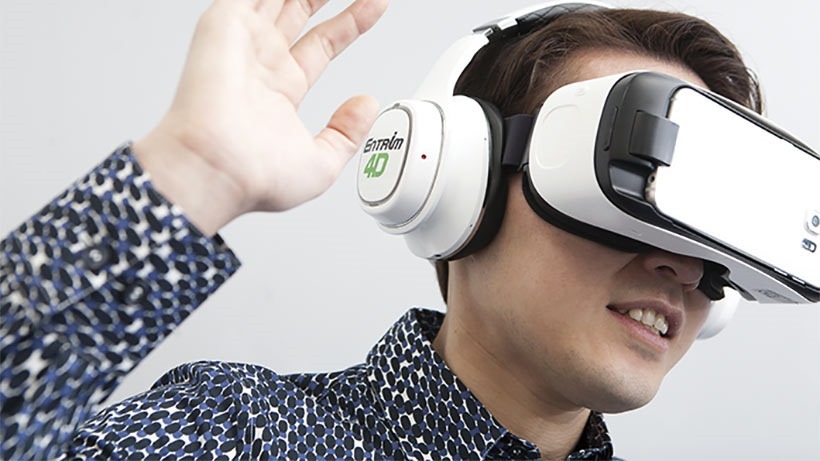 Virtual Reality is pretty cool – and I think many of the sceptics will be converted once they actually give it a proper try. I don't think it'll really change the world, or have nearly the impact VR pundits hope it will (at least in the short term), but as a technology, it's impressive. What it does, is allow you to see a different reality to the miserable one that has you paying bills at the end of every month.
It does some weird stuff that tricks your brain in to sometimes believing that what you're seeing is relatively real. But what if you could feel like it was real? I don't mean haptic, tactile stuff; but rather the sensation of movement. Imagine feeling a sense of speed, and a feeling of direction when engaging in a VR experience? If Samsung has its way, you won't need to imagine it.
They're toying around with Galvanic Vestibular Stimulation – which will allow you to feel Virtual Motion within your Virtual Reality. But how? Does it works by black magic? Close enough. Galvanic Vestibular Stimulation actually works by sending electronic pulses through your head. Samsung will be showing off their new headset at SXSW 2016.
Called Entrim 4D, it works by "Using a combination of algorithms and Galvanic Vestibular Stimulation (GVS), a safe and simple technique that sends specific electric messages to a nerve in the ear, the VR accessory synchronizes your body with changing movements in video content."
Yeah, no thanks. It apparently harmless, but still – no thanks.
"Virtual reality shouldn't be experienced only with the eyes," says Steve Jung, Creative Leader of the project. "With Entrim 4D, we hope that people can experience VR the way it was meant to be—with their whole bodies."
Double no thanks. Here's a video of it in action, which looks to me like a Stevie Wonder cover artist audition, but I digress.
Last Updated: March 14, 2016