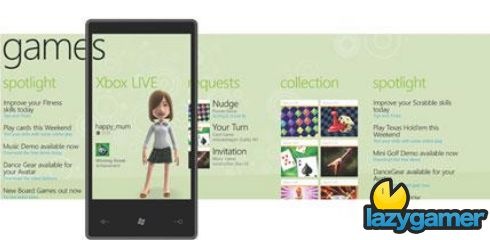 Stephen Totilo from Kotaku has been chatting with some Windows Phone 7 guys from Microsoft about the gaming ability of the upcoming mobiles and how they will interact with our current Xbox Live experience.
The entire article is a nice read for all those who are interested but the key points I took out from it are as follows.
Every mobile game can offer 200 achievements which will be put onto your current score
The games will most probably be separate so what you buy on the Xbox won't be playable on the phone.
No voice chat
Messaging and viewable avatars will exist
They demonstrated an asynchronous checkers match which had one player making a move and then when your opponent has time he moves and then it's your turn again… which I guess shows that the games will be state aware and will store settings on a server somewhere.
The next game was a 3D action sci-fi shooter that apparently only took 4 weeks to develop using XNA 4.0 and then a fighting game.
Click through for more details and we will continue to update you on when we can expect these phones to land locally.
Source: Kotaku
Last Updated: March 11, 2010