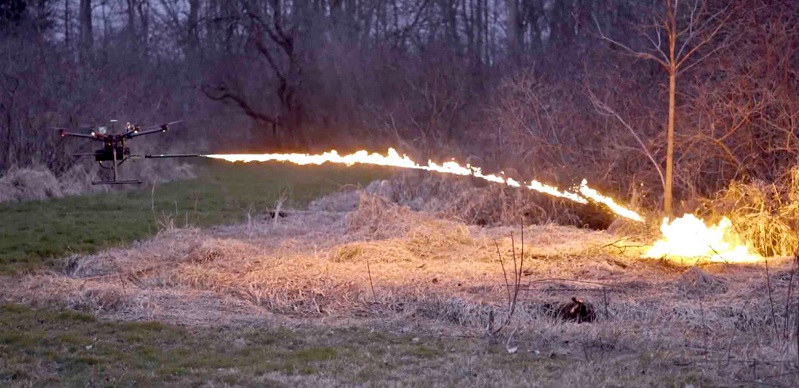 My mom taught me to never play with fire. But now that I'm older and more rebellious, I know how fun playing with fire can be, especially when combined with a good steak and boerewors. However, I still keep my fire endeavours strictly to the braai and fire pit because you can't be too careful when it comes to fire.
Throw all that caution to the wind (quite literally) with this new drone kit though, called the Throwflame TF-19 Wasp, which is essentially a kit that allows you to build your own functional flamethrower attachment for commercial-grade heavy lift drones that can hit targets up to 25 feet away, with a one-gallon (3.8 litre) fuel tank that can produce a stream of fire for 100 seconds, according to the company.
Quite why anyone – other than arsonists – would want a thing like this to exist is beyond me. Still, at $1499 (around R22000) for the kit and a person still needing to provide their own commercial-spec drone, hopefully, not too many people would want to purchase something like this.
According to the company, the video above features a DJI S1000 drone with an A2 flight controller, 6S 16,000mAh LiPo battery and a TBS Tango R/C remote which cost over R30 000, but the company is also offering custom-built turnkey drones, though, ranging from $1,000 to $10,000 and up, depending on how far and fast it needs to fly and what kind of images you expect it to beam home.
Let's hope this poorly advised idea stays in the US of A and we don't see any real drone wars starting soon with these things most likely to cause problems in the future in the hand of idiots. Perhaps mom was right after all. Especially when robots are involved.
Last Updated: July 17, 2019