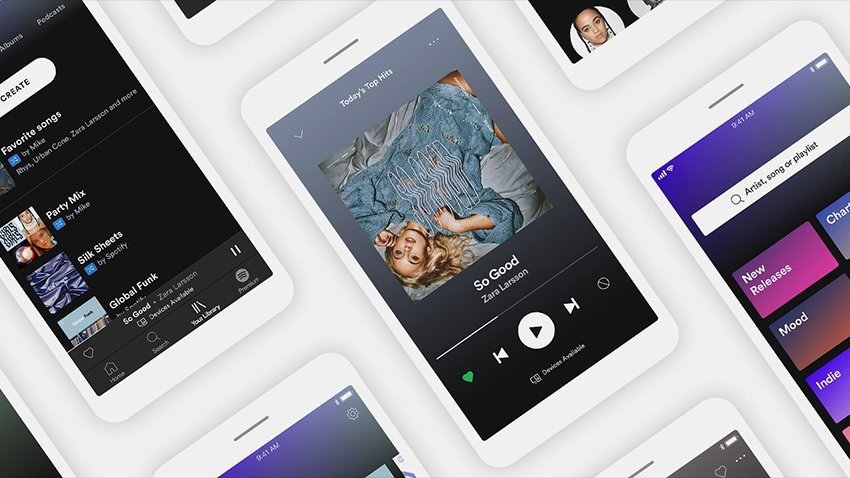 As the rumours suggested, Spotify has overhauled its free listening tier for those unable or unwilling to pony up for the premium subscription. At an event in New York City, Spotify revealed its new-look app, which includes a better experience for those on the free tier. That's 90 million users who should be happier with the service they pay not a single cent for.
The free tier has traditionally only let users shuffle between songs, without the ability to play specific tracks. That's changing. Free users will now have access to on-demand music from a selection of 15 15 personalised discovery playlists, which includes access to Spotify's Daily Mixes, Release Radar and Today's Top Hits. In total, it means that free users will be able to skip between 750 songs with full control and reckless abandon, while still having access to the service's millions of songs.
"Over the last several years, we've made Spotify's premium mobile experience top notch," Spotify's chief R&D officer Gustav Söderström said. "The mobile free tier has stayed exactly the same since 2014," he said, adding that "discovering music in shuffle mode is a tricky proposition."
The revamped app changes that, making music more discoverable for free users. The hope, of course, is that people like it so much they decide to upgrade to the premium tier, which allows for higher quality audio, and full control over an entirely ad-free experience.
"Our customers always tell us that music discovery and listening is a personal experience, and we are enhancing the free experience with this in mind," said Babar Zafar, VP of Product Development at Spotify. "This is the beginning of an evolution for Spotify and we will continue to make improvements that mirror our customers' needs. This is not only about giving users a more customized free experience from the day they sign up, but giving them more control over their listening experience so they can easily find and stream their favorites anytime, from anywhere."
As a boon to data-strapped local users, there'll be a new data-saver option which lowers the bitrate even further, allowing you to listen to more, for less.
The new app will roll out globally over the next few weeks. No, we still have no idea when the family plan is launching in South Africa.
Last Updated: April 25, 2018