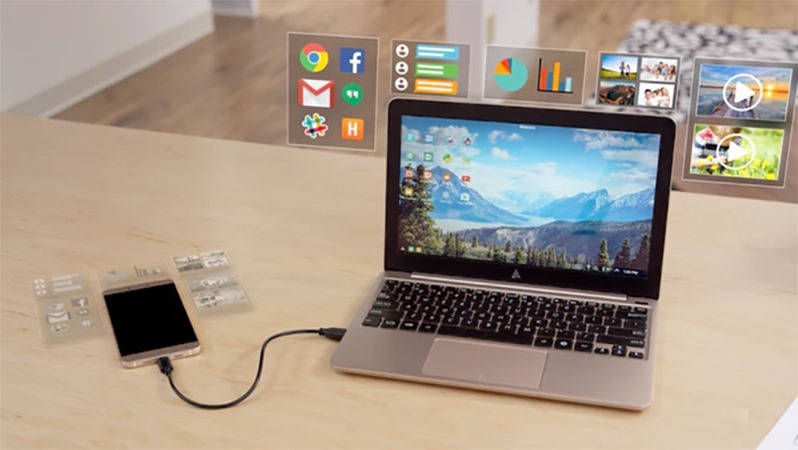 I usually do my best to ignore Kickstarter projects – especially tech ones. Why? Many of them make grand promises that they seldom deliver on, leading to nothing but disappointment. Whenever people send me links to some grand Kickstarter, I open the link, give it a quick read and then close it – thinking that if the product makes it to retail I'll buy one, or not.
Yesterday I saw something that I just have to have. Called The Superbook, it's essentially an empty laptop shell that uses your connected Android smartphone for its processing power. I need and want it for the very much the same reasons I adore MSI's GS32 laptop; it's small and super portable.
As somebody who travels a fair bit for work, and needs to be able to do that work on the go, something like the Superbook is very literally a dream come true. It comes with an 11.6" 768p screen, has 8 hours of battery life and charges the phone that's plugged in to it by USB (C or Micro b). Using the magic of USB OTG, that phone becomes the shell's host. Run a specific app, and you've got a desktop like-environment that's great for doing a bit of browsing, some writing or even coding. Oh, and it weighs less than a kilogram.
Better yet, as you upgrade your phone, you'll essentially be upgrading your little laptop – so it stays as current as your phone is.
It's on Kickstarter right now, where the thing will cost you $99, plus an extra $40 shipping to South Africa. As of writing it's reached $877,666 of its $50, 000 goal, with 24 days to go.
11.6″ LCD display at 768p
7.6″ x 11.3″ x 0.7″ (19.3 cm x 28.7 cm x 1.8cm)
2.0lb / 0.9kg
Custom Charging Port w/ Standard US Charger
USB Type-C port
Supports Type-C and Micro-B smartphones
8+ hour battery life
Simultaneously charges smartphone
QWERTY keyboard (Android OS layout)
Android-specific navigation keys (Home, Back, Menu, Recent)
Multi-touch trackpad
Last Updated: July 27, 2016