The rAge 2016 Expo is geared towards the console and gaming crowd. Nevertheless, there were stand-out tech stands that kept the PC Master Race flag burning bright, with overclocking competitions, workshops and exquisitely modded machines.
Teach a man to Build a PC: MSI Gaming Workshop
Build a man a PC and he'll happily game away on it; teach a man to build a PC and he'll forever find something to upgrade. This is the lesson MSI wanted to plant in peoples' minds. The MSI Gaming Workshop stand was geared towards reducing the fear or uncertainty surrounding PC gaming and building your own PC. Expo attendees learnt the ins and outs of building an entire gaming PC, from slotting a CPU correctly into a motherboard, plugging in cables correctly or making sure you put RAM in the right way. On hand to see you through the process is South Africa's top overclocker, Andrew  "DRweEz" Roberts and MSI marketing project manager Christopher "Pepinorang" Besse.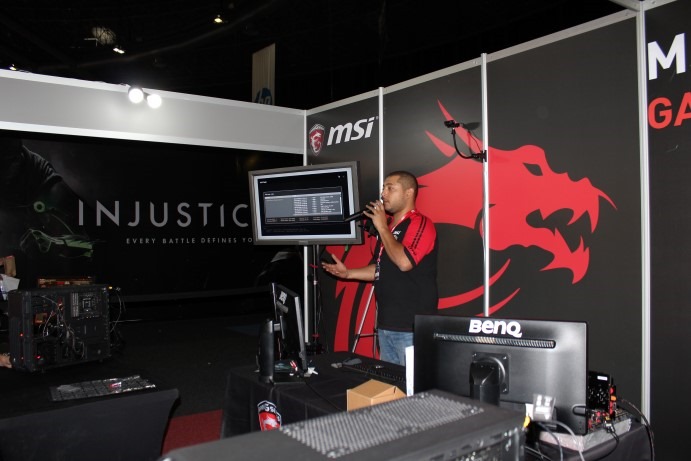 Talking to Andrew at the stand it's clear that MSI is taking a "ground-up" approach, getting new people into PC building and gaming by making it accessible and fun. It's not going to be a Matrix "I know Kung-Fu" moment of instant downloadable PC Guru knowledge, but it was a valiant first step to impart some key points around building a PC and navigating the MSI ClickBIOS to extract some overclocking performance.
LN2 Overclocking and Overclocking Competition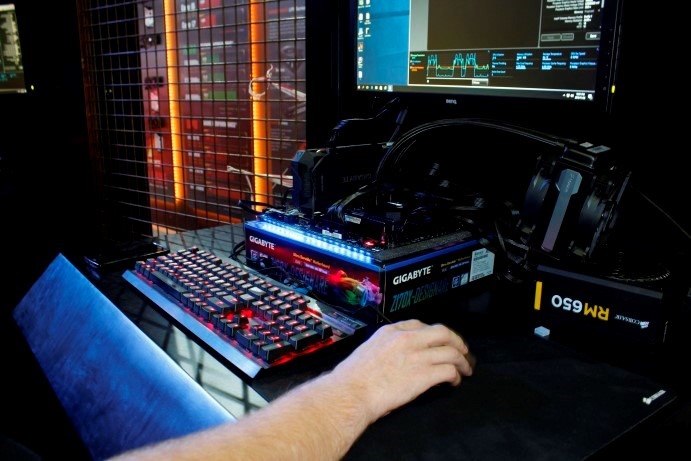 What's the point of going faster than someone else if you cant rub it in their face on a leaderboard standing? This couldn't be further from the truth, as the overclocking competition at the Rectron/Rebel Tech stand was exceptionally informative and fun, even though contestants were all vying for a chance to win some sweet hardware.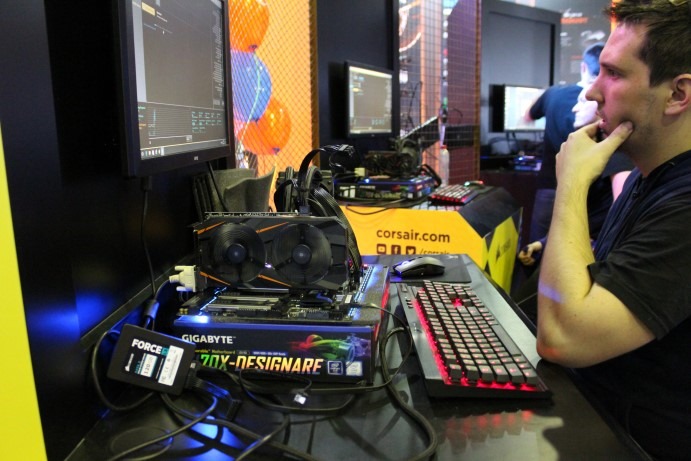 To manage the rabble of contestants, we had Neo "ShockG" Sibeko, Warren "Tweak Venetica" Kramer and Pierre "QuantumX" van Rhyn; three well known Overclockers on hand to make sure people didn't burn down their overclocking station. Contestants were selected over the weekend by attempting to get the highest score in Intel's XTU Benchmark and Futuremarks Time Spy DX 12 benchmark, using a 6700K paired with a GTX 1060 3GB. The final was held on Sunday, and to change things up a bit the Overclocking mentors decided to use an old favourite—3D Mark 11.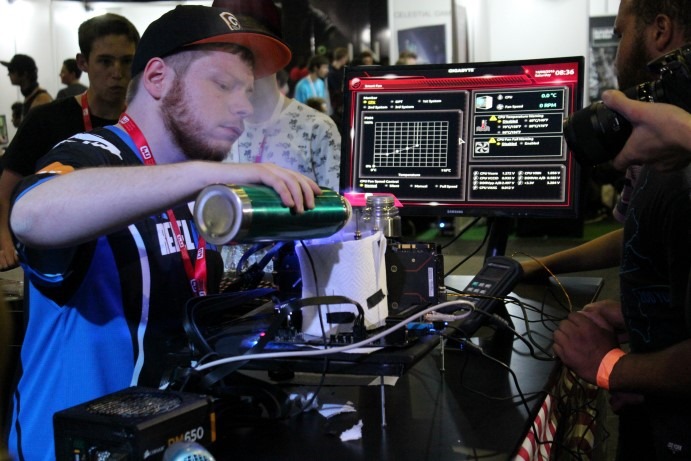 Right behind the contestants we had Rebel Tech's Jonathan "Oj0" Horne getting frosty with some LN2 overclocking. As a precursor to what we can expect at the Rebel Tech sponsored LN2 Overclocking workshop, people had a front row seat to see Jonathon's prowess work his LN2 pot to get a 6700K up to 6.1GHz over the weekend.
Modding Extraordinaire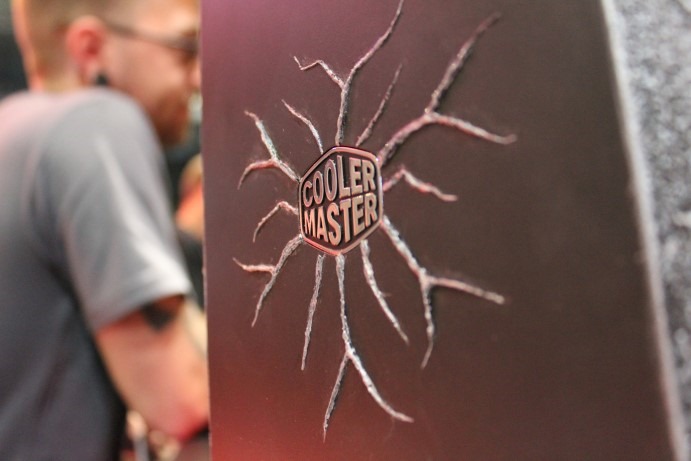 If gaming is an art-form, perhaps the thing we use to play that art-form can be considered art?  Art is something distinctly similar and yet draws inspiration from anything you can think off. Over the weekend we witnessed some of Sphinx Modding's and EnigmaModding's artistic achievements— and they really are exquisite.
We have a Fallout 4 themed build and a Dishonoured build by EnigmaMods , with Project Sinister by Sphinx Modding. The Fallout 4 build takes a Fallout 4 PipBoy edition case and modifies a Mini-ITX build inside, with appropriate Fallout 4 colour theme.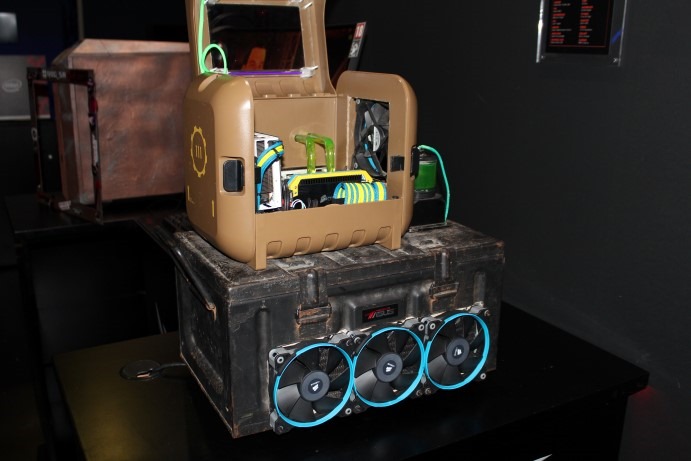 Project Sinister is a Cooler Master sponsored mod, and besides the amazing craftsmanship and built in LCD temperature monitoring, the thing that draws you towards the case is the Zerg-like creep that encompasses the MasterMaker 5 Pro, RAM, motherboard and even CPU block.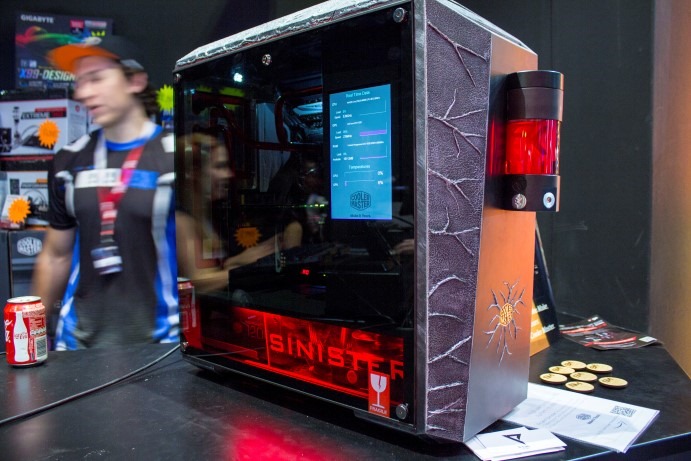 It's a technique Sphinx Modding has perfected, one you can read more about on his build log
Stand Out Tech Stands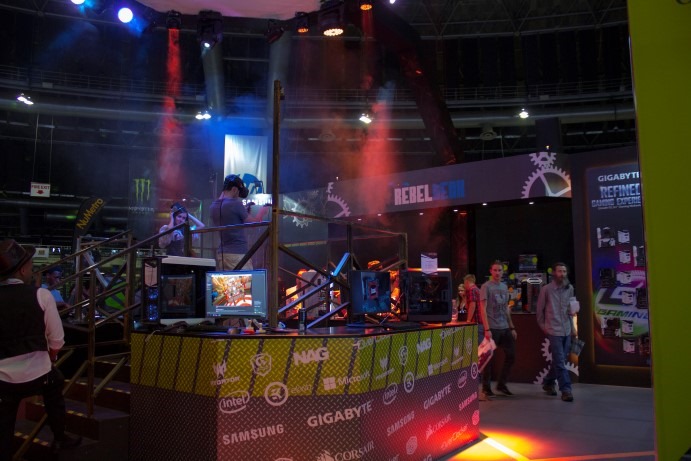 You can't have an expo without a few motherboards and GPU's hoisted up onto some wall; the default presentation at these events has not changed much over the years. Rebel Tech and Rectron's stand dominated the show floor, simply because they had constructed a massive shrine to Lord Gaben's HTC Vive, and had expo goers clamber atop to experience VR. It was quite the showcase, with laser lights and smoke billowing out into the dome.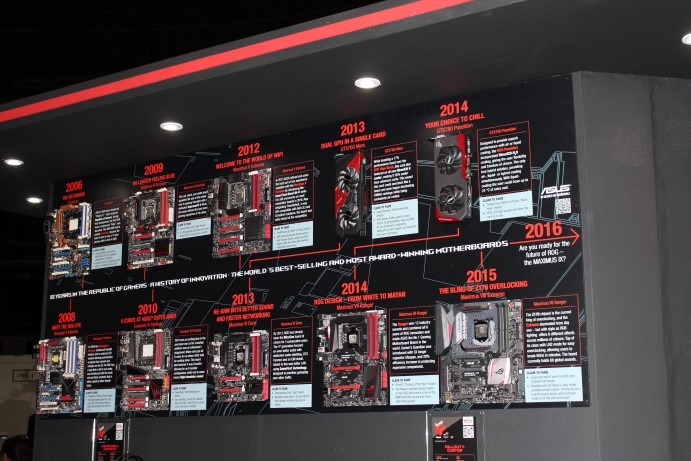 Over at the ASUS stand things were more of the same, although this year ASUS had constructed a motherboard and GPU montage paying homage to 10 years of producing ROG products. I've owned two of the items on that wall, and I'm pretty sure I've wanted all 10 at some point in my life.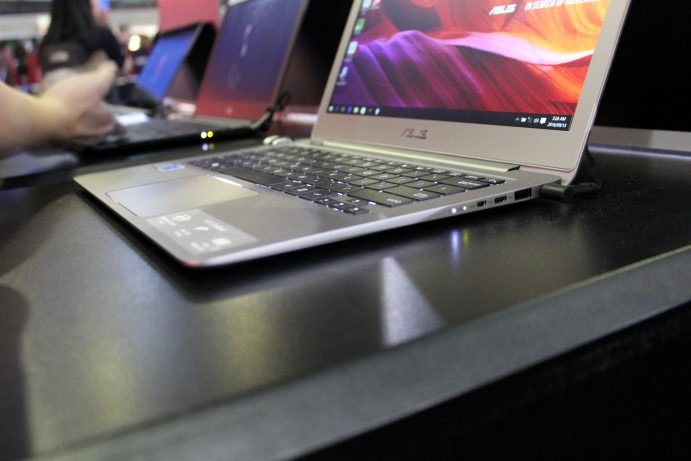 I could not find any ASUS laptop with Pascal graphics, but I did spot two UX330UA, a Kaby-Lake powered Zenbook 3. This netbook sized Laptop weighed only 1KG, and damn, I want one.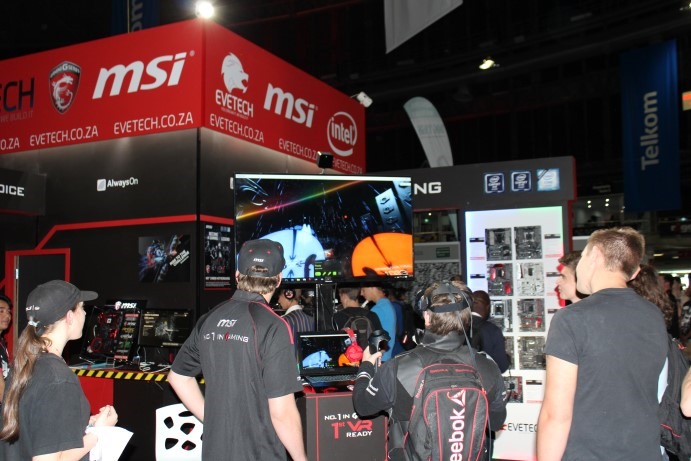 Over at the MSI/Evetech stand things were as they were last year, except they did have new Pascal powered MSI laptops around their stand, like the MSI GS63 VR I fawned over in Taiwan. They also had the requisite GPU and motherboard walls, open PC boxes as well as an HTC Vive VR stand.
And earlier edition of this article incorrectly attributed the modding work to only Sphinx Modding, and it has been rectified to show EnigmaMods as the correct modder for Fallout 4 and Dishonoured builds. 
Last Updated: October 12, 2016