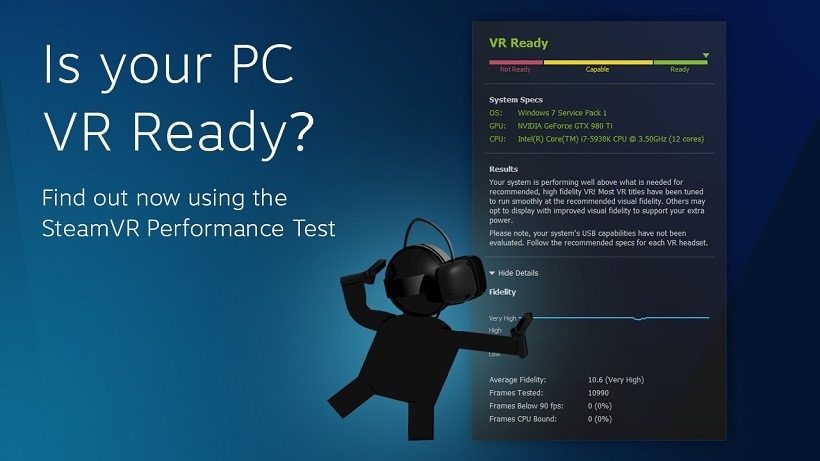 Virtual Reality is not going to be cheap this year. The Oculus Rift is going for a staggering $599, while HTC revealed their price for the Vive yesterday – sitting at $799. Those are prices above the requirements needed to run these headsets properly, which also means you'll be looking at potential upgrade costs on top of the purchase itself. But just what do you need to upgrade? Valve's new free VR-readiness tool seeks to answer that question.
Available now for free on Steam, this new Portal-themed app captures around two minutes of gameplay from the actual Aperture Robot Repair VR demo, and stresses your PC to see if it is able to handle it all above 90FPS. This is the ideal framerate for VR, which is then duplicated across two 1080p screens for both eyes. In short, it's a lot more taxing than a single 1080p title at 60FPS, which is why VR needs such a physical power overhead.
The test does deliver a lot of information on completion, including how many frames were dropped, what the cause of their dropping was and how you can improve you PC. I took my personal desktop for a spin (equipped with a still awesome Sandy Bridge Core i7 and GTX 970) and was pleasantly surprised to see I not only make the cut, but am ready to run current VR titles at High settings.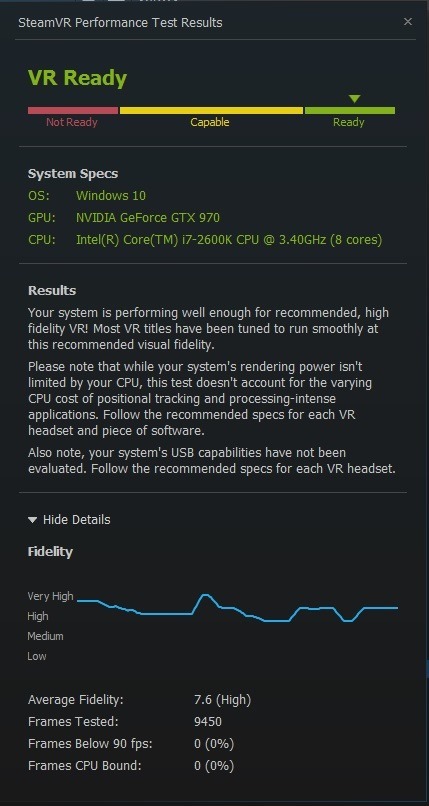 These settings will change over time of course, but it's a neat tool to have at your disposal. If your PC isn't up to scratch the benchmark will identify which part of your PC is bottlenecking performance, which you'll need to upgrade or replace in your PC to reach that 90FPS sweet spot.
Then the only real challenge is trying to find the money for either the Oculus Rift or Vive – which seems like a much more difficult task.
Last Updated: February 23, 2016