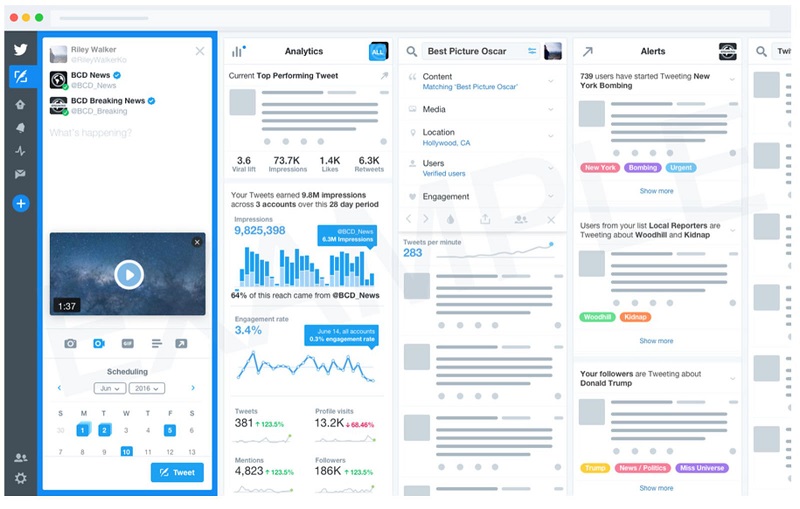 After Tweetdeck launched in 2009 and Twitter bought it two years later in 2011, the better alternative to Twitter hasn't had much further development outside of some relatively minor tweaks, updates, and patches along the way. Most of Twitter's biggest features have been reserved for its core web and mobile apps, resulting in TweetDeck going from being one of the best ways of viewing Twitter feeds into something that looks outdated and light on features. It's still a great example to the strength of its original design that millions of people prefer using TweetDeck to interact with other people on Twitter.
It appears that Twitter is finally looking to rewarding loyal users as product chief Kayvon Beykpour, in an interview with The Verge, revealed that Twitter is going to be making some pretty big changes in the coming year, with TweetDeck being factored into those plans:
We haven't given TweetDeck a lot of love recently. That's about to change; we've been working on a pretty big overhaul from the ground up of TweetDeck, and it's something that we're excited to share publicly sometime this year. And so that's just an example of a Twitter-owned and operated service that we will continue investing in. We also, over the last five years, I think, haven't given a lot of love to our developer ecosystem. A bunch of reasons for that, some missteps that we'd taken in the past, then also sort of prioritization. We are also changing that; in the last year and a half, we've really stepped up both our commitment and follow-through on just innovating around the API again, getting the API back to parity from our own internal APIs that we use to build functionality.
I think we've got a lot of trusts to earn back with developers since we've made a lot of mistakes in the past, but it's something that we're actively investing in. We hope we'll allow developers to build really awesome stuff around the Twitter ecosystem. One of the reasons why Twitter is where it is today is because of developers doing cool shit that we would've never thought to do. And so that's something that we're trying to do more of, not step away from. More to come on that as well.
With so much getting posted on Twitter at any given point in time, a tool like TweetDeck is incredibly useful, especially for big news organisations or companies that want to keep abreast of all that information. It's nice to see that the application will finally start getting some more love, although, without too many details on what those features could be, it's perhaps still too early for many TweetDeck users to get excited.
Last Updated: March 11, 2021